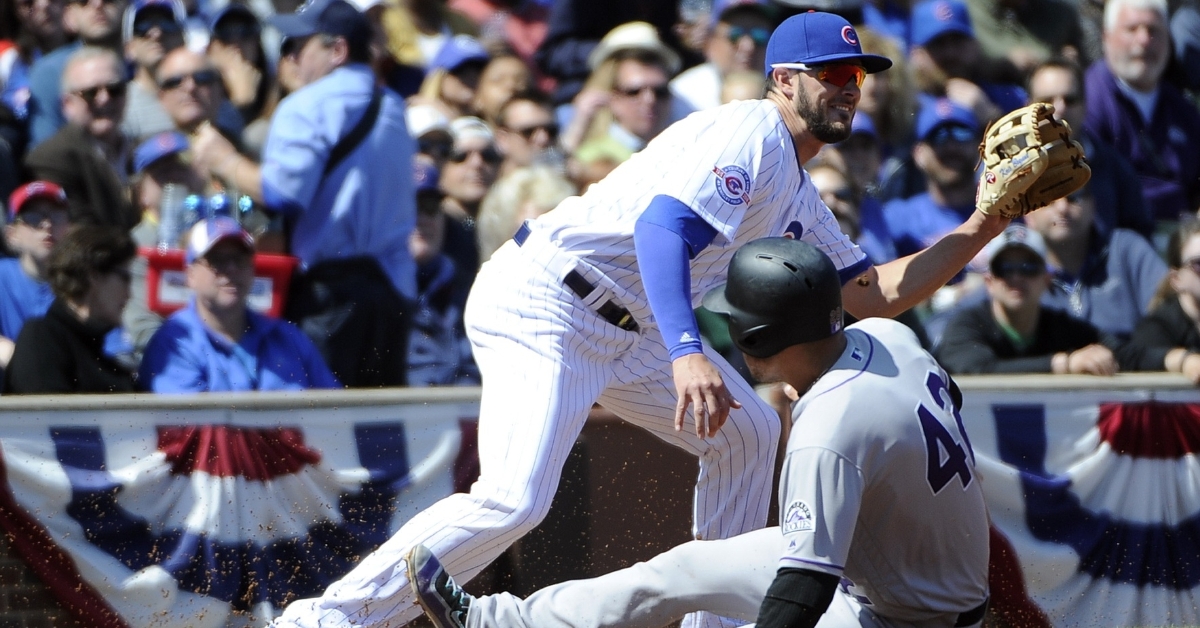 | | |
| --- | --- |
| Cubs News and Notes: Third base market, Pedro Strop, RIP Mr. Cub, Hot Stove, more | |
---
| | | |
| --- | --- | --- |
| Friday, January 24, 2020, 8:54 AM | | |
CUBS NEWS AND NOTES
Next Game: Next Game: 30 days – Saturday, February 22, 2020: Athletics vs Cubs (Sloan Park)
Opening Day: 64 days – Thursday, March 26, 2020: Cubs vs. Brewers (Miller Park)
Third base watch: After Rockies GM Jeff Bridich told the media that Nolan Arenado was no longer on the trading block, Arenado snapped, describing how he felt the team had disrespected him and that he didn't want to play there any longer. According to reports, Arenado gave the Rox an ultimatum: Build the team to be a contender or trade me.
Now under heavy fire, Bridich is reopening trade talks. Don't get your hopes up – I still don't see the Cubs trading for Arenado, no matter how much they'd like to sign him. Even though the Rockies would need a third baseman, there's never been any talk – at least that I'm aware of – of a potential Bryant for Arenado swap. The financials are complicated, the future earnings of both players are questionable, and Bryant's grievance still looms.
Who knows - maybe today will be the day that a decision is finally handed down, then again, perhaps not. Either way, you can rest assured that once it happens, Bryant's name will once again be flooding the headlines in baseball as the trade talk heats back up.
Pedro Strop: After showing intermittent interest al winter, it looks like the Cubs will be passing on Pedro Strop after all. The Marlins and Rangers are now being reported as the finalists to land the righty, who suffered a horrific season last year following a Hamstring injury in 2018 — best of luck, Pedro. Sorry things ended on such a bad note.
Marlins, Rangers Reportedly Finalists To Sign Pedro Strop - https://t.co/ayGLP04uQf

— Héctor Gómez (@hgomez27) January 23, 2020
Scott Boras: Super-agent Scott Boras says that the Astros' players owe an apology to no one, as the team not only bred the entire cheating scandal but promoted it.
"I'm doing what my organization is telling me to do," Boras said on Wednesday, describing the hypothetical mindset of a player. "You installed this. You put this in front of us. Coaches and managers encourage you to use the information. It is not coming from the player individually. It is coming from the team in my stadium. Installed. With authority." -Scott Boras
Never mind the fact that years of stats are now falsely inflated and legitimately questionable; disregard the thought the MLB postseason may have rightfully belonged to another team and pay no attention to the fact that the cheating nearly ruined Yu Darvish, his psyche and his career. By God, the Astros made them do it.
Whether or not the Astros provided and promoted an atmosphere for cheating, individual players had both moral and ethical responsibilities to play the game by the rules. I don't give a damn what Boras says, the players should be apologizing for their actions, they should be legitimately remorseful, and they should be either suspended (long term) or banned, depending on their level of involvement. One can only hope that the BBWAA members remember names like Jose Altuve when the time comes to (not) vote him into the Baseball Hall of Fame.
In general, I'm not a fan of the American League, but the Astros were always my American League team of choice – probably because they had spent so much time in the National League – but no more. I used to love watching Altuve as he hustled on the field and wreaked havoc at the plate, but now that too is as much of a charade as the Sammy-Sosa – Mark McGwire home run race of 1998.
"Players were not given the latest state of the rules. To suggest players violated rules that were withheld from them is a false incrimination of players." -Scott Boras
What a piece of work. By the way, have you seen the new batting helmets that Houston is unveiling for 2020?
Houston Astros intriduce new batting helmet with protective chin guard for the 2020 season! ?? pic.twitter.com/EuAzZRKlrY

— Héctor Gómez (@hgomez27) January 24, 2020
Willson Contreras: Willson Contreras isn't waiting for Spring Training to get himself into shape. The Cubs' backstop is already in the gym and appears to be working hard.
Willson Contreras getting some work in before Spring Training. #Cubs @WContreras40 pic.twitter.com/u2ycqaENCW

— Cubs Zone ™? (@CubsZone) January 23, 2020
Cubs' Birthdays: Celebrating yesterday were ex-Cubs Addison Russell (26), Jeff Samardžija (35), Dick Burwell (80), Joey Amalfitano (86), and posthumously, Don Nottebart (84) and Bill Bowman (153).
Yesterday also marked the five-year anniversary since the Cubs, MLB and fans lost a legend, as Ernie Banks died just before his 84th birthday. Rest in peace, Mr. Cub (January 31, 1931 – January 23, 2015).
Had lunch with Ernie in the old front offices the day the Cubs hired me. He came in with a salad and asked to join my wife and I. Introduced himself, as if we didn't know. We wanted to ask him question after question, he simply wanted to talk about us. That was Ernie. Pure class. https://t.co/DK2JKwjvjI

— Andrew Belleson (@ChicagoCubsPA) January 23, 2020
Baseball also lost another pioneer on January 23, 1997, as Curt Flood passed away. Flood was the pioneer of modern-day free agency.
On this day in 1997, Curt Flood passed away. He declared himself to be an #MLB free agent and his letter would lead to a Supreme Court case and prove to be a major milestone in the development of free agency in pro sports. Curt belongs in the @baseballhall. #HistoryMatters

— Billie Jean King (@BillieJeanKing) January 20, 2020
Baseball Quotes: "You can't steal bases if you don't get on base. It's all about opportunities, and every time you get on base, it's an opportunity." -Tim Raines
Mr #Cubs https://t.co/76wYbe9a7g

— Mick Gillispie (@BroadcasterMick) January 11, 2020
MLB and the Hot Stove
Orioles: The Orioles have signed RHP Brady Rogers and catcher former Cubs catcher Taylor Davis to minor league deals. Baltimore had come to terms with Davis last week, but the signing was made official today.
Taylor Davis has signed a Minor League deal with the #Orioles, the club announces.

You know what that means. . . pic.twitter.com/25sJyHyL4y

— Sam Dykstra (@SamDykstraMiLB) January 23, 2020
Mariners: Seattle outfielder Mitch Haniger will miss 6-8 weeks after undergoing core surgery. Haniger ruptured a testicle last season and faced the choice between either having the surgery or risking a hernia.
Padres: Mookie Betts to the Padres? It might be a reality, as the Friars and Red Sox are discussing a possible trade.