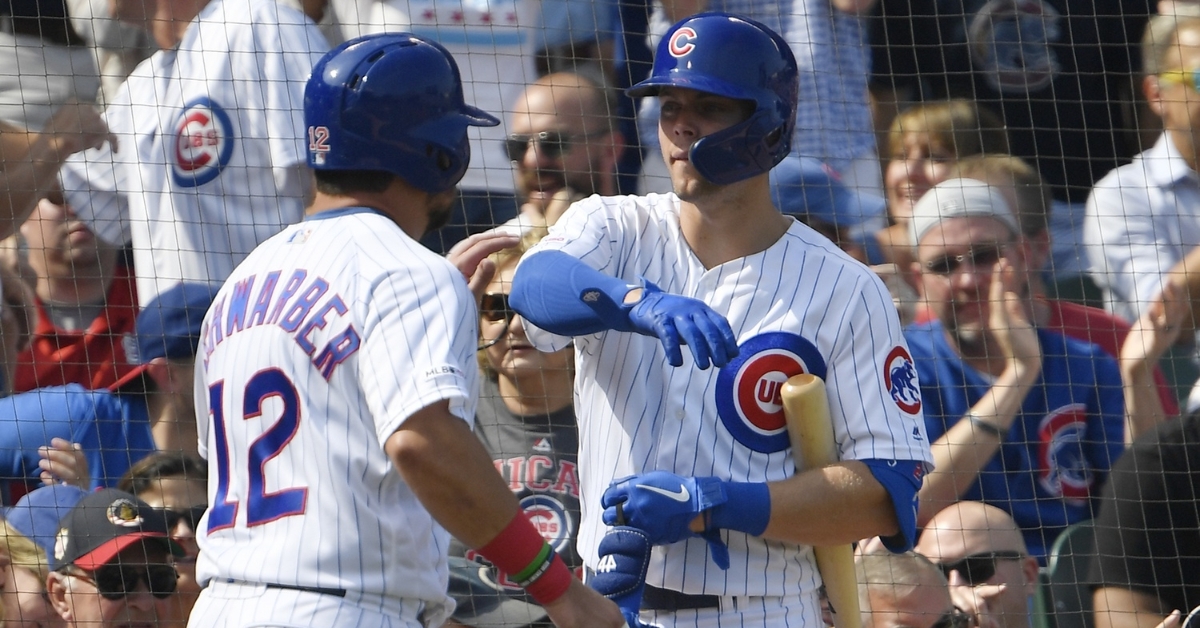 | | |
| --- | --- |
| Cubs News and Notes: Wild-Card Standings, Maddon and Rizzo quotes, Zo's future, more | |
---
Next Game: Saturday: LHP Jose Quintana (13-8, 4.37 ERA) vs RHP Dakota Hudson (16-7, 3.35 ERA). Game information: 1:20 PM CDT; Televised on WGN, SAP WGN, MLB Network (out of market only).
Friday's Game Recap:
The Cubs suffered a loss so huge Thursday night that it's practically indescribable. As the Brewers surged past the Padres, the Cubs found themselves in third place in the division. Trying to make up for lost ground, Alec Mills would take the mound yesterday for the Cubs, as the Cardinals countered with Michael Wacha.
The Cubs would grab a lead in the second, starting with Kyle Schwarber's double. David Bote would scald a ball to second, but Edman bobbled the ball with everyone safe and Schwarbs at third. Jason Heyward's single would score Schwarber. 1-0 Cubs.
Why did Maddon pull Mills?
Alec Mills lowers his ERA to 2.90 with the Cubs this year after 4.2 shutout innings as the emergency replacement for Hamels (shoulder fatigue). Struck out six, walked two, gave up two hits in 81-pitch outing.

Cubs still lead 1-0 in 5th.

— Jordan Bastian (@MLBastian) September 20, 2019
Despite Joe Maddon playing his matchup games, that lead would hold up until the sixth, and then the Cubs got into trouble. David Phelps would walk Goldschmidt and Ozuna back-to-back, then Maddon went to Steve Cishek. Cishek would walk Carpenter, then give up a single to Molina, which scored two.
Nico Hoerner and Jason Heyward would hit back-to-back singles in the seventh, then with two out, Nicholas Castellanos would draw a walk. Kris Bryant would send a long fly ball to the left, but Ozuna was there to make the catch. Cubs trail 2-1 after seven.
That's how this one ends. Cubs drop another one and fall to what's most likely an insurmountable five games back. Chicago's elimination number now stands at four, and if the Cards manage to sweep this series, the Cubs will be officially eliminated from winning the division. Their wild card elimination number is 8.
Cubs fall 2-1 to St. Louis. Cards go 1-for-11 with RISP and strand 12 runners, but the Cubs offense failed to capitalize on their opportunities. Five games back of STL. Best they can hope for is a split when everyone knew that was never going to be good enough in the first place.

— Sahadev Sharma (@sahadevsharma) September 20, 2019
Among the few highlights yesterday, was Nicholas Castellanos, who hit his 57th double of the year.
Nick Castellanos Double Counter: 57.

It's the 13th time in MLB history a player has reached that total in one season. Joins Todd Helton (2000) and Carlos Delgago (2000) as the only hitters to reach 57 since 1950.

— Jordan Bastian (@MLBastian) September 20, 2019
Not much of a recap here, but then again, there wasn't much of a game. Cubs try again this afternoon.
CUBS NEWS AND NOTES
Cubs/Cardinals Probable Pitchers: Sunday: RHP Yu Darvish (6-7, 4.02 ERA) vs. Miles Mikolas (9-14, 4.29 ERA). Game information: 1:20 PM CDT; Televised on NBC Sports Chicago and TBS (out of market only). The Cubs will have a day off on Monday, September 23, before making the final push against the Pirates and Cardinals (again), in a pair of away series.
Cubs/Pirates Probable Pitchers: Tuesday: LHP Jon Lester (13-10, 4.51 ERA) vs RHP Mitch Keller (1-5, 7.74 ERA). Game information: 6:05 PM CDT; Televised on NBC Sports Chicago. Wednesday: RHP Kyle Hendricks (11-9, 3.26 ERA) vs RHP Joe Musgrove (10-12, 4.52 ERA). Game information: 6:05 PM CDT; Televised on WGN. Thursday: LHP Jose Quintana (13-8, ERA) vs RHP Steven Brault (4-5, 4.98 ERA). Game information: 6:05 PM CDT; Televised on NBC Sports Chicago.
NL Wild Card Race: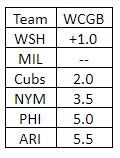 Anthony Rizzo: Rizz had this to say following the Cubs 10th inning loss to the Cards on Thursday night: "It's tough to swallow. This is a big weekend for us. We gotta win, we have to win games. We have to win. We fell short today. But we gotta bounce back tomorrow and play a good baseball game."
Rizzo: "It's just all hands on deck. We have to win and I think guys want to win and are pushing themselves. Everyone is banged up this time of the year, so it's just mind over matter, really."

— Tony Andracki (@TonyAndracki23) September 20, 2019
More from Rizz: "We don't have a couple more days. We've got to win now. I love this team. That's what I want to do. I want to play."
Cubs are on their own: While the Cubs can get some help from the Pirates this weekend (they play the Brewers), it isn't very likely. Seattle (65-88) just took three from Pittsburgh, and you know what the Cubs did to them last week.
Rizzo: "We know the Brewers' schedule here on out and ours here and out. We've got to win and we've got to find ways to win against the team that's in first place in front of us."

Ten days, nine games to go, and the Cubs are not in playoff position for first time since April 30.

— Jordan Bastian (@MLBastian) September 20, 2019
Maddon on Zo: Joe Maddon says that he thinks Ben Zobrist could play in 2020, "if he really wanted to," and used on a schedule to keep him fresh. I agree- Ben looks great, but I think the operative words here are the "if he really wanted to."
Brandon Kintzler: "These are important games, and I want to be a part of it. I've been waiting all year to be pitching important games at Wrigley in September."
I also know first-hand that Kintzler loves pitching in Chicago and wants to re-sign with the Cubs. His agent and I keep in touch, and I can tell you that he's a super down to earth guy that the Cubs can work with- they'd be smart to give him another two years.
Joe Maddon: "We are running out of time and to catch them is becoming more difficult. But, there's still a solid opportunity to be a playoff team. But, you've got to keep playing the game as though you're going to catch St. Louis. You've got to go out there with that attitude."
Great attitude to have (I suppose), but Joe, I think to say that you're running out of time now would be a gross understatement. You were running out of time in August, you were running out of time in July, and you were even running out of time in June. Where was the sense of urgency then? You know, the sense of urgency that Theo said the Cubs would be playing all 163 games with. Too late, my friend.
More from the Greatest Leadoff Man Ever: "The division, we'd have to beat the Cardinals every game from here on out, which can be done, but we want to get to the playoffs. So, we've got to win games. We've got to just focus on winning tomorrow. That's really it. That's our only focus."
Rizzo on another rough loss. "It's weird." pic.twitter.com/Zy24ZAolfR

— Paul Sullivan (@PWSullivan) September 20, 2019
Baseball Quotes: "Baseball can be slow in many ways. The action starts with when the pitcher delivers the ball. But the action really starts when the crack of the bat happens. -Cal Ripken, Jr.
When I'm not hitting, I don't hit nobody. But, when I'm hitting, I hit anybody. -Willie Mays pic.twitter.com/yaJS69CRMF

— Baseball Quotes (@BaseballQuotes1) September 20, 2019
Cubs Birthdays: Celebrating yesterday, were ex-Cubs Randy Kramer (59) and posthumously, Henry "Zeke" Bonura (111) and Harry "Larry" Schlafly (141).
THIS WEEK'S NL CENTRAL SCHEDULE:
(Wins in green, losses in red)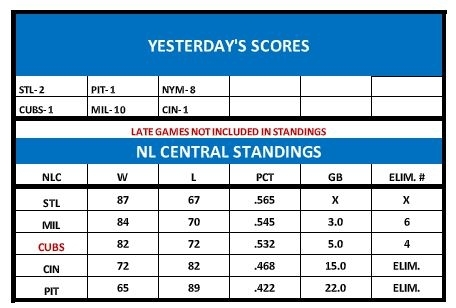 Upgrade Your Account
Unlock premium boards and exclusive features (e.g. ad-free) by upgrading your account today.
Upgrade Now

Tags: Cubs Baseball
,
Jose Quintana
,
,
Kyle Schwarber
,
David Bote
,
Jason Heyward
,
Steve Cishek
,
,
Yu Darvish
,
,
Kyle Hendricks
,
Anthony Rizzo
,
Ben Zobrist
,
Brandon Kintzler
,
Joe Maddon