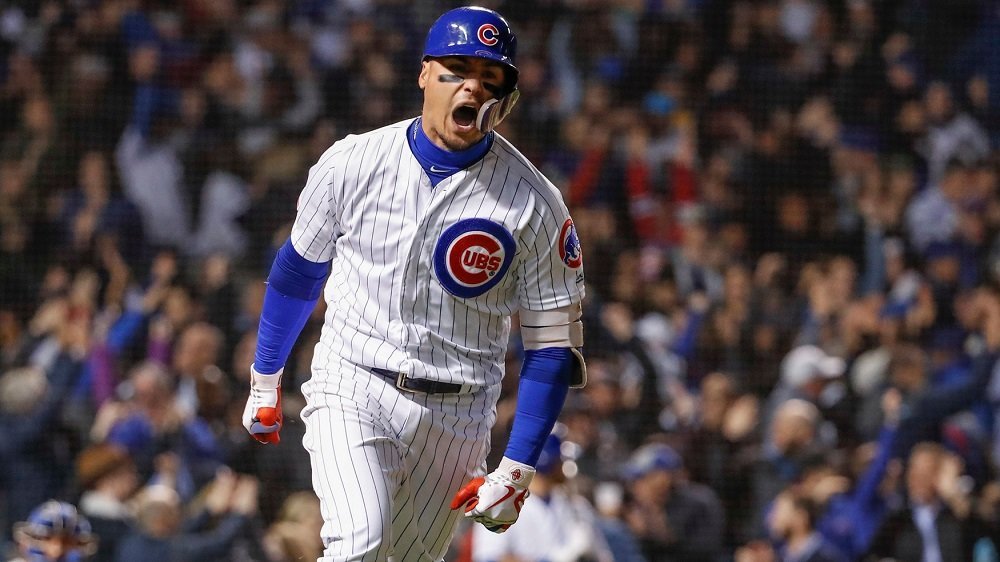 | | |
| --- | --- |
| Cubs News and Notes: Boomin' Baez, Roster moves, Edwards' rehab, Arrieta, more | |
---
Next Game: Today, 6:05 PM CDT: Cubs @ Pirates RHP Yu Darvish (2-4, 4.98 ERA) vs. RHP Chris Archer (3-6, 5.50).
Tuesday's Game Recap:
Monday night's loss was so ugly that I hated writing the recap for yesterday morning's column- so let's start fresh again from last night…
Kyle Hendricks made his return from a short IL stint after dealing with shoulder inflammation, squaring off against Pirates' righty, Joe Musgrove. Before his start last night, The Professor was expected to be limited to somewhere between 60 and 75 pitches, as he got no rehab start before returning to the team.
The Pirates jumped out to an early 1-0 lead in the first, but Hendricks settled down and with some great defensive help from Javier Baez and Anthony Rizzo, got through the remainder of the first and all of the second with no further issues.
Javy Baez is unreal... ??

STREAM: https://t.co/xwvwmyW3ur pic.twitter.com/irY8Ug7f5A

— Cubs Talk (@NBCSCubs) July 2, 2019
Back-to-back doubles from Frazier and Marte would make it 2-0 to end the third, then the rain started, and the tarp came out at 7:07 PM central. Play resumed at 9:12 PM.
Nothing to worry about, just a little rain. pic.twitter.com/nm7aWzL6ZU

— Chicago Cubs (@Cubs) July 3, 2019
After the Cubs failed to score again in the fourth, righty, Dillon Maples, replaced Kyle Hendricks on the mound. After getting himself into a two-out jam, Maddon pulled Maples for Mike Montgomery- this has yet to work out well this season, and last night was no exception. Montgomery gave up a three-run blast to the first guy he faced, but if you think Maddon pulled him, then you don't know Joe. Montgomery walked the next guy, then just about gave up another dinger, but it stayed in, and Albert Almora Jr. was able to make a play to end the inning.
It was Randy Rosario's turn in the eighth, and he looked good, getting through the inning on just seven pitches.
The Cubs failed to score in the fifth, sixth (in case you're new, this is a recurrent theme), seventh and eighth. The Cubs finally scored a run in the ninth on Willson Contreras' double, but that's all they'd get. Another poot outing for Chicago, who only remain one game back, as the Reds once again came to their rescue by beating Milwaukee.
Final score: Pirates- 5; Cubs-1. Chicago has now been outscored 23-6 in the last two days by the fourth place team in the division. Tune in Wednesday as Yu Darvish attempts to slow down the Pirates' offense.

CUBS NEWS AND NOTES:
Cubs/Pirates Probable Pitchers Thursday: LHP Jose Quintana (5-7, 4.21 ERA) vs. RHP Jordan Lyles (5-4, 3.71 ERA).
Maddon's mid-season meeting: Breaking the tradition of holding the mid-season meeting before his ace starting, Joe said, "I talked to them about what I thought we needed to get better at, but then I also offered some solutions."
Maddon on midseason meeting pic.twitter.com/sdwPjIbDpo

— Mark Gonzales (@MDGonzales) July 2, 2019
Maddon on Alzolay, bullpen pic.twitter.com/CcNnsx1cOv

— Mark Gonzales (@MDGonzales) July 2, 2019
Next meeting? Maddon's mid-season meeting didn't work. I certainly hope that Tom Ricketts, Jed Hoyer, and Theo Epstein decide to have a meeting of the minds sometime soon because very little about this team is working these days. Oh, and Tom? Bring your checkbook.
Cole Hamels: Cole Hamels' MRI results show a left oblique strain, but not overly severe, according to the Cubs. He will be until after the All-Star break, but no further timetable has been set. Joe Maddon: "We were encouraged by the results," Maddon said. "We still don't have any timetable, but he's feeling a lot better more quickly than we anticipated. The results were not overtly negative." He went on to say, "I wasn't there talking numbers and cut-offs and relays and more batting practice. I was talking about some concepts that I think are important that we may have gotten away from."
Roster moves: Before last night's game, Kyle Hendricks was activated from the IL, RHP Rowan Wick and RHP Adbert Alzolay were optioned to Iowa, and the Cubs recalled LHP Randy Rosario.
Boomin' Baez: With his home run on Monday night, Javier Baez become the first shortstop and second middle-infielder in Cubs' franchise history to reach 21 homers before the All-Star break. (Ryne Sandberg had 24 HRs at the 1990 ASB. Baez hit his 21st homer in 2018 on July 28 and on Sept. 2 in 2017).
Are the Cubs in trouble? David Kaplan's teaser for his show yesterday morning on ESPN 1000 asked some very poignant questions. How will the Cubs fix the issues created by an off-and-on starting rotation, a weak bullpen and an offense who doesn't hit with runners in scoring position? According to Theo Epstein, "We'll look at everything. We haven't played well enough to rule a lot of things out."
Today on Kap and Co. on @ESPN1000 Are the Cubs in a time of crisis? How do Theo and Jed go about fixing their myriad of issues? Is this team better than they've played so far or are they overrated? A very honest discussion starts at 9 a.m. Plus, @ARizzo44 @ESPNChiCubs

— David Kaplan (@thekapman) July 2, 2019
Carl Edwards Jr.: CJ had a rehab start with Iowa on Monday, and the results weren't good. This certainly isn't what the Cubs need going forward, especially after he'd been good since returning from his minor league option assignment earlier this year.
Carl Edwards Jr. made his first rehab start with the Iowa Cubs on Monday. Edwards has been on the injured list since June 13 with a left thoracic strain. pic.twitter.com/wV6iSCE6kU

— Cubs Talk (@NBCSCubs) July 2, 2019
International signings: Monday opened the international signings period for MLB and the Cubs got busy, signing a pair of catchers and a shortstop. For the full story, click here or visit CubsHQ.com.
Drew Smyly: Former Cubs' pitcher, Drew Smyly has found a new home- with the Brewers. Smyly was dealt to Texas by the Cubs as part of the deal that kept Cole Hamels in Chicago this year, but he was released by Texas a week or so ago. Smyly had been signed by the Cubs on December 7, 2017, then spent 2018 recovering from Tommy John surgery when the Cubs dealt him to Texas.
Jake's missing Chicago: Former Cubs' pitcher, Jake Arrieta, seems to be struggling in Philly, and according to a MLB Trade Rumors article he'd have stayed with Chicago if he could've done so. According to the article, Arrieta was reportedly looking for around $200M- an amount that Tom Ricketts wasn't willing to pay. Arrieta finally settled for three-years/$75M (guaranteed) with the Phils.
Big-Jake is one of the "Boras Boys," and those deals never come easy for teams. He certainly got Bryce Harper the money that he wanted, but as Jake's learning, money isn't everything. Prepare yourselves, folks, Kris Bryant is due for free agency in just two years, and he too is a Boras Boy.
Jon Lester: I may grunt, groan and scream, but in the grand scheme of things, baseball's just a game. What matters is when guys like Jon Lester make a difference off the field. Keep up the great work, Jon, these families need you.
Pleasure was all mine, thanks so much for coming out! Leo is a stud! https://t.co/RhAkp3VyKB

— Jon Lester (@JLester34) July 2, 2019
Tribute to a friend: Still reeling from the unexpected death of former teammate, Tyler Skaggs, Patrick Corbin wore number 45 last night as he took the mound for the Nationals, inscribing Skaggs' number in the dirt on the hill before he began pitching. Class act.
Patrick Corbin, wearing #45 tonight, pays tribute to his late friend Tyler Skaggs. pic.twitter.com/Br61ZNYnNm

— Baseball Quotes (@BaseballQuotes1) July 3, 2019
A moment of silence for No. 45. pic.twitter.com/nQ5BrKMY2R

— MLB (@MLB) July 3, 2019
Baseball Quotes: "Make sure your worst enemy doesn't live between your ears. Self-doubt kills dreams. You are more capable than you think." -Kris Bryant
Cub Birthdays: Celebrating yesterday, were ex-Cubs Angel Pagan (38), Jermaine Van Buren (39), So Taguchi (50), and posthumously, Len Madden (129).
NL CENTRAL SCHEDULE (June 30 – July 6, 2019)
(Wins are in green, losses in red)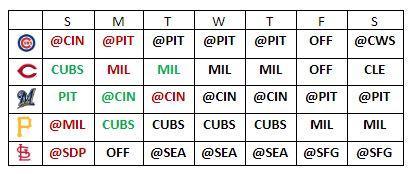 NL CENTRAL SCOREBOARD/STANDINGS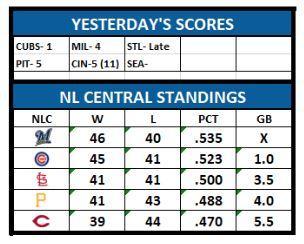 Tags: Cubs Baseball
,
,
Yu Darvish
,
Kyle Hendricks
,
Anthony Rizzo
,
Dillon Maples
,
Mike Montgomery
,
Albert Almora Jr
,
Randy Rosario
,
Willson Contreras
,
Jose Quintana
,
Cole Hamels
,
Rowan Wick
,
Adbert Alzolay
,
Jake Arrieta
,
,
,
Joe Maddon
,
Theo Epstein