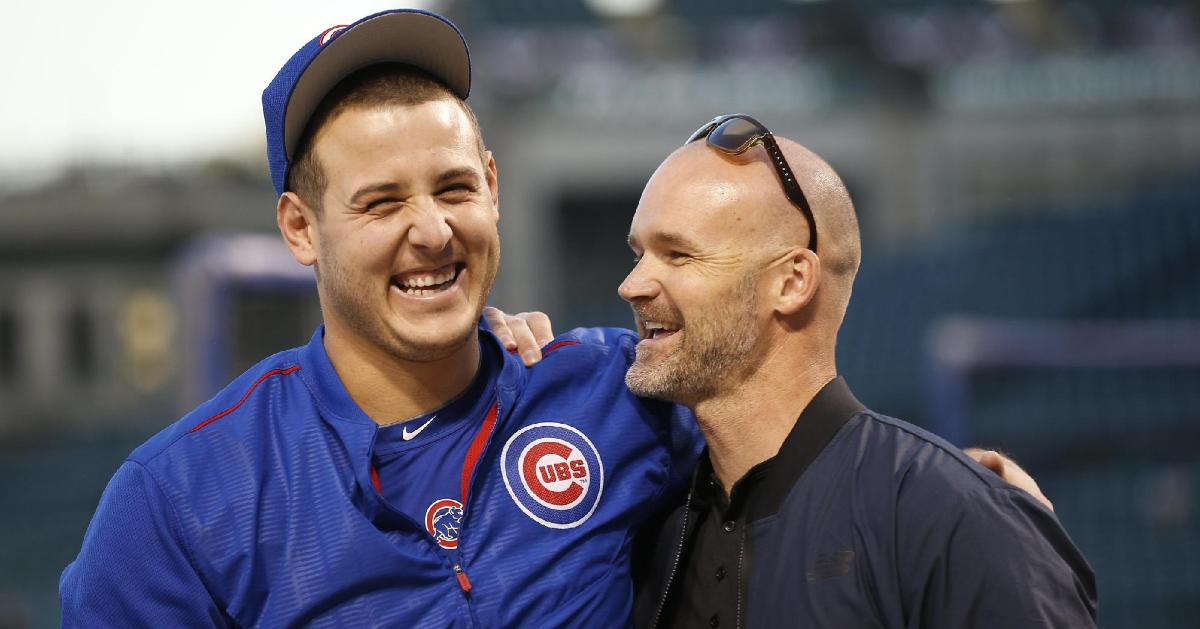 | | |
| --- | --- |
| Cubs News and Notes: Cubs hires, Contreras rumors, Vegas odds on 2020, MLB Hot Stove, more | |
---
CUBS NEWS AND NOTES
For everyone who's already depressed about baseball being gone until next year – hang in there – only 138 days until Opening Day (March 26, in Milwaukee).
Ross' staff: With the announcements that Andy Green and Chris Young had been hired to serve as David Ross' bench coach and bullpen coach respectively, the Cubs now have Ross' staff in place, with the exception of still needing to find a replacement for Brain Butterfield at third.
I was on the fence about whether or not Anthony Iapoce would stay on as the hitting coach, but something told me that Tommy Hottovy wasn't going anywhere. When Theo pulled the rug out from under Chili Davis and Jim Hickey last year, the pair were replaced by "Theo's guys" and not the selections of Joe Maddon, himself. With Ross working side by side with Theo for the last few years, it wouldn't surprise me to learn that Rossy had some input about the hiring of Hottovy and Iapoce – especially if there's any truth to the rumor that Ross has been groomed for this position since joining the front office.
With Will Venable returning to the coach's box (presumably at first base, but that may change) and Mike Borzello reassuming his role as the assistant pitching/catching coach, Ross has enough of a staff in place to begin holding "winter meetings" of his own, although his would consist of discussing coaching/managerial strategies, while (if he stays true to his word) knocking on the doors of a few players who are in need of a "pep talk."
I've seen more than a few on social media who've done so already, but don't be next to the fool who turns their head and heart on this team.
Just because you weren't enthralled with Ross being named as the manager, doesn't mean that he won't fare well. Grade the guy on what he does- not so much on what the Cubs do – as depending on how much disassembling Theo does, may have Rossy's hands pretty tied. I don't think Epstein will cripple this team by dismantling it, but I fully expect there to be quite a different landscape, come February.
Willson Contreras: Catchers – more specifically, young catchers – seem to be in demand early this winter; just ask Willson Contreras. As teams continue to show interest in Contreras, the Blue Jays are reporting that their own catching squad is drawing the attention of its own. While they're not likely to part with Danny Jansen, Reese McGuire and Luke Maile may be up for grabs, as Toronto focuses on shoring up their pitching (this sounds familiar to Cub fans).
Although neither McGuire nor Maile holds a candle (in my opinion) to Willy, the Jays' willingness to deal either of them may make Theo a little less inclined deal Contreras; or it could end up making things worse. Both teams hold a similar objective: acquire pitching, so depending on who may come calling on both Chicago and Toronto for catching help, may determine how aggressively Theo has to dangle Contreras' name.
Vegas Odds: Las Vegas has issued the early odds on the Cubs winning the 2020 World Series and if … well, if you like the underdog and have some disposable cash, you may just want to call a bookie. Right now, the Astros are listed as the favorites (+500), with the Cubs down the list at +2000 (tied for 12th best odds).
Currently, the Brewers are favored tow in the NL Central (+1400), with the Cardinals (+2500), the Reds (+3300), and the Pirates (+10000) all lining up behind Chicago.
Cubs' Birthdays: Celebrating today were former Cubs Rowan Wick (27), Tony Barnette (36), and posthumously, Walt Lanfranconi (113) and Harvey Hendrick (122).
Happy birthday, @RowanWick! pic.twitter.com/MyGy3PAuS8

— Chicago Cubs (@Cubs) November 9, 2019
Baseball Quotes: "Enjoy playing baseball for as long as you can. Because once it's over, you'll miss it. Trust me." -Tim Kurkjian
Baseball is more mental than physical. -Bo Jackson pic.twitter.com/hVkW1X2Izu

— Baseball Quotes (@BaseballQuotes1) November 4, 2019
MLB and the Hot Stove
NL Central Hot Stove:
Cardinals: According to MLB's Jon Heyman, Marcell Ozuna is doubtful to take the qualifying offer. Ozuna had been viewed as only one of 3-4 players who may had even a remote chance of accepting.
From the rest of MLB:
Blue Jays: Jays' righty-reliever Ryan Tepera has elected free agency. Toronto designated him on Monday, but due to service time, Tepera was able to refuse an outright assignment.
Trevor Bauer: After leaving Wasserman Media Group, Bauer has become the first client of brand-new sports agency, Luba Sports, per Ken Rosenthal.
Players typically pay 5% of their salaries to their agents upon reaching the majors. Instead, Luba agent John Fetterolf will make a lower commission (1.5 to 2.5%) that differs depending on the player's career status, plus an hourly rate. The idea is to allow more money to be made by the players. For his part, Bauer (much like Kris Bryant) thinks the system is somewhat broken and wants to see the next generation of players pocketing more of what they make.
Innovator Trevor Bauer on the cutting edge of... sports agency?https://t.co/uMkM2o4jpw pic.twitter.com/8asWUx8MWB

— MLB Trade Rumors (@mlbtraderumors) November 9, 2019
Orioles: Baltimore is said to be in the market for a veteran shortstop and some pitching depth (with just over 100 combined wins for the last two years, you'd think they'd be in the market for anything and everything).
Yankees: Someone may want to inform the Yankees about the plans being made in Baltimore, as NY is said to be targeting top Orioles' reliever, Mychal Givens. Givens was reported to be tradeable last July, but that never materialized.
Red Sox: The Other day it was the Tigers who signed a handful of pros to minor league deals, and this weekend it was the Red Sox. Boston announced yesterday that it had inked MiLB deals with that left-hander Dan McGrath; right-handers Austin Maddox, Domingo Tapia, and Andrew Schwaab; catcher Jhon Nunez and infielder Jantzen Witte.
Rockies: Also perhaps familiar sounding to Chicago fans, the Rockies fell apart at the seams last hear and now must decide whether or not to deal one of their stars; righty, Jon Gray, who has two seasons left until he reaches free agency.

Tags: Cubs Baseball
,
David Ross
,
Willson Contreras
,
Rowan Wick
,
Tony Barnette
,
,
Joe Maddon
,
Mike Borzello
,
Chili Davis
,
Jim Hickey
,
Tommy Hottovy
,
Anthony Iapoce
,
Will Venable