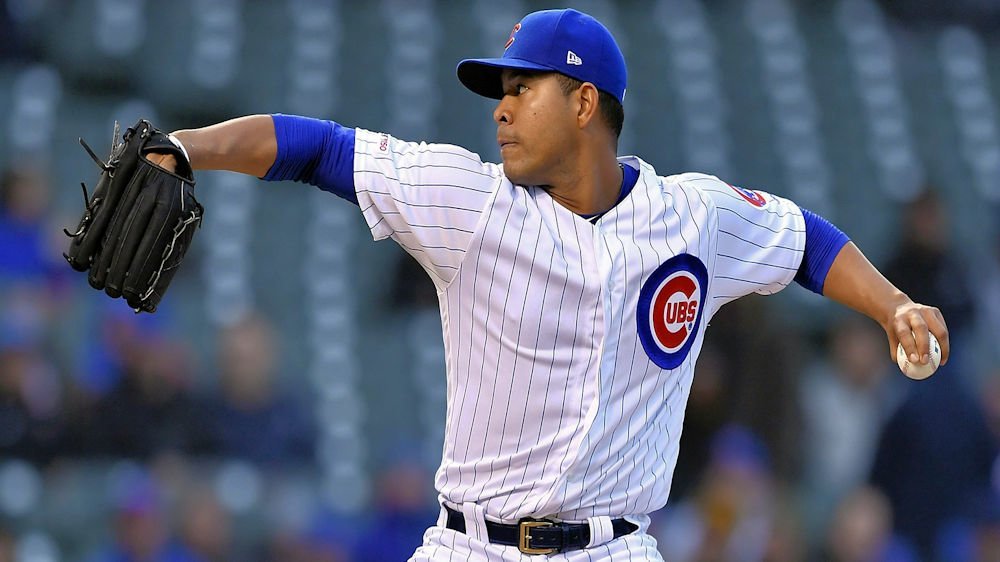 | | |
| --- | --- |
| Cubs News and Notes: Workouts begin for Cubs, Quintana injured, Wrigley yard, more | |
---
CUBS NEWS AND NOTES
Workouts begin: Well, today's the day. Players have been tested, and the Cubs – along with several other MLB teams – will hold their first practices for summer camp, as they prepare to start the 2020 season – again.
Quintana injured: First it was news of Tommy Hottovy's COVID-19 case, and now the Cubs have announced an injury to Jose Quintana. He didn't pull a hammy while running to cover first, nor did he blow out an elbow, knee, or rotator cuff (thank God). Instead, he managed to slice his pitching thumb apart last Saturday, while doing dishes at home in Miami.
Quintana underwent microscopic exploratory surgery on his thumb yesterday for doctors to fully know the extent of Q's injury. The docs then noted a lacerated digital sensory nerve in his left thumb – his pitching hand, of course – which they immediately repaired with more surgery. As of yesterday, the doctors predicted that Q could begin throwing in as little as two weeks.
Theo Epstein then updated the situation again yesterday afternoon.
"There's a best-case scenario in which it heals quickly, and his thumb feels good, and he can resume a pretty rapid ramp up from that point," he said. "But there's certainly another scenario in which the nerve takes longer to heal, and he's gonna be significantly delayed."
Nerves are tricky. The sensory nerves supply sensation to the sides and middle of the fingers and thumbs. If Q has permanent sensation loss in that thumb, it may prove hard for him to throw his pitches effectively, if at all. Unfortunately, he's had a rough couple of years on the field, and this setback won't help matters any.
Theo Epstein, on losing Jose Quintana to a thumb injury (washing dishes): "This injury certainly challenges our depth in an area where we had some concerns already about our depth. Its going to be important for certain players to step up and make the most of this opportunity."

— Jesse Rogers (@JesseRogersESPN) July 2, 2020
With Q now out for at least a little while, Alec Mills will undoubtedly slip into the rotation, along with Tyler Chatwood, who would presumably have filled the spot vacated by Cole Hamels. I have far more confidence in Chatty than I do Mills, based mostly on the fact that Mills is still relatively inexperienced.
The almost bigger problem now becomes who the Cubs will be able to use as their swingman. Adbert Alzolay is on the 40-man roster, but his showings have been mediocre. Most of the relievers in the pen can grind for an inning or so, but that's about it. I have seen nothing promising out of Jharel Cotton; beyond him, the choices become very slim. Players can still be added to the roster, but neither Dakota Mekkes, Jason Adam nor Brailyn Marquez have any experience. James Norwood has struggled, though at least he is on the summer camp roster as of now.
The choices are thin. This year is going to see a lot of starters pulled early instead of turning games over to the pen after two or maybe three innings, as the pitchers aren't tuned up yet, and concerns about the virus continue.
I'm not sure what it is with the Cubs' pitchers suffering freak accidents. As you'll recall, a couple of years ago, Brandon Morrow hurt himself while trying to install a pair of pants. Note to self: Don't let Q and Morrow ever become roommates. Best wishes for a speedy recovery, Q.
Field of dreams: Ok, so it isn't a "field," but one Cubs fan has erected a miniature Wrigley Field in his backyard. Believe it or not, a 16-yeard-old kid from Palatine, Illinois named DJ Dick, constructed this shrine, beginning last year.
According to an Dick told MLB.com, " "Really, this quarantine was when I did everything you see now because I had so much time without sports going on," Dick told MLB.com. "The field was just a normal backyard wood fence with two PVC pipes for foul poles. It was pretty much all I had -- and a net behind home to keep [the balls] out of the neighbor's yard."
This is amazing. A 16-year old kid constructed this in his back yard... pic.twitter.com/z6NakXjT2O

— Ken Allison (@KenAllison18) July 3, 2020
David Dick, the DJ's father added, "We live in a neighborhood without a lot of car traffic, so we get a lot of people who will stop by and look over our fence and watch a game as it's going on for five or ten minutes and make their way," David said. "It's nice. We invite our neighbors to come over and play as well, and they get in games with DJ and some of his buddies."
July 3, 2020
Talk about being a dedicated Cubs fan, this kid – who would've been about 13-years-old at the time – passed on a trip to Hawaii in 2016, just so that he could go to Game-7 of the 2016 World Series.
Kudos, Kid – that thing is nothing short of impressive.
Miller impressed with Wrigley: If you think it's impressive to walk into iconic Wrigley Field as a fan, imagine what rookie ballplayers must feel when they climb the steps to the field.
Rookie outfielder, Ian Miller experienced that reality shock this week as he entered Wrigley for the first time in his career.
Wrigley, wow... pic.twitter.com/rHQapwwUXL

— Ian Miller (@8rellimnai) June 30, 2020
???? pic.twitter.com/iB9SSIcc9R

— Ian Miller (@8rellimnai) July 2, 2020
Miller has the potential to make the Cubs' 26-man roster, and if he doesn't, he'll undoubtedly be on the 40-man. Before the shutdown, I wrote about how impressive this kid was in March, and that I thought he had a legitimate shot at making the roster as the 26th man. He plays well, he hits well, and his attitude is just what the Cubs need.
The Cubs will (sadly) be enduring a rebuild over the next few years, and Miller fits the mold. He's young, talented – and most importantly to ownership – controllable. Get to know his name. You'll be seeing a lot of him in the future.
I know your thumb must be tired from snapping all of those shots, but can we get one last pic, Ian?
Last one, I promise - unreal. pic.twitter.com/dazM18mxrX

— Ian Miller (@8rellimnai) July 1, 2020
Cubs' Birthdays: Celebrating yesterday were ex-Cubs Angel Pagan (29), Jermaine Van Buren (40), So Taguchi (51) and posthumously, Len Madden (130).
Baseball Quotes: "It's been said that n Chicago there are two seasons, winter and construction. For Cubs fans, there is only one, and it always comes next year." – Rick Talley
A lot of guys like to ice up their arm. Still, other fellas think that heat is the way to go. But I, have discovered the secret, Henry...hot ice! I heat up...the ice cubes! It's the best of both worlds! -Rookie of the Year pic.twitter.com/GX6uG8ZU1t

— Baseball Quotes (@BaseballQuotes1) April 14, 2020

Tags: Cubs Baseball
,
Jose Quintana
,
Alec Mills
,
Tyler Chatwood
,
Cole Hamels
,
Adbert Alzolay
,
Jharel Cotton
,
Dakota Mekkes
,
Jason Adam
,
Brailyn Marquez
,
James Norwood
,
Brandon Morrow
,
Ian Miller
,
Theo Epstein
,
Tommy Hottovy