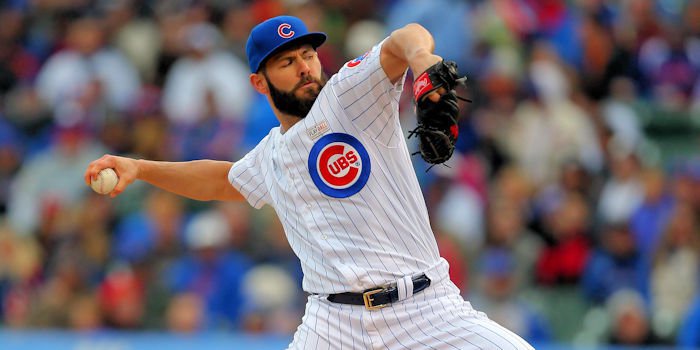 | | |
| --- | --- |
| Cubs News: No Lester: What about Jake Arrieta on one-year deal? | |
---
Jon Lester has officially signed his contract to play the next chapter of his career with the Washington Nationals after spending the last six years of his career for the Chicago Cubs. Big Jon always carried himself with class and was a true leader on and off the field.
Chicago seems almost in debt to Jon, as it was his arrival that sparked the Cubs' rise to success in 2015 and led to the epic World Series championship what Cubs fans had been yearning for the 108 years prior. His departure is met with a sadness that the era has ended, a reunion could not be made, and the uncertainty of the front office's financial situation.
But it is possible that another reunion could help the Cubs bridge their gap and stay cost-effective.
Jon Lester's deal was for around 5 million dollars, which is a cost-effective deal for a starting pitcher in its own right — so it might be hard to think of ownership spending any money at all*
Many expected a potential reunion to come about between the Cubs and Tommy La Stella, a contact-oriented, left-handed bat and a utility man that enjoyed his time in Chicago. But that idea has been speared because the soon to be 32 year old signed a multi-year deal with the San Fransisco Giants.
However, it has been reported that Jake Arrieta will be throwing for teams in the next week, an open workout for interested teams and scouts. It has not yet been reported whether or not any representatives of the Cubs organization will be in attendance, but I certainly think they should be.
The Cubs have traded Yu Darvish and let Jon Lester, Tyler Chatwood, and Jose Quintana walk. Those players accounted for nearly 50% of the innings pitched by Cubs starters. This leaves the Cubs massive amounts of innings for the team to fill — especially since the season will be 102 games longer, or 918 innings more.
It seems the Cubs have no interest in spending too big to fill that void or in winning a title in 2021, but taking a flyer on a veteran pitcher who has extensive history in the organization to eat innings does not seem like a bad idea.
Theo Epstein and Jed Hoyer originally acquired Arrieta in the middle of the 2013 season from the Baltimore Orioles. Over the course of the next few seasons, Arrieta turned from an intriguing prospect to the best pitcher in the game. In 2015-2016, Arrieta won 40 games, made an all-star game, won a Cy Young, led the league in ERA, pitched over 400 innings, threw two no-hitters, won four playoff games and a World Series championship.
Jon Lester had a massive impact on this organization, but Arrieta's stamp can never be forgotten.
Arrieta departed after 2017 for the Philadelphia Phillies and, in those three years, has just matched his total of wins from the 2015 season. Arrieta's ERA has climbed each year steadily as he has aged and battled numerous injuries.
For those reasons and the fact that Arrieta is entering his age 35 season — he will not come with a steep price tag.
But if any team knows his potential, his work ethic, and the impact he can make on a pitching staff — it's the Chicago Cubs.
I don't necessarily believe it will happen, but I'd love to see Jake again in a Cubs jersey.
I just mentioned on the radio, there is some interest in a Cubs reunion with Jake Arrieta.....team likely to sign 1-2 more buy low starting pitchers. Arrieta says he's healthy and ready to go.

— Jesse Rogers (@JesseRogersESPN) January 29, 2021