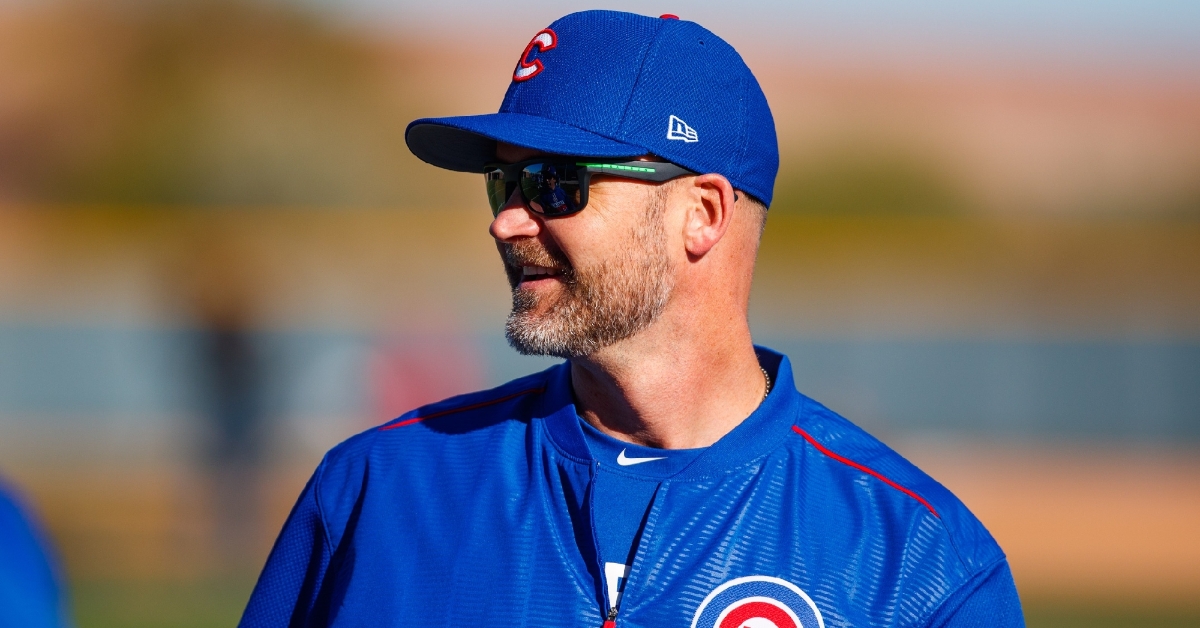 | | |
| --- | --- |
| Cubs News: David Ross: The King and his court | |
---
It's almost time. In just a week, the free-agent class will hit the open market, and teams will start jockeying for position. Phones will be ringing, and emails will be flying through cyberspace, as baseball execs try to get the most for the least. Non-tenders and releases will make the number of available players rise even higher. The players whose options aren't picked up will make the number jump again, with many of them still unemployed when Opening Day comes.
In the meantime, managers are being hired and coaches are being placed (or replaced, as the case may be) in their new positions. For those keeping tabs, Joe Maddon and the Angels have already hired former Mets' manager Mickey Callaway as their pitching coach, and their new assistant hitting coach's name may ring a bell; his name is John Mallee.
The next few weeks will bring with them the names of the new men who'll be assigned to support Ross and the team, and this transition can be (on some levels) as exciting as the names of the players themselves. Don't look for sweeping changes, as I think both Will Venable and Brian Butterfield are safe, but there will be some changes (again), which is starting to seem like an annual thing.
While the Cubs figure out what David Ross' coaching staff will look like, questions like whether or not they'll be keeping guys like Mark Loretta, Anthony Iapoce, and Tommy Hottovy linger. Having interviewed with other teams, it's unlikely that Loretta would stay – and no – a guy like Joe Espada wouldn't consider making a lateral move. I've heard from a lot from fans who think that Ben Zobrist would be the ultimate bench coach, but while Zo would probably excel in that spot, it isn't going to happen – at least not yet. Zo still has life left in him, and if he's going to be around baseball, it'll be as a player (I still think he'll retire).
I think that Tommy Hottovy is safe for at least one more season, but Iapoce may be another story. Hottovy also seemed to be studying something, taking notes, chatting it up with the players, while Iapoce remained very much behind the scenes. Of course, due to mound visits, you'll see a lot more of the pitching coach than you will the hitting coach, but Iapoce was like a ghost, and the Cubs' offensive efforts this year seemed to reflect that.
I often get asked who I think the next bench and hitting coaches maybe, but I seldom venture into that arena, as the choices are so vast. If the Cubs are to replace Iapoce, they'll need to find a guy who can get this squad to focus on hitting for contact rather than power, but good luck with that, as neither Chili Davis nor Iapoce managed to instill the concept. The more I think about it, the more I'd also like to see a coach who'll focus on the lost art of bunting. This all or nothing approach that the Cubs have been taking at the plate has to end. Solo home runs will not (consistently) win games, but station to station hitting usually will. Now, if Theo can just find that guy.
I'm not sure that Andre Dawson or Billy Williams are available, but hey- the Mets pitching coach (Phil Regan) is like 105 or something, so anything's possible.
It's not clear how much "hand-holding" (if any) Theo will do, as they work together to select Ross' coaching staff, but Ross isn't some kid who just rolled out of the minors. He was chosen to lead this club, so don't think for a minute that he won't have a say in things. Will he listen to (and consider) advice from the Cubs front office? He'd be a fool not to, but contrary to what some may think, Ross isn't a puppet.
No matter who gets selected, I think you'll see David Ross being a lot more hands-on than Joe Maddon ever thought about being. Guys like Willson Contreras and Victor Caratini are bound to benefit from Ross' years behind the dish. That experience will also undoubtedly serve to help the pitching staff as well. Ross was known as a leader in the clubhouse when he played, and I'd like to think that he's not so far removed that some of that won't transfer. The Cubs have been craving leadership both on and off the field, which was something that – for as great as he was – Joe Maddon just couldn't seem to deliver at the end of his reign.
There's a lot of names available out there to replace Iapoce, Loretta, and perhaps even Hottovy, many of which you've not even considered, but rest assured, the Cubs will have these guys in place before too long. The World Series is almost over, so let the Hot Stove begin!

Tags: Cubs Baseball
,
David Ross
,
Ben Zobrist
,
Willson Contreras
,
Victor Caratini
,
Joe Maddon
,
John Mallee
,
Chili Davis
,
Tommy Hottovy
,
Anthony Iapoce
,
Will Venable
,
Brian Butterfield
,
Mark Loretta