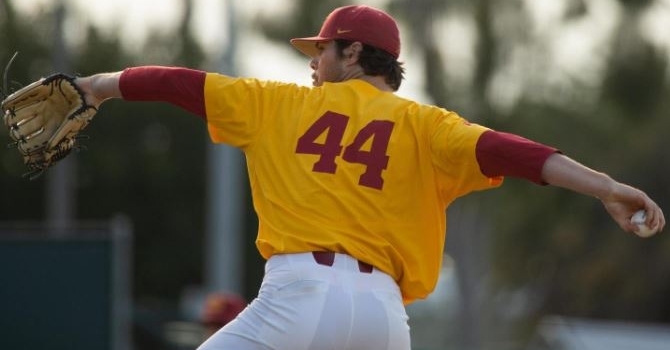 | | |
| --- | --- |
| Cubs Prospect Focus: Chris Clarke | |
---
| | | |
| --- | --- | --- |
| Wednesday, November 24, 2021, 8:52 AM | | |
The Cubs have worked tirelessly to try and rebuild the farm system filling with both hitters and pitchers. Pitching depth has always been an issue for this team, and until they can prove they have supplemental arms in the system, that will be the team's downfall. Although there does seem to be pitching help on the way, many of them are a few years away, making the next few seasons of free agency critical for this team.
One of the names that has a bright future is the team's No. 25 prospect Chris Clarke. The Cubs went pitching heavily in the 2019 MLB draft, and Clarke was another one of those guys taken in the fourth round out of USC. The big 6-7 Clarke was the Cubs third pitching pick over the first four rounds and followed Louisville's Michael McAvene, who was selected in the third round.
McAvene was viewed as the team's future closer and was a top 20 prospect at one point, but has fallen out of the top 30 after missing 2021. On the other hand, Clarke continues to make a name for himself, and the Cubs are going to find out a lot about him next season. After struggling during his freshman season with the Trojans, Clarke figured things out in a big way and proved to be a steal from the moment the Cubs signed him.
After getting drafted, Clarke went to Eugene, where he posted a 1.96 ERA across 23 innings in 2019 while posting a 4BB/26K ratio during that span. With no 2020 season due to COVID, Clarke was so widely respected within the organization that he was able to spend time during the instructional league, where he made two appearances. Outside of that, he spent most of that summer at the Cubs Alternate site as he was preparing for 2021.
Unlike 2019, when Clarke burst onto the scene, 2021 was a different story as Clarke was immediately put behind the eight ball. Not only did the Minor League season start in May, but Clarke missed the first three months dealing with a hip injury. Once he was cleared to return, he made one start in Arizona before landing in South Bend to finish out his season.
The numbers were not great, going 0-6 4.39 ERA across 10 starts compiling 53 innings, but the control was still good. Clarke walked 13 and struck out 49 on the season, as that continues to be the thing that separates him from a lot of the pitchers in the system right now. As bad as things went for Clarke last season, he did better with each start, including the final three starts of the season. Across those final three starts, Clarke allowed three runs over 16 innings, walking three and striking out 14.
Clarke is your typical tall right-hander who stands at 6-7, which allows him to have some deception in his delivery. His fastball may not be the velocity you would expect, sitting in the 92-94 range, but he did show some uptick maxing out at 96 MPH last season. What stands him apart from many of the Cubs starting prospects is his hammer-like curveball that works equally well against both lefties and righties and comes in at 82 MPH.
Add in his 86 MPH slider, and Clarke has three reliable pitches that he can throw at any moment in the count. The thing that will either speed up his development or set him back will be the development of his changeup, which he has been working at the last few years. Not only has he changed the grip on that pitch to generate more spin, but he is creating more sink to make that change up a slower version of a sinker. Should he get ground ball-outs with that pitch to go with his high influx of strikeouts, and you have someone you can count on for years to come.
Not only does his height make him an imposing fixture on the mound, but his low ¾ arm slot delivery creates an extremely tough angle for the ball to come out of. That makes life miserable as a hitter as they don't often get a good look on many of his pitches. Righties especially find it difficult to hit him as his release point is usually behind the front shoulder in the batter's box.
Clarke is athletic and has excellent body control, making it easy for him to repeat his delivery. Clarke is often compared to McAvene, considering where they were taking in the draft. From a pure stuff side of things, Clarke can't match McAvene as he doesn't have the power that he provides. Clarke has a better chance of succeeding as a starter, given his experience and more polished approach as a pitcher.