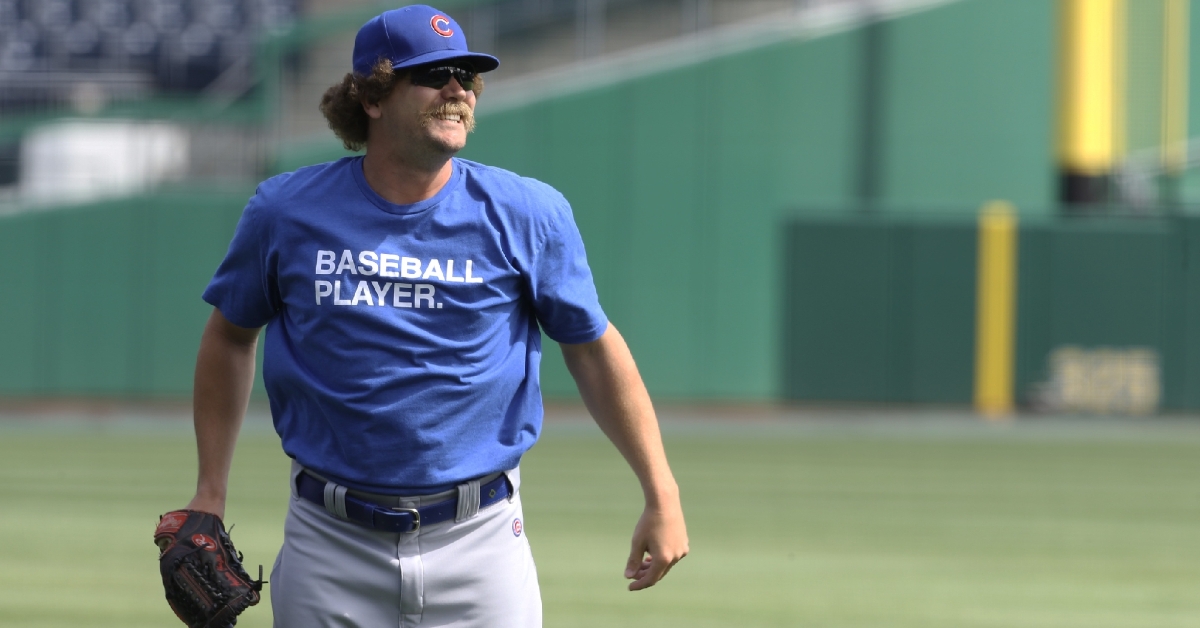 | | |
| --- | --- |
| Cubs should look to the 'Sheriff' for relief help | |
---
| | | |
| --- | --- | --- |
| Wednesday, December 21, 2022, 10:00 AM | | |
When the 2022 MLB offseason began, everyone knew the Cubs were going to be in a position to make a lot of noise. Coming off a 74-88 year that was far better than what most expected, the Cubs felt that they were closer to contending than some thought hence the reason they wanted to be more aggressive and add to this roster.
With the release of Jason Heyward as the first pin to fall, fans could see how serious the Cubs were about spending money, as that opened the door to do a lot more. Don't get me wrong. There were times this offseason when the fans were frustrated, as it felt like the Cubs were sitting back and doing nothing.
Maybe that was their plan the entire time. Perhaps they wanted to feel the market out and see the going rate, so they didn't have to overpay for someone. Whatever the reason was for their slow start, this team has done an excellent job addressing the needs on their roster.
So far, the Cubs have brought in Cody Bellinger to play CF, Jameson Taillon and Drew Smyly in the rotation, Brad Boxberger in the bullpen, and Dansby Swanson to play SS. That is a good haul if you ask me, even if the fans wanted them to do more. Although many of the team needs have been filled, there is still more work and more holes that this team is looking to address.
They still need help behind Yan Gomes at catcher, and it is becoming very likely that Tucker Barnhardt will be a Cub soon. You then look at the infield, where both third and first base need help. Matt Mervis is an in-house option that will have his opportunity, but he needs a quality backup like Trey Mancini behind him or even someone like Brandon Drury, who can play both first and third.
You can also add more starting pitching to this team, even though they have 10 starters on the roster. One name to watch is Kyle Hendricks, as they could dangle him with a guy like Nick Madrigal and prospects to acquire an ace like Tyler Glasnow. In any instance, this team has work that still needs to be done, and they will not hesitate to fill those holes.
One area we have yet to talk about that much is the bullpen which is starting to take shape, but has one significant area that needs to be addressed. With the addition of Boxberger last week, the Cubs currently have a pen of Boxberger, Brandon Hughes, Rowan Wick, Keegan Thompson, Codi Heuer (when he returns), Adbert Alzolay, and most likely Javier Assad and or Adrian Sampson, depending on the starter situation.
That is a great starting point, but the Cubs are still one or two more guys from making that bullpen complete. One thing you notice when looking at that is the lack of lefties, as Hughes is the only left-hander in the pen. The Cubs need to fix that, which is one of the areas the team is searching for now.
Sure, there are some in-house options like Brendon Little and Brad Weick, but given the health situation of Weick and no major league experience from Little, the Cubs may decide to look at the open market for a leftie. If that is the case, there is a former Cub and fan favorite available whom I am sure everyone would like to see return in Andrew Chafin.
Known as the Sheriff when he was in town, Chafin was acquired during the 2020 season from the Arizona Diamondbacks, but missed most of that year with a finger issue and didn't pitch until the season's final week. Then came 2021, where he was part of the Cubs three-headed monster in the bullpen that gave the Cubs one of the best bullpens in baseball in the first half of the season.
Paired with Ryan Tepera and Craig Kimbrel, Chafin fit right in as those three had a combined ERA of 2.08 and made life miserable for teams. In other words, if the Cubs had the lead in the seventh inning, chances are they would win as those three guys were lined up.
Not a hard thrower by any means, Chafin has quietly been one of the more consistent lefties over the last five seasons, but it has been his work in the past three that stood out. Not only did he post an ERA of around 2.2 with the Cubs that season, but after his trade to Oakland, Chafin continued to do his thing.
He then signed with Detroit last offseason, and although he didn't have as good of a season as in 2021, he still posted an ERA of 3.4, which is right around his career mark. Chafin is a guy that every team loves to have, and his energy is infectious in the clubhouse. He would be the perfect addition to this team, especially in the bullpen, as he would give them another good lefty.

Tags: Cubs Baseball
,
Jason Heyward
,
Drew Smyly
,
Yan Gomes
,
Kyle Hendricks
,
Nick Madrigal
,
Brandon Hughes
,
Rowan Wick
,
Keegan Thompson
,
Codi Heuer
,
Adbert Alzolay
,
Javier Assad
,
Adrian Sampson
,
Brendon Little
,
Andrew Chafin
,
Ryan Tepera
,
Craig Kimbrel