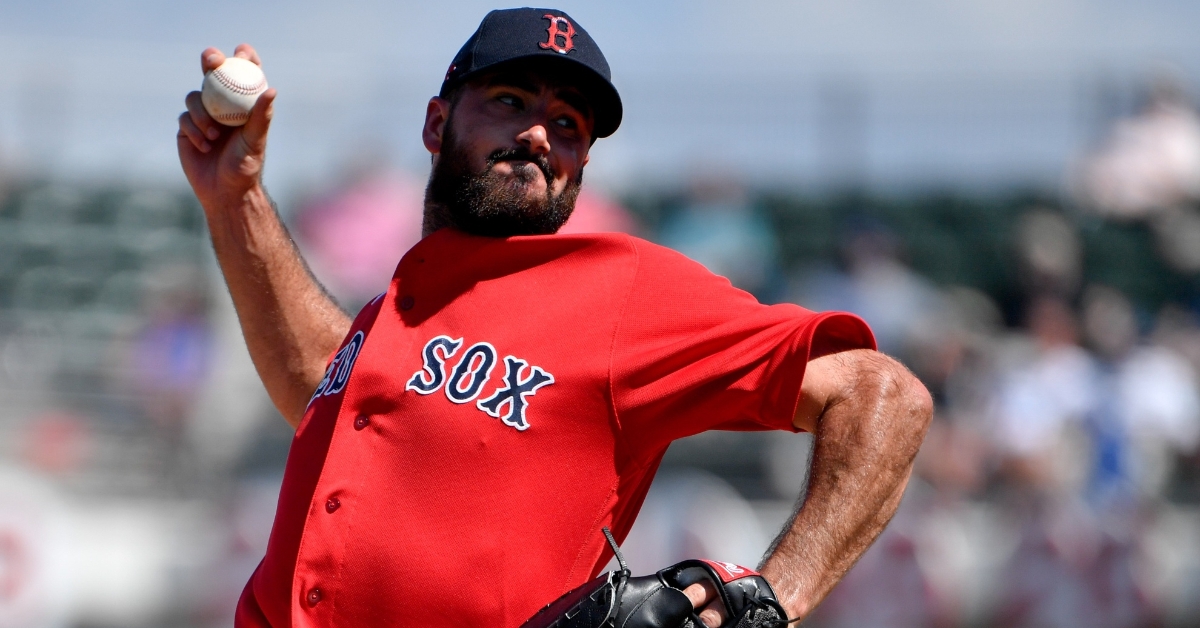 | | |
| --- | --- |
| Cubs signing former Red Sox closer | |
---
| | | |
| --- | --- | --- |
| Wednesday, February 17, 2021, 10:48 AM | | |
Spring Training is getting underway, but that doesn't mean the Cubs are done making moves. After Jed Hoyer spoke with the Media on Tuesday, he wanted to let people know that Kris Bryant wasn't going anywhere and that he would be on this teams opening day roster. Hoyer also said that the team was adding a veteran arm to the bullpen but wouldn't comment on who that arm would be.
As of Wednesday morning, the Cubs are bringing in a new veteran presence as they have agreed to a one-year contract with right-hander Brandon Workman.
The deal is worth one million in guaranteed money, with the potential to earn two million more in incentives. This move appears to signal the end of Jeremy Jeffress's time in Chicago, but the Cubs could have done a lot worse than Workman.
Lost in the shuffle of Hoyer's press conference on Tuesday was David Ross, who announced that Craig Kimbrel would once again be taking over the closer's role this season. That leaves an opening for the set-up spot, which Jeffress and Kimbrel occupied at times in 2020. Workman, a former closer with the Red Sox, will now take over that eighth-inning role, which immediately makes the pen's back end better.
Workman is a name Cubs fans are familiar with as both Theo Epstein and Jed Hoyer have tried to lure him to Chicago in the past. Most recently was the 2018 seasons when the Cubs and Red Sox were on the verge of completing a trade for him. The 32-year-old former starter reached the big leagues in 2013 but couldn't string together enough success in the rotation. Boston ultimately moved him to the pen, and that is where his career took off.
I know many Cubs fans are not too fond of bounce-back projects, but Workman has such a high upside in having a bounce-back that it was impossible to pass up for this price. It took three years for Workman to land a full-time role in the pen, but once 2017 began, Workman was now a trusted middle relief option that the Red Sox could count on.
In 33 games in 2017, Workman went 1-1 with a 3.18 ERA posting a near 4/1 Strikeout to walk ratio. He followed that season up with a 6-1 record in 43 relief games, posting another solid 3.27 ERA.
In 2019, Workman put himself in the conversation of dominating relievers as he had a career year with the Sox that season.
Not only did he pitch in a career-high 73 games, but Workman also threw just under 72 innings, his highest total since the 2014 season. Workman won 10 games that season despite a relief role, going 10-1 with an impressive 1.88 ERA. Workman also settled into a full-time closer role that same season and recording 16 saves that season. Workman also saw his strikeouts reach a career-high 13.06 strikeouts per nine innings average, while his walks also increased 5.65 per nine.
Like many players, 2020 was undoubtedly a struggle for Workman despite his nine saves in 21 appearances. Not only was his record 1-4, but his ERA was 5.65 while his strikeouts went down nearly three per nine innings. I find it hard to believe that Workman lost his stuff in one season, and I am banking on 2020 being a case of a weird season for everyone.
Workman is comparable to Brandon Kintzler in terms of what he works with. His fastball has increased from 91 to the 93 range, and he can top out at 95 or 96 on occasions. Workman also has a cutter that sits around 90, but he has thrown that pitch much less and has gone with his curveball much more. After posting a 36.4% strikeout rate in 2019, Workman saw that plummet to 22.8% last season. Not only that, but Workman was also getting hammered, especially against his curve, which was previously his best pitch. Something was off last season that he may never know, but the Cubs feel he is inline for a rebound type of season.
I would have loved to see Jeffress back, but it is hard not to be happy with this signing at this price tag. If Workman still has the stuff he had before last season, it shouldn't be too for him to make some minor adjustments and settle into late-inning roles once again. Chicago has a good track record of finding arms like this and turning out a good bullpen. Workman is much better than many of the Cubs' arms have signed in the past, and his extreme upside is worth a look.