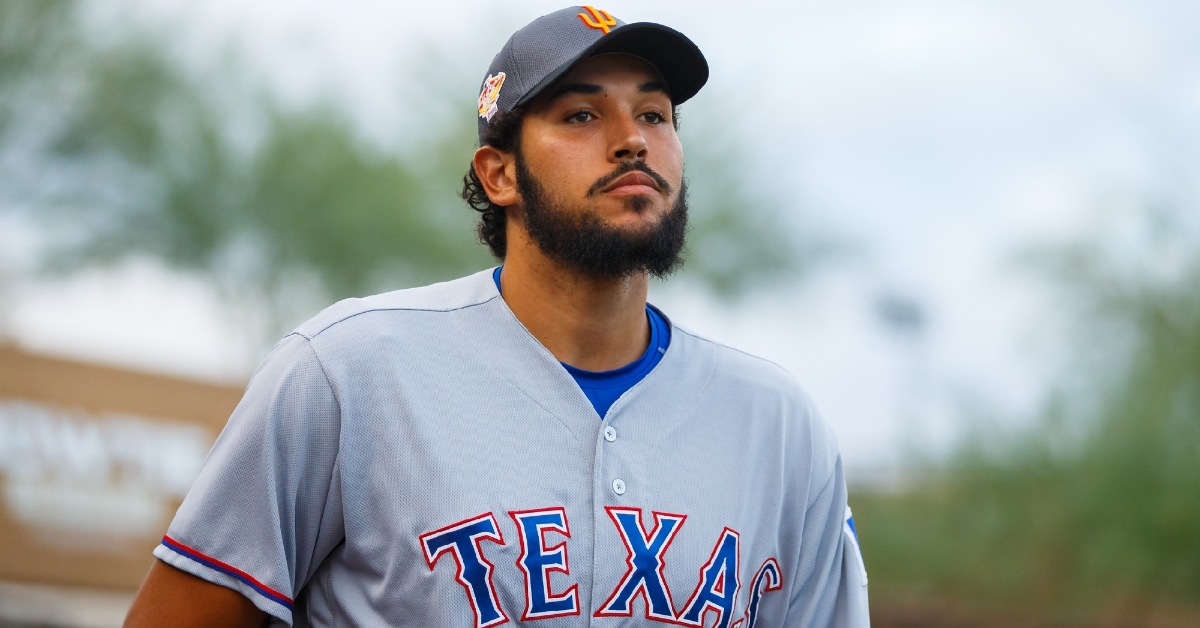 | | |
| --- | --- |
| Cubs strike potential gold with pair of Driveline Academy hurlers | |
---
| | | |
| --- | --- | --- |
| Wednesday, January 29, 2020, 11:36 AM | | |
Free agency is all about four different types of signings that teams use to gauge their off-season plans. Tier 1 represents the big-league free agents that you know will earn their payday and spot on your team. Tier 2 is something the Cubs have been very familiar with this season as this tier represents the players who sign minor league deals, but also will be competing for that major league spot.
Tier 3 is what a lot of teams do, but more so what the Cubs have done this season, which is a minor league free agent pickup aimed to build depth in the system. Then you have tier 4 where you take a chance on a minor league developmental player hoping for big things down the road.
The first three tiers are where most of the attention comes from because we tend not to receive a ton of info on developmental signings unless we see them come up through the driveline academy. However, don't let that fool you as a lot of work is being done behind the scenes with a player from Independent ball, Mexican League, or just players who weren't drafted and are showing off their skills for scouts hoping to land on a team.
With Jeremy Jeffress stealing the headlines yesterday, the Cubs also managed to sign two more pitchers of their own with hopes they prove to be complete steals of their own. Those two men are Max Bain and Adam Choplick.
Starting with Bain, this 22-year-old right-hander is a big boy that comes with a big arm. Standing at an imposing 6-6 and 250 pounds, Bain is undoubtedly someone you won't be able to miss on the mound. Armed with a fastball that sits around 94-96 but can top out at 98 and a curve in the 77-81 range, Bain may only be a two-pitch guy for now, but there is plenty of time to develop a third.
Bain was undrafted out of college but managed to pitch well in the Northwoods League as he has been trying to catch onto an organization somewhere. Not only is his size a major plus, but with his fastball topping out at 98, it made him someone the Cubs couldn't pass up as they put him in their organization to see what he can do.
Bain reminds me of a guy like Rowan Wick, whom the Cubs took a chance on last year. Although not as imposing physically, Wick signed a minor league deal last year and made it to the bigs where he was successful. His mid-90's heater and a knee-buckling curveball was all he needed last season. Let's see if Bain takes a similar path.
6'6" 250 lbs.
22 years old (09/25/97)

Live AB numbers:
5 Hitters - 4K's 1 BB

FB: 94-96 T 97.8
CB: 77-81

S/O @TheTrain34 for the footage today!

Rapsodo Data available upon request.@FlatgroundApp @PitchingNinja pic.twitter.com/N08XssJEEJ

— Max Bain (@mbain_38) January 3, 2020
Given his lack of professional experience, Bain has not yet been assigned to a minor league team at this point. Look for him to start in Rookie Ball this season with Arizona with the possibility of advancing to Eugene before all is said and done.
A lifetime dream come true! Proud to say I have agreed to terms on a contract with the @Cubs! I'm thrilled to represent this organization! A lot of thank you's are in order - First goes to my parents, who have loved me and supported me through every step of this process! #FlyTheW pic.twitter.com/H2iamTGin2

— Max Bain (@mbain_38) January 16, 2020
The second of the two under the radar signings yesterday was that of Adam Choplick, who has much more pro experience than Bain. Now at 27 years old, Choplick spent last season in both the Atlantic League and in Mexico, where he dominating to point where he was nearly unhittable. Although it appears that Choplick has great stuff, he seems to focus more on command than anything.
When you look at his stat line just from a viewer's standpoint, you will see a ton of strikeouts, minimal hits and a ton of walks. That right there shows you that if he can't command his stuff, he tends to lose it, which makes him an uncomfortable man to face. Before his stint in the Atlantic League and Mexico this season, Choplick was a Texas Ranger prospect whom the Cubs are plenty familiar within terms of Rangers prospects.
Much like Bain, Choplick is a massive human standing at 6-9 in his own right and 250 pounds. He is also a left-hander, which makes him a bit more valuable depending on his skill on the mound. Choplick has been added to the Tennessee Smokies roster for the 2020 season as he looks to build on an impressive minor league career thus far. In 122 minor league games, Choplick has compiled a 15-6 record with a 3.55 ERA, 115 walks, and 227 strikeouts. That kind of command needs to be ironed out should he want to move up in the system.
For as big of a guy Choplick is, he doesn't blow you away with overpowering stuff on the mound. His fastball sits around 92-93 as he ads a slider and changeup to that mix. It is not about velocity with him, but instead more on location. Think of a Sean Marshall type of pitcher. When he was commanding out of the pen, he was one of the best relievers in terms of pure stuff. However, when he missed his spots, his stuff wasn't good enough to overpower anyone.
@AdamChoplick is ready for spring training @rapsodo #TMISportsMedicine pic.twitter.com/tiGttv1Usz

— TMI Sports Medicine (@TMISportsMed) February 12, 2019
Although these types of signings may not be what the Cubs fans have hoped for, they do fall in line with what they have been doing to the bullpen at the big-league level. Yes, they have Craig Kimbrel as the lone high money reliever, but the rest of the pen is made up of guys that have at least one thing special about them. Whether it is a high spin rate, high velocity, a great pitch, or even terrific size and arm angle, the Cubs are using that to get them into the organization to see if they can transform them into a solid contributor.
Excited to announce that I have signed a minor league contract with the Chicago Cubs! Thank you everyone for your support and looking forward to a great season! #cubs #blessed https://t.co/ouAMkRqYL2

— Adam Choplick (@GiantSouthpaw) January 27, 2020
At this point, Bain figures to be a lower-level minor league guy this season with a longer developing arm if he can stick. Choplick appears to be in a much better place after having some years of professional experience under his belt. I expect him to be in the mid-levels of the farm system this season despite plenty of challenges on the way. Should he be able to hold his own, look for the Cubs to view him as a possible contributor long term.