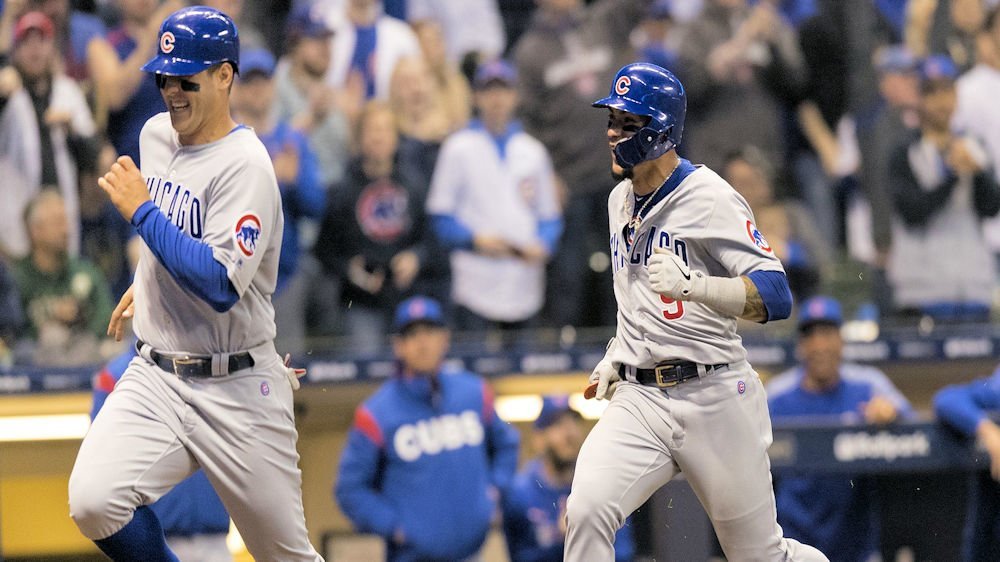 | | |
| --- | --- |
| Cubs vs. D-backs Series Preview: TV times, Starting pitchers, more | |
---
| | | |
| --- | --- | --- |
| Friday, April 26, 2019, 7:31 PM | | |
After taking two out of three from the Diamondbacks last weekend at Wrigley, the Cubs (12-11) hopped a plane last night and flew out to the desert to try their luck in another 3-game, weekend series against Arizona (15-11). It's imperative that the Cubs win this series, as they won't be getting much outside help this weekend. The flaming-hot Cards are about to host the Reds, while Pittsburgh faces the Dodgers for a 3-game set in LA.
Licking their wounds after leaving Chicago, the D-backs managed to right the ship and sweep the Pirates, outscoring them 18-3 throughout three games. The Cubs, also hot, are leaving the comforts of the Friendly Confines, where they just finished a homestand (interrupted by a quick, three games in Miami) that saw them go 9-4 (12-4 if you count the sweep in Miami).
While Arizona has cut the Dodgers' lead in the NL West to just a half-game (in part because the Cubs just beat Los Angeles twice), the Cubs have rocketed out of fourth place, advancing all the way to second, still trailing the Cards by 2.5 games.
Pitching
After getting off to a horrid start to 2019, the Cubs pitching staff (both the rotation and the bullpen), have gotten things together. The starting rotation has dropped their overall ERA to just 3.65 (3.04 when including Tyler Chatwood's 6.0 inning start last Sunday), while the pen's ERA stands at 7.59 ERA; collectively, the team ranks 5th in the NL in terms of ERA. The Cubs have now allowed 103 runs (91 ER), good enough to rank 5th in the NL, with the starting rotation giving up 49 of them.
The Diamondbacks currently share a team ERA of 4.29 (9th in the NL), allowing a total of 117 runs (11 ER). While the Cubs chances of scoring against the starters (4.32 ERA) are good, their chances against the pen (5.50 ERA) are even better, so getting to the starters early will be essential.
Mound Matchups
Tonight: RHP Kyle Hendricks (1-3, 3.54 ERA) vs LHP Robbie Ray (0-1, 3.95 ERA). Game time 8:40 PM CDT; Televised on NBC Sports Chicago and MLB Network.
After beginning the 2019 season with three starts, Kyle Hendricks found his mojo last week against the D-Backs, lasting 7.0 innings and allowing no runs while striking out 11. Until that time, The Professor had been unable to find the command that he relies on, to be able to paint the corners of the zone. Except for Yu Darvish, Kyle Hendricks was the last one to be able to break out of the dark cloud that hung over the rotation's heads to start the year. If we see the same Kyle that we saw a week ago, the Cubs are in good shape, as Arizona was only able to bat .130 (as a team) against him in that game.
Kyle's counterpart tonight will be lefty, Robbie Ray, who faced the Cubs last Sunday, in a game that resulted in a 2-1 loss for Arizona after David Bote hit a walk-off single. Ray had been plagued with bad starts, issuing a ton of walks before that game, but he was able to hold the Cubs to a .207 batting average (6 for 29) while striking out 7 and issuing only two free passes.
Saturday: Saturday: RHP Yu Darvish (1-3, 5.96 ERA) vs RHP Zack Godley (1-1, 6.67 ERA). Game time 7:10 PM Central; Televised on ABC-7 and MLB Network
Despite high hopes for most, Darvish hasn't come back solid (yet) this year. His 18 walks lead the team, and he's not trailing far behind Kyle Hendricks, having already allowed 21 hits. Despite improving in small increments from start to start, Darvish desperately needs a strong outing with plenty of run support behind him, if the Cubs are to win this game.
Darvish has faced 9 of the 13 position/bench players on this roster and has had some mixed results. While he's held Dyson, Ahmed, Escobar, and Flores to a .073 batting average in a total of 17 at-bats between them, Walker, Peralta, Marte, and Jones have combined for a .567 average in 19 combined at-bats.
The D-Backs will send righty, Zack Godley, to the hill, one of two starters the Cubs didn't see last week. Godley only lasted 4.0 innings in his previous start (4/22 vs. Pittsburgh), allowing seven hits and four earned runs while walking four and striking out just two. Godley has yet to start the seventh inning this season, and he's only lasted six innings in two of his five starts.
The Cubs that have seen Godley have done well against him, collectively posting a .294 batting average in 45 total at-bats, scoring a total of 5 runs. He's been able to completely shut down Jason Heyward (0 for 7) and Albert Almora, Jr. (0-3).
Sunday: LHP Jose Quintana (3-1, 3.21 ERA) vs RHP Luke Weaver (2-1, 3.33 ERA). Game time 3:10 PM Central; Televised on WGN and MLB Network.
Jose Quintana has been stellar, so far, this season- period. I've always described him as "quietly solid," but he's added a little something extra this year. In his last three starts, Q has gone 7.0 innings in each, amassing strikeouts and wins, while (for the most part) eliminating runs and walks. In 28.0 innings this year, Quintana has walked only nine men, giving him a walk per nine average of just 2.9, while his strikeouts per nine is sitting at 11.6.
Q has faced 8 out of the 13 position players on this roster, and they have had success against him. In a combined total of 57 plate appearances, The D-backs have managed a .419 batting average, with Adam Jones (.545 in 11 at-bats) servings as Q's Achille's heel. In every cloud, there's a silver lining, and for Quintana, Eduardo Escobar is that lining. In 27 at-bats against Q, Escobar has only been able to produce a .185 average.
Squaring off against Quintana will be southpaw, Luke Weaver, the other member of the rotation that the Cubbies haven't seen this year. Weaver has gone a total of 27.0 innings in his five previous starts this year, issuing only six walks, while striking out 31 of the 113 men that he's faced.
While Weaver has had some success this season, the Cubs seem to have his number. Weaver's faced everyone on the roster except David Bote, Taylor Davis, and Mark Zagunis, but the remainder of the team has a collective batting average of .405 against him. Anthony Rizzo batting .636 in 12 at-bats against Weaver, Ben Zobrist is batting .667 in 12 at-bats, and Javier Baez is batting .571 against him in 14 at-bats. Despite the ability or the Cubs to put the ball in play, Weaver has been stingy with giving up the long-ball, as only three Cubs have homered against him (Baez-2, Kris Bryant-1, and Rizzo-1).
The Offense
The Cubs offense has been on fire this season, though slumping a little here and there. In all, they've now managed 199 hits (including 42 doubles, two triples, and 31 home runs), plating 120 runs in the process (5.2 runs per game). While Bryant continues to struggle some at the plate, he seems to be breaking out of his slump, and Rizzo is well on his way to the stats you're used to seeing him put up. Almora is another one who's still stuck in a rut (.196), and Ben Zobrist (.231), an unfamiliar name in the "slump" category, has inexplicably been sliding downhill with him, as of late.
While Arizona couldn't muster enough runs to win the series with the Cubs last week (each team scored seven over three games), they turned on the afterburners in Pittsburgh, outscoring the Bucs 25-7 on their way to a sweep. Arizona now ranks second in the NL for runs scored (141), and first for both hits (254) and doubles (65).
The D-Backs will be hungry to avenge their two losses at Wrigley last week, so the Cubs better make sure the rotation, pen, and offense are all in order. This should be another excellent series, but I genuinely believe the Cubs win this one 2-1 as well. Enjoy the games.

Tags: Cubs Baseball
,
Tyler Chatwood
,
Kyle Hendricks
,
Yu Darvish
,
David Bote
,
Jason Heyward
,
Jose Quintana
,
Taylor Davis
,
Mark Zagunis
,
Anthony Rizzo
,
Ben Zobrist
,
,