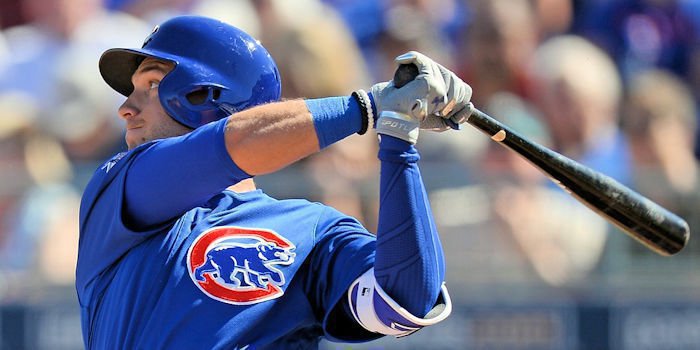 | | |
| --- | --- |
| Cubs win slugfest with Mariners | |
---
| | | |
| --- | --- | --- |
| Monday, February 24, 2020, 7:03 PM | | |
The Cubs entered Cactus League play on Tuesday with a 1-1 record. Prospect Adbert Alzolay (RHP) earned the start, hoping to rebound from some rocky major league appearances last year. David Ross managed to squeeze in another couple of handfuls of Cubs' hopefuls, as he continued to work on getting everyone playing time.
LHP Marco Gonzales got the start for Seattle.
Complicating the issue of formulating a lineup and future roster, Rossy's out for the third straight game with the flu. Jose Quintana is still out with the bug, and now Anthony Rizzo is parading around the clubhouse with a surgical mask, hoping to avoid getting sick. For the third day in a row, Andy Green assumed the managerial duties.
The Cubs elected to go with the following starting lineup for today's game: Kris Bryant (3B), Anthony Rizzo (1B), Javier Baez (SS), Albert Almora Jr. (CF), Steven Souza Jr. (RF), David Bote (2B), Josh Phegley (C), Robel Garcia (DH), Ian Miller (LF).
The Cubs got busy early.
T-1 Bryant worked a walk, coming back from an 0-2 count, then scooted to second on Rizzo's groundout. Javy drew a walk after being down in the count. Souza's single to right-center scored Bryant, then Almora ripped a single to the left, scoring Javy. After Bote fanned, Phegley took Gonzales deep to center, putting the Cubs up 5-0. That would end Gonzales' day. Cubs up 5-0.
It's what our catchers do. pic.twitter.com/9KXSuAMRwy

— Chicago Cubs (@Cubs) February 24, 2020
B-1 Alzolay would also get rocked early, giving up a double and single to the first two men he faced (run scored). Alzolay settled down momentarily, getting his first K of the season, but then walked the next man. He fanned former Cub Carlos Gonzalez, then gave up another single (run scored). Alzolay would get his third K of the afternoon, ending the damage. Cubs lead 5-2. This was a 43-minute first inning.
T-2 Ian Miller got beaned, then stole second. KB would fly out(right), but then Rizz walked. Baez fanned for the second out. Miller broke for third, the pitcher stepped off and fired for the out, but an errant throw allowed Miller to score. Souza doubled, scoring Rizzo, then Almora singled, scoring Souza. Bote would fly out to end the frame. Cubs up 8-2
B-2 Righty Dan Winkler got the call for this frame and looked rather impressive, retiring the side in order on a pair of strikeouts and a groundout to Rizzo.
T-3 Phegley would smack a double to center to start the frame, but the next three (Garcia, Miller, and Bryant) would go down in order (K, FO-8, GO-6).
B-3 RHP Ryan Tepera struggled as he hurled the third. A single, walk, infield grounder and a passed ball (Phegley) would net the Mariners another one, then Lopes doubled, bringing Seattle to within four. Cubs lead 8-4.
T-4 Rizz fanned to start the frame, then Baez singled (replaced by Corban Joseph). After Souza fanned, Almora blasted a homer, putting the Cubs up 10-4. Bote singled and was replaced by pinch-runner Zack Short, who then got picked off to end the frame.
First home run of the spring for Albert ? pic.twitter.com/GiFUykUjSl

— Marquee Sports Network (@WatchMarquee) February 24, 2020
B-4 Replacements for Chicago: Short SS; Noel Cuevas CF; Trent Giambrone 3B; Nico Hoerner 2B; Corban Joseph 1B; Conner MyersRF; RHP Casey Sadler. Sadler works a nice inning, collecting two strikeouts, then picking a man off second who'd walked and then stole a bag.
T-5 Chicago hammered former Cub Carl Edwards Jr. in the fifth, tallying another three runs. Phegley singled to shallow right-center; Garcia reached on an error. With one away, Hoerner walked to load the bases. A wild pitch scored Phegley, then Giambrone singled, scoring another pair. Cubs lead 13-4
B-5 Subs: RHP Rowan Wick; LF Charcer Burks; C PJ Higgins. Wick got pummeled for five runs before being replaced by righty, Matt Swarmer. Swarmer recorded the third out on a strikeout. Cubs lead 13-9.
T-6 Cubs go down in order: Cuevas (K); Short (K); Higgins (GO-5).B-6 Righty Brock Stewart looked good, retiring the side in order on two Ks and an FO-8. Cubs lead 13-9.
T-7 Miguel Amaya (DH) doubled, followed by PJ Higgins' homer to put the Cubs up 15-9, but that's all they'd get.
The fourth #Cubs catcher to homer this Spring is PJ Higgins! @pjhiggins7 (Via @CubbieBlue2016) pic.twitter.com/ImLzver8fc

— Cubs Zone ™? (@CubsZone) February 24, 2020
B-7 Brock Stewart gave up a leadoff double but fanned two before giving up a run on an ensuing single; the next single ends Stewart's day (replaced by RHP Tommy Nance). Cubs lead 15-10
T-8 With two down, a single by Short and a double by Burks put the Cubs up 16-10.
B-8 RHP Manuel Rodriguez gave up a single but faced the minimum on a flyout and a 6-4-3 double play.
T-9 Cubs go down in order again: Higgins (K); Hoerner (GO-3); Giambrone (FO-7) B-9 RHP Craig Brooks would get tagged for two runs, but would finally end it for the Cubs
Final Score: Cubs 16; Mariners-12
Cubs: 16 runs, 15 hits, 0 errors. The team batted 15 for 42 (.357) and went an amazing 7 for 17 (.412) with RISP.
Next game: Tomorrow- 2:05 PM Central. Rockies vs. Cubs from Sloan Park
Cubs win!

Final: #Cubs 16, Mariners 12. pic.twitter.com/U3j74FGSa0

— Chicago Cubs (@Cubs) February 24, 2020
Albert had himself a day at the plate. pic.twitter.com/r5jnQDdfSE

— Cubs Talk (@NBCSCubs) February 24, 2020

Tags: Cubs Baseball
,
Adbert Alzolay
,
David Ross
,
Jose Quintana
,
Anthony Rizzo
,
Kris Bryant
,
,
Albert Almora
,
David Bote
,
Robel Garcia
,
Ian Miller
,
Casey Sadler
,
Brock Stewart
,
Rowan Wick
,
Corban Joseph
,
Noel Cuevas
,
Trent Giambrone
,
,
Charcer Burks
,
Miguel Amaya
,
Manuel Rodriguez
,
Craig Brooks