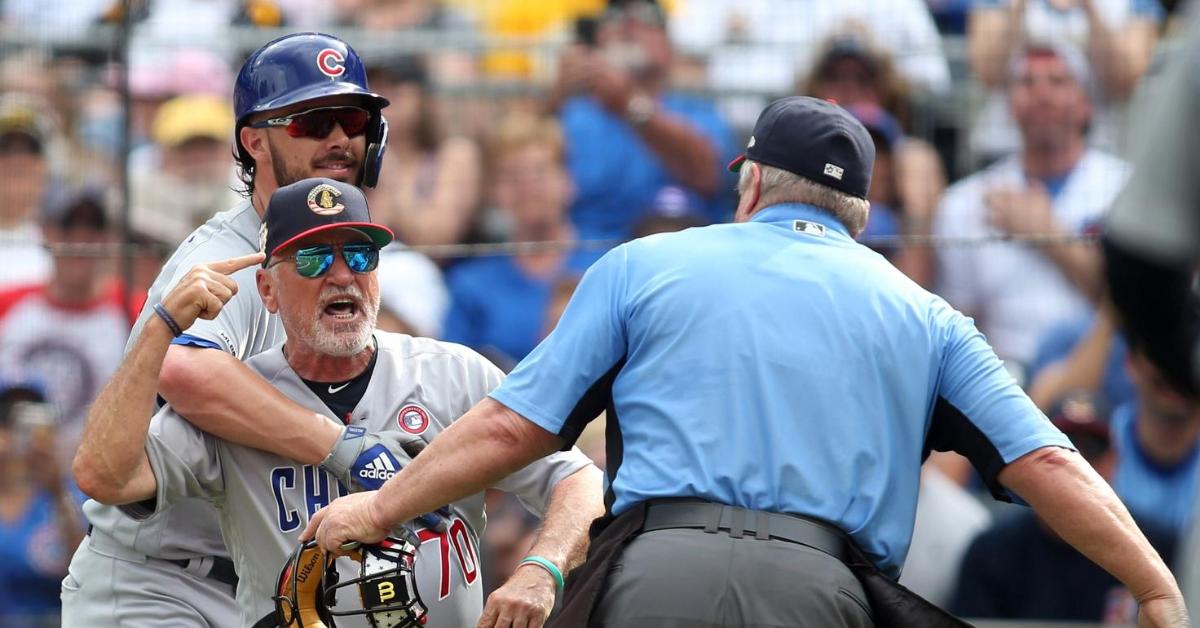 | | |
| --- | --- |
| CubsHQ Mailbag: Joe Maddon's future and trade talk, Six-man rotation, more | |
---
| | | |
| --- | --- | --- |
| Sunday, July 7, 2019, 2:14 PM | | |
Chris Carlson asks: If Maddon goes during the break and we get Joe Girardi, do we stand pat and see how the season plays out? Are we sellers? Or are we buyers? Would love your take.
No matter who the Cubs tap for a manager (IF Joe Maddon is released), I think the short answer would be "all of the above". I feel that this week (through the All-Star break) is going to be a make-it-or-break-it moment for Joe Maddon, with a lot of emphasis on this weekend. The Cubs (as of Friday) were 8-12 (.400) over their last 20 games, and Theo Epstein isn't happy.
The Cubs' struggles have been blamed on everything from Ben Zobrist's misfortune and absence, to Addison Russell's domestic violence issues, but I can't help to think that the uncertainty of Maddon's future isn't affecting them as well. I've said before- the Cubs haven't offered Joe an extension, nor has he asked for one. I can't imagine with that kind of uncertainty, that Joe's heart is 100 percent in this anymore, and that will undoubtedly transfer to the players.
While I'm fairly confident that the writing is on the wall about Joe's future in Chicago after this season, I continue to struggle, while trying to envision his replacement. I said in my column from Saturday, that while Girardi is good, I'm not sure he's quite right for this team for several reasons. His ties with the Cubs were severed in 2002 (after he quit catching there), and his knowledge of the team's operations would be void at this point, as Tom Ricketts and Theo Epstein weren't in the picture then. Girardi and Theo do share one philosophy though- get the W.
Joe Girardi and David Ross do share a similar dilemma at this point- their TV broadcast deals that are in effect until the end of this season. Both have said they were staying in the booth through this year; however, contracts can be broken.
As far as buying, selling, or standing pat, I believe you'll see some of each. Many of the Cubs' 25-men have minimal trade value, so some of the apparent trade candidates (Kyle Schwarber, Albert Almora Jr., Addison Russell, etc.) may be safe unless the deal would include highly ranked prospects (Miguel Amaya, Nico Hoerner, Adbert Alzolay, etc).
The Cubs seem to have quite the problem maintaining a 25-man roster with homegrown pitching talent, as they continually leverage the farm to fulfill their immediate needs (Eloy Jimenez and Dylan Cease for Jose Quintana). The problem is, with limited trade value on the brand-name players, the Cubs have little choice but to tap the minors if they're to swing deals in the next few weeks.
The Cubs will definitely be buying. The cries continue (justifiably) for a bonafide leadoff man and left-handed relievers. There were reports on Saturday morning that the Cubs had sent a scout to Nationals Park on Friday to scout Whit Merrifield. A guy like Merrifield would solve the problems with the Cubs' issues at second base (Addison Russell and Daniel Descalso) while offering a certified OF for platoon duty when needed. Merrifield's bat is what the Cubs really want (and need), as he's hitting better than .300 and has an OBP near .400. He's in his prime, he's talented, he's established himself, and he's controllable for the next three years.
A few weeks back, the Cubs were rumored to be talking to the Giants about Tony Watson and Will Smith (both solid, lefty relievers), but the talk quieted down as fast as it had gotten started. That's something to pay attention to though, as the teams were discussing a trade last year for the same pair. Over the winter, the rumors were that the Giants would part with Smith and Watson, but they wanted Happ, Heyward and at least one prospect in return. There have been no rumblings as to what the Giants may be asking for this time around.
Whether it's Joe Maddon or someone else going forward, the Cubs undoubtedly expect better performance from the guys who take the field, especially from those who remain after the trade deadline passes.
C.F. asks: What is the future possibility that the Cubs will go with a six-man rotation? Also, what are the advantages and disadvantages of a six-man versus five-person rotation?
I was a little delayed in answering this question, as the Cubs were supposed to try this a couple of weeks back. With starters struggling and Kyle Hendricks already injured, Theo Epstein and Joe Maddon were looking for any way possible to recover and reset. Cole Hamels' injury affected the Cubs beings able to implement a six-man rotation, and failed starts by Adbert Alzolay and Mike Montgomery killed the concept altogether.
The most significant advantage to a six-man rotation is that the guys are more rested and that theoretically, you minimize the risk of injury because they aren't on the mound as frequently. The caveat is that the extra rest may also cause harm, as their arms aren't going to be worked quite as often.
The main advantage to using a five-person rotation is that you're not tying up a roster spot for a sixth starter, nor are you losing a bullpen arm (as in the case of Montgomery or Tyler Chatwood) should you choose to insert a reliever into the rotation as the extra man. With the way, most NL managers play the matchup game in the later innings (foolish in my opinion), you need bench guys as pinch hitters, and you need extra arms in the pen. Tying up a reliever in the rotation is going to impact that strategy negatively, and you'll ultimately burn up the bullpen arms from overusing them.
The Cubs are struggling with relievers who can throw quality innings consistently, which is why they went with a three-person bench when Alzolay was in town. If the starters go deep, and the pen can be effective, a six-man rotation can work, but again, you strain resources if a guy has a bad outing and needs to be replaced.
As far as being beneficial is concerned, pitchers react differently to the amount of rest they get- some will do better in a six-man, some will do worse- it just depends on the individual.
The following are Baseball-Reference's charts for the Cubs' starters (including Tyler Chatwood), based on days of rest.
As always, thanks for the questions!

Tags: Cubs Baseball
,
Ben Zobrist
,
Addison Russell
,
David Ross
,
Kyle Schwarber
,
Albert Almora Jr
,
Miguel Amaya
,
Adbert Alzolay
,
Jose Quintana
,
Daniel Descalso
,
Kyle Hendricks
,
Cole Hamels
,
Mike Montgomery
,
Tyler Chatwood
,
Joe Maddon
,
Theo Epstein