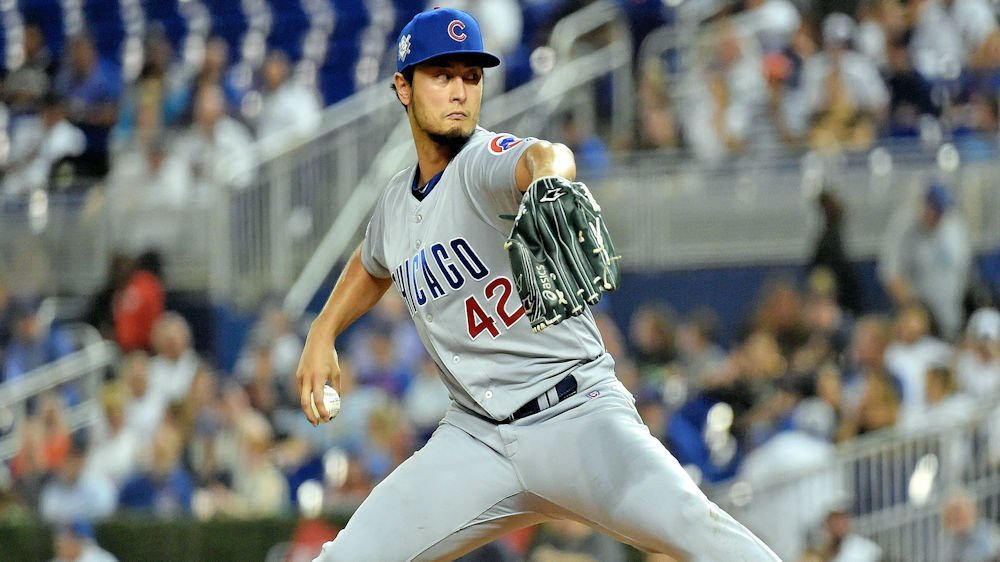 | | |
| --- | --- |
| Fly the W, Darvish gets the job done, Jackie Robinson, standings, and MLB News | |
---
| | | |
| --- | --- | --- |
| Tuesday, April 16, 2019, 8:30 AM | | |
Next Game: Today: 6:10 PM, Cubs vs Marlins. LHP Jose Quintana (1-1, 5.14 ERA) vs RHP Pablo Lopez (1-2, 6.60 ERA).
CUBS NEWS AND NOTES:
Monday's Game Recap: The Cubs, who racked up their first canceled game of the year on Sunday due to snow at Wrigley, hopped a plane to Miami to take on the Marlins for a three-game set. Yu Darvish (0-2, 7.50 ERA) made his fourth start of the season, squaring off against Marlins' RHP Trevor Richards (0-1, 2.00 ERA).
Darvish would have what was arguably his best start yet, pitching into the sixth inning, before Joe Maddon got trigger-happy and pulled him. Darvish would give up a pair of runs on four hits and as many walks while striking out 8. Earlier in the game, Kris Bryant was plunked twice and Willson Contreras once, but Darvish appeared to get a little retribution, nailing one of the Marlins in the inner-thigh (and the umpire) with a 99 mph fastball in the sixth. On purpose? You decide.
Yu Darvish, 99mph Fastball. ???? pic.twitter.com/csXVureM5B

— Rob Friedman (@PitchingNinja) April 16, 2019
The offense provided plenty of run support capped off by Willson Contreras' solo-blast in the seventh, and the Cubs had this game won by the time that the top of the first ended.
Final score Chicago-7; Miami-2.

Cubs/Marlins Probable Pitchers: Wednesday: LHP Cole Hamels (2-0, 3.79 ERA) vs RHP Sandy Alcantara (1-1, 4.24 ERA).
Anthony Rizzo: Rizzo has been pretty successful at Marlins Park, with a career .282 batting average, three homers, 12 RBI and a .844 OPS in 20 games. Rizz is only 1 of 9 Florida natives with at least three homers there.
Brandon Kintzler: Cubs' righty, Brandon Kintzler, says it himself: "I threw like crap last year." I speak to Kintzler's agent every so often, and the last time we spoke, he told me one of Brandon's goal was the same as Yu Darvish's- to win the fans over. Currently, Kintzler is the most dependable (and for the most part, the only reliable) arm in that bullpen, but he can't do it all. Brandon's 2019 record currently reflects a 3.52 ERA, allowing only four hits, while walking no one and striking out 9 of the 27 men that he's faced.
Cubs already a longshot: The last team to win the World Series after starting 5-9 was the 2002 Angels, who finished the year in second place at 99-63 (.611). The team went on to defeat the Giants 4 games to 3 in the WS. Of note, former Cubs' pitcher, John Lackey, pitched for the Angels that season and posted a 1-0 record with a 4.38 ERA over 12.1 innings (3 appearances) during the World Series.
Kyle Hendricks: After Saturday's loss to the Angels, a struggling Hendricks said, "Still battling myself. Running my changeup too much. My fastball command wasn't there, really, again. At least the movement was better. I was getting sink… It was closer than the last one, so I've got to stick with what I'm doing in my side work.''
In 2014, his opponents' batting average was .224, and in 2015 it rose incrementally to .225. In the Cubs championship season (2016), it dropped to .191, but it spiked again to .221 in 2017. In 2018, Hendricks saw it rise yet again (.227), and for 2019 his opponents' batting average currently sits at an astronomical .353.
Welcome to Florida: At the time the game was postponed on Sunday, Wrigley Field was in near white-out conditions with a temperature of 33 degrees and a wind-chill of 18 degrees. Less than 8 hours later, the Cubs landed in Miami and were greeted by a temperature of 86 degrees, with a 68-degree spike in the "feels like" temperature.
Iowa Cubs: As of yesterday, the I-Cubs were second in the PCL in ERA (3.71), holding their opponents to a .234 batting average, while leading the league in saves (5). Time for promotions?
Trent Giambrone The Iowa Cubs infielder is on fire. Giambrone's homer yesterday makes his third straight game with a home run, and four out of the last five games in which he has done so. Also homering yesterday for the I-Cubs was Ian Happ.
Jackie Robinson Day: A yearly tradition, yesterday MLB honored legend, Jackie Robinson, with every player wearing #42 on their jerseys. Breaking through the color barriers, Robinson propelled himself from playing for the Kansas City Monarchs of the Negro League (1945), into MLB, where he played for the Brooklyn Dodgers for ten seasons (1947-1956). Robinson was the first African-American to play in MLB.
Robinson was a career .311 hitter, with 1518 hits (including 273 doubles, 54 triples and 137 homers). His career also saw a total of 740 walks compared to just 291 strikeouts (a strikeout rate of just 5.01%). Robinson accomplishment include: Six-time All-Star (1949-1954), World Series champion (1955), NL MVP (1949), NL batting champ (1949) and a two-time stolen base leader (1947, 1949). Robinson died at age 53 from a heart attack.
Cub Birthdays: Birthday wishes (yesterday) to ex-Cubs Milton Bradley (41), Jeromy Burnitz (50), Mike Díaz (59), Ted Sizemore (74), and posthumously, Ed Bailey (88), Leonard "King" Cole (133), and Elmer "Sy" Sutcliffe (157).
NL CENTRAL SCHEDULE (April 14 – April 20, 2019)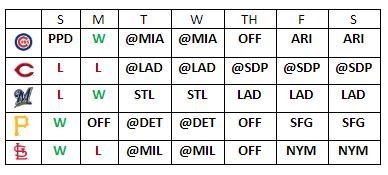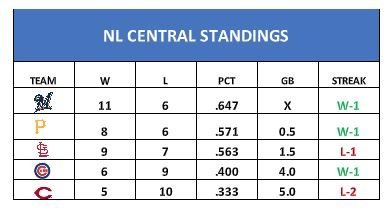 MLB NEWS:
Homerun heaven: If you like seeing the long ball hit, this is the season to watch. MLB teams are now launching homers at an average of 1.3 times per game- the highest percentage ever. The previous highest average was in 2017 (1.26 HR/game), followed by 2000 which saw an average of 1.17 homers per game.
Cardinals: St. Louis CF, Harrison Bader is currently dealing with what the team hopes is only a hamstring issue. Bader was initially told to rest a day, but if the problem persists, he may have to undergo an MRI.
D-Backs: Arizona GM, Mike Hazen says that despite the team's standing, the D-backs aren't ready to plunge into a full-scale rebuild.
Nationals: The Nats have agreed on a minor league deal with former Brewers' lefty, Dan Jennings.
Orioles: Orioles' manager and former Cubs' bench coach, Brandon Hyde, was initiated in the "Billy Martin Club" yesterday, earning his first ejection ever as a manager. Hyde was tossed in the fifth inning of the BAL/BOS game, for arguing a call about a slide, after it had already been reviewed. Props to Hyde for starting to turn the Orioles (7-10) around in his first year; last year, Baltimore was 5-12 at this point. Granted, the O's are only a couple of games better so far but considering that Hyde was starting with a team that was completely torn apart at the end of last season does say something for his managerial skills.
YESTERDAY'S MLB SCOREBOARD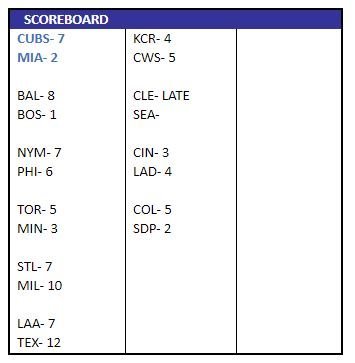 Tags: Cubs Baseball
,
Jose Quintana
,
Yu Darvish
,
,
Willson Contreras
,
Cole Hamels
,
Anthony Rizzo
,
Brandon Kintzler
,
John Lackey
,
Kyle Hendricks
,
,
Joe Maddon
,
Brandon Hyde