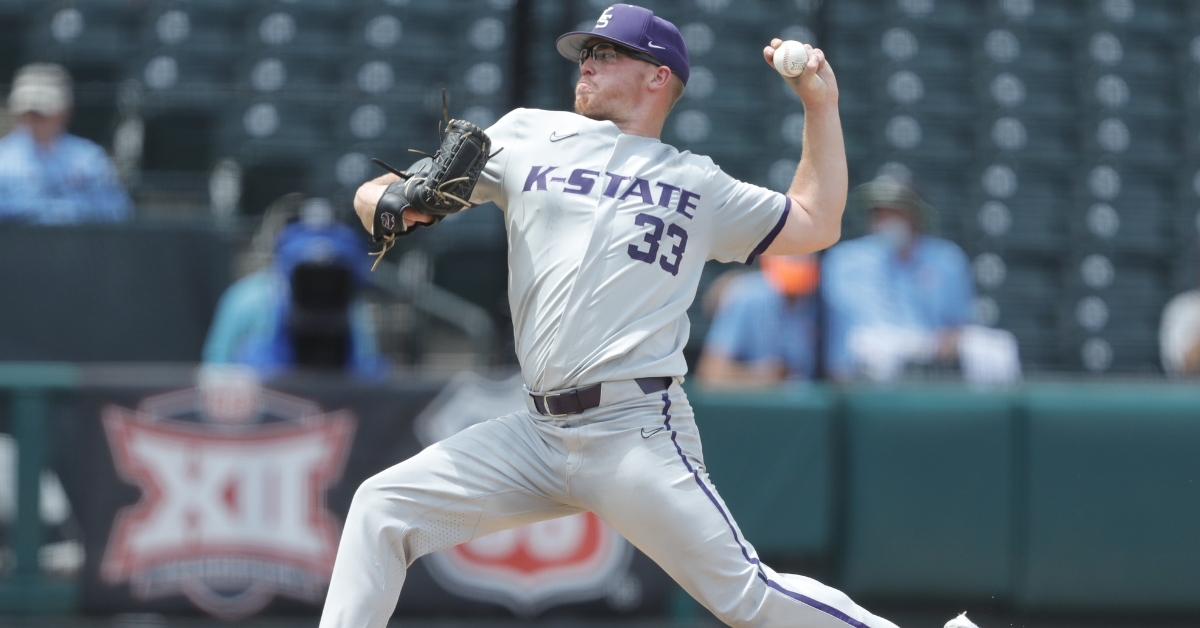 | | |
| --- | --- |
| Getting to know Cubs draft picks: Wicks, Triantos, Gray, Franklin, Spence | |
---
| | | |
| --- | --- | --- |
| Tuesday, July 13, 2021, 1:00 PM | | |
With the MLB draft now officially half over, it is time to dive into the picks that will undoubtedly be the future of this team. Unlike some of the drafts we have seen in the past, this year's draft is much different as MLB decided to go from 40 rounds down to 20.
That is a significant decline when you look at drafts of the past, but at the same time, a pleasant increase when you consider last season only had five rounds. For the Cubs, the first five rounds were quite simple as they wanted to target pitching, but left-handed pitching, as that continues to be a weakness in the farm. Once they had that, they added some other great pieces around and will look to continue to stock the farm system up.
Round 1: Jordan Wicks (LHP Kansas State)
Already with Rowan Wick and Brad Wieck on the roster, there could be a game where Wicks starts before handing things off to Wick and Wieck. How fun would that be for announcers to say throughout an inning? Either way, the Cubs used their first selection and 21st overall pick to draft Kansas St. lefty, Jordan Wicks.
This could be a slam dunk pick for the Cubs, as many felt he could go in the top 15, if not the top 10. When he was available at No. 21, not only were the Cubs surprised, but he became a no-brainer for them to take. Wicks is regarded as one of the best, if not the best lefty in this draft, which is huge for the Cubs.
He is coming off a three-year run with the Wildcats, where he posted a 15-6 record with a 3.24 ERA in 34 starts. Wicks also set a program record in single-season strikeouts with 118 and career strikeouts with 230. He is armed with a fastball that sits 92-93 and can top out at 95. However, it is his changeup that sets him apart as it is considered elite. Wicks also uses his curveball and a slider that acts as a cutter to keep hitters off balance.
The Cubs are hoping he can continue to deliver as a starter. If he can, you are looking at a potential frontline starting lefty who could be in the rotation before 2024.
Round 2: James Triantos (3B James Madison High School, Vienna, VA)
Anytime a team takes a high school player, it comes with many risks, but one the Cubs felt was worth taking at No. 56. Triantos entered the draft 78th on the top 250 prospect list, but is known for his highly touted bat.
The Cubs have had a ton of success drafting big-time bats out of college, but they are taking their chances on a prep star whose position is yet to be determined. Triantos became the highest player from his high school since 1971 when Jay Franklin went to the Padres in the first round.
Scouts not only love his bat, but they love the power, speed, bat control, and his plate coverage. As a senior, Triantos struck out just twice all season and hit over a 700. When he made contact, it seemed as if every time was hard contact which is what teams like to see and hear. Not only does he have plenty of pull power, but Triantos is showing he can drive the ball out to right-center also. He is drawing Alex Bregman comparisons which could be a good thing for the Cubs.
Round 3: Drew Gray (LHP IMG ACADEMY)
Sticking high school projects, the Cubs doubled up on prep stars, this time going with a pitcher in round three. For the second time in three picks, the Cubs went with a southpaw as Drew Gray from IMG Academy was next on their list of players.
Unlike Wicks, who is a polished starter, Gray will be more of a project, as a lot of high school arms are. At 6-3, Gray has all the size to be a starter and is a projectable middle of the rotation lefty who features a high spin rate on his fastball. He compliments that heater with both a slider and curve, giving him three pitches to lean on already.
Command has been an issue for Gray in the past, but the tools are there for him to be great, and that showed up in his seven appearances this season, where he struck out 41 of the 80 batters he faced while posting a 1.88 ERA. A bit of a reach in the third round, his spin rate alone makes him an intriguing pick as the Cubs hope he can turn that into long-term success.
When you watch him pitch, you immediately notice his arm side run that comes very naturally to him. His fastball has plus movement, while his curveball acts as a hammer breaking pitch. His arm slot also creates deception and makes it tough to pick up the ball. That alone makes a lethal combo, especially for lefties.
Round 4: Christian Franklin (OF Arkansas)
Perhaps the most intriguing pick of the first five rounds was Franklin in the fourth round. Taken 123 overall, Franklin checked in at No.52 on the top prospect list, so there were a lot of things teams loved about him. The question now becomes was he overvalued to fall this far? If not, the Cubs got a big-time steal.
At 21 years old, Franklin has some of the best all-around tools of the collegiate stars in this draft. Viewed as a first or second rounder for most, the Cubs are hoping Franklin can be a steal for them. In 61 games with the Razorbacks this season, Franklin hit 274 with 13 homers, 54 RBIs, 15 doubles, 55 runs scored, and 11 steals. He also added 44 walks.
One of the concerns with Franklin is that there is a bit of swing and miss with him, which is not something the Cubs need. However, the rest of his tools are great, and he can be a legitimate centerfielder in the league. There are not too many players that you can call true center fielders, but Franklin is one of those players.
Round 5: Liam Spence (SS Tennessee)
The Cubs system is already loaded with shortstop prospects, but fifth-round pick Liam Spence will be adding another one to the mix. Unlike many players in the Cubs system, Spence is a high average, high on-base righty hitter that fits a Nico Hoerner mold with more power.
In 65 games for the Volunteers this season, Spence hit a 336 while finishing with more walks (54) than strikeouts (50). He also showed he has some power in that swing connecting for five homers and 36 RBIs while adding 11 doubles, 63 runs, and 82 hits. Spence is a patient, contact-oriented hitter that is the exact opposite of how this Cubs offense was constructed before.
Not only is he a contact first type of hitter, but a lot of scouts had him as one of the best defensive shortstops in the game, making it a win-win for this Cubs team. It will be interesting to see what the Cubs plans are for him in the future, but his numbers speak for themselves while playing in the best baseball conference in the country.