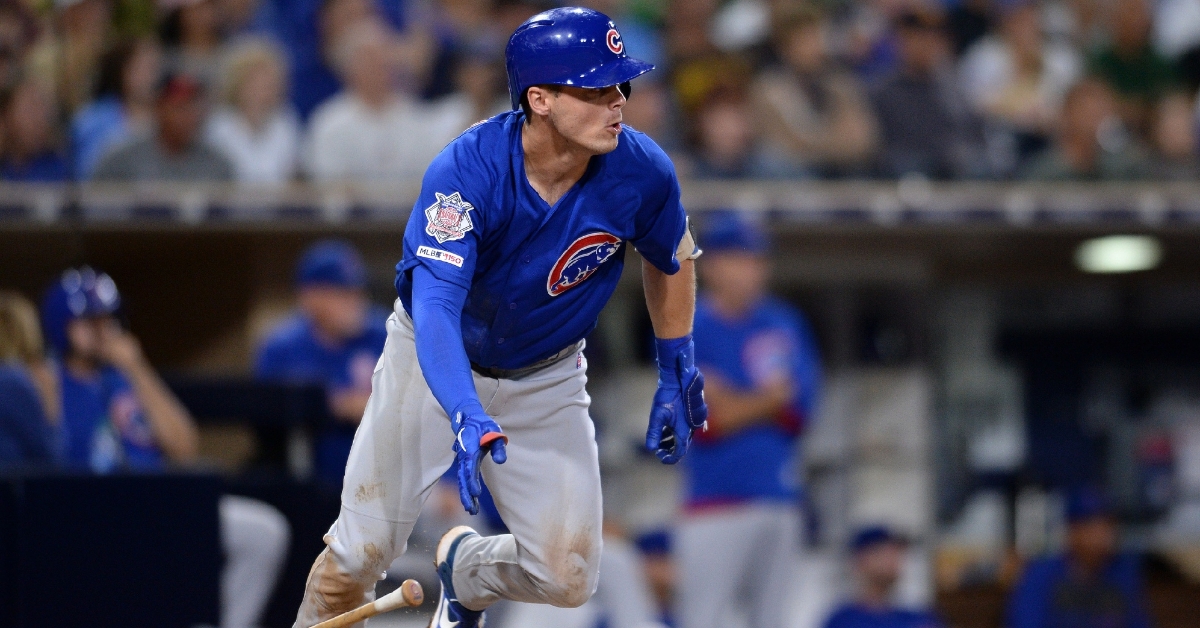 | | |
| --- | --- |
| Hoerner impressive but Cubs can't hold off Reds | |
---
| | | |
| --- | --- | --- |
| Saturday, March 7, 2020, 7:36 PM | | |
A split-squad version of the Cubs (5-9-1) traveled to Las Vegas from Mesa to play a two-game set with the Cincinnati Reds (5-6). The second game of that set will be played tomorrow.
David Ross went with a little different look for this game, giving Alec Mills the start and lining up as follows: Kris Bryant (3B), Anthony Rizzo (1B), Josh Phegley (C), Ian Happ (CF), Nico Hoerner (SS), Jason Kipnis (2B), Noel Cuevas (RF), PJ Higgins (DH) and Ian Miller (LF).
There'd be a brief moment of intensity in the top of the first, as Ian Miller jumped to grab a foul ball hit down the third baseline. He failed to make the play but came down hard on the ledge, landing on his hip. Miller wasn't injured, but boy, that'll leave a mark.
After two-and-a-half scoreless innings, the Cubs finally got on the board. With one away, Rizzo was hit by a pitch. With two down, Happ walked, then Nico Hoerner tripled to center, putting the Cubs up 2-0.
Nico, baby! pic.twitter.com/fYxwI5InKq

— Marquee Sports Network (@WatchMarquee) March 7, 2020
Mills would pitch part of the fourth but couldn't complete the frame. After giving up a single, he'd give out a two-out double, cutting the Cubs lead to one run. RHP Tommy Nance replaced Mills, then struck out a man out to end the frame. Cubs lead 2-1.
Ryan Tepera worked the fifth, allowing two hits but no runs.
Substitutions: Bottom of the fifth Trent Giambrone (3B), Corban Joseph (1B), Jhonny Pereda (C).
RHP Rowan Wick got pummeled. After giving up a homer, he followed that up with a triple to tie the game at two. He'd next give up a single, giving the Reds a 3-2 lead. It didn't end there. Another triple would make it 4-2 Reds, and then a sac-fly made it 5-2.
Happ would lead off the sixth with a double, then took third on Hoerner's fly ball to the right. Kipnis singled to right, scoring Happ. He was then called out on a 6-4 force play on a terrible call by the umpire (where's instant replay when you need it?). Cubs trail 5-3.
Substitutions Edmond Americaan (CF), Luis Vazquez (SS), Carlos Asuaje (2B), Cole Roederer (RF).
In the top of the seventh, RHP Casey Sadler struggled after getting two quick outs. He'd give up a walk, double and a single, putting the Reds up 7-3.
In the top of the eighth, RHP Tyson Miller gave up a homer to make it 8-3.
In the bottom of the inning, the Cubs would get singles from Pereda and Vazquez, then Asuaje walked to load the bases with one away (Pereda was forced out at second). Cole Roederer (drafted by the Cubs in 2018 with Nico Hoerner) ended up fouling out, but he took some hefty cuts, fouling off a couple that was scalded down the line. PJ Higgins would get his chance to be a hero, but he drew a walk, forcing a run to score. Brennan Davis would pinch hit for Ian Miller, drawing yet another walk to make it 8-5 in favor of the Reds. David Bell would change pitchers before facing Giambrone with bases juiced.
Righty Matt Pidich would face Giambrone with the tying run on first. Giambrone foul out to first, leaving the Cubs to settle for two runs. Cubs trail 8-5.
Righty, Dakota Mekkes would get tapped to pitch the ninth, but he'd struggle as well, walking the first two, then gave up a single to load them with nobody out. Mekkes would induce a pop-out to Giambrone at third, but he wasn't out of the woods yet. Mekkes stayed calm and fanned the next man, then got an unassisted putout by Giambrone to end the threat. The Cubs still needed three to tie.
With two out in the bottom of the ninth, the Cubs began to rally again. Amricaan reached on a single to center, then Vazquez reached on an infield single. The rally would continue with Asuaje's single to the left, but it wouldn't be enough, as Roderer grounded out to first to end it. Cubs suffer another disappointing loss.
Final Score Reds-8; Cubs-4.
Cubs Offense 10 for 37 (.270); 4 for 12 (.333) with RISP
Next Game: Tomorrow, another spit-squad. Game 1, 3:05 PM: Diamondbacks at Cubs from Sloan Park. Game 2: 3:05 PM: Reds at Cubs from Las Vegas Ballpark.

Tags: Cubs Baseball
,
David Ross
,
Alec Mills
,
Kris Bryant
,
Anthony Rizzo
,
Ian Happ
,
,
Noel Cuevas
,
Ian Miller
,
Trent Giambrone
,
Corban Joseph
,
Jhonny Pereda
,
Rowan Wick
,
Edmond Americaan
,
Luis Vazquez
,
Carlos Asuaje
,
Cole Roederer
,
Casey Sadler
,
Tyson Miller
,
Dakota Mekkes