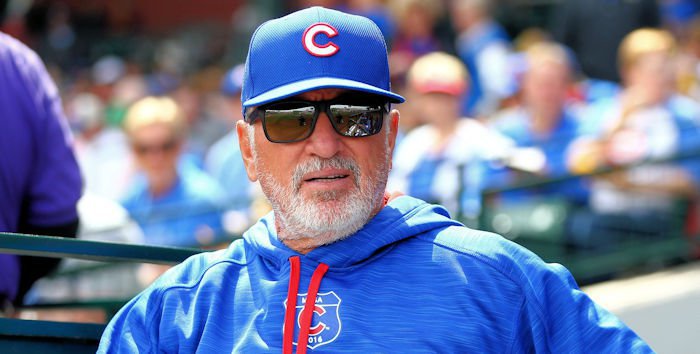 | | |
| --- | --- |
| Is former Cubs manager Joe Maddon a Hall of Famer? | |
---
Another year has come and gone in the MLB in terms of Hall of Fame voting, and this particular season did not have a new addition the baseball immortality. There are multiple players still on the brink of making it to Cooperstown — some of which undoubtedly would if their reputations hadn't been tainted by their involvement in performance-enhancing drugs or with domestic incidents.
But at the end of the day, no new Hall of Famers have been chosen to enter Cooperstown for the year 2021 — but the class of 2020 that features Derek Jeter will get their induction in the summer of 2021. But for us here at Cubs HQ, this led us to question the potential futures of some of our most recent Cub players/personnel and their chances at the Hall of Fame.
Last offseason, we discussed the potential of Sammy Sosa, Alfonso Soriano, Aramis Ramirez, Jon Lester, Cole Hamels, Craig Kimbrel, and more — and we will continue our analysis of some of the futures of some other people with ties to the Chicago Cubs.
Today? The question is whether or not Joe Maddon is ticketed for baseball immortality in Cooperstown.
I think so.
Obviously, when you have a blue blood organization in the sport of baseball that has not won a World Series in over a hundred years, whoever is the owner, general manager, and manager at the time that the team eventually wins it will likely be at least in the discussion for the Hall of Fame.
Joe Maddon certainly deserves consideration.
Maddon's baseball career has been a fruitful one. A playing career that began with aspirations of catching in the big leagues ended after about four years in the Angels system, and Maddon then began his 31-year tenure in Los Angeles / Anaheim as a coach, instructor, scout, minor league manager, and bench coach — earning a World Series ring in 2002 with the Angels.
Maddon has been known for his attitude and wisdom — although unorthodox — and players, organization, and media alike love and gravitate toward him. That and more led him to become the Tampa Bay Rays manager in 2005. After a few rough seasons, Maddon's patience led the Rays to a division title over the likes of the Boston Red Sox and New York Yankees. With Maddon as manager, the Rays won their first playoff game and their first-ever World Series appearance. A remarkable tenure in Tampa ended in 2014 — some think because Maddon runs a loose ship but most think because the Rays needed a new voice.
This led Maddon to Chicago, where he fit like a glove. Maddon was the voice of reason and wisdom behind a young team that exceeded expectations. His Maddonism like "Try Not to Suck," "Embrace the Target," "If you think you look hot, wear it," his "30-minute rule," and his love of wine all seemed like a storybook fit in a magical tenure. Maddon's patience and belief in the Cubs' youth is what many players attribute their success to. Madden was the man at the helm for the Cubs' five most successful seasons in a row, including four playoff appliances, five winning seasons, three NLCS appearances, two NL Central division titles, and of course, the coveted World Series Championship.
The Cubs and Maddon ultimately parted ways, which looked similar to his departure from the Rays, and Maddon joined an underachieving Angels team with some of the league's biggest stars to make his journey come full circle.
At the end of the day, the final chapters of Maddon's wildly successful career have yet to be written. However, Maddon's near 1,300 career wins, two World Series titles, and how he got them should be enough to earn him baseball immortality in Cooperstown as a Hall of Fame manager.