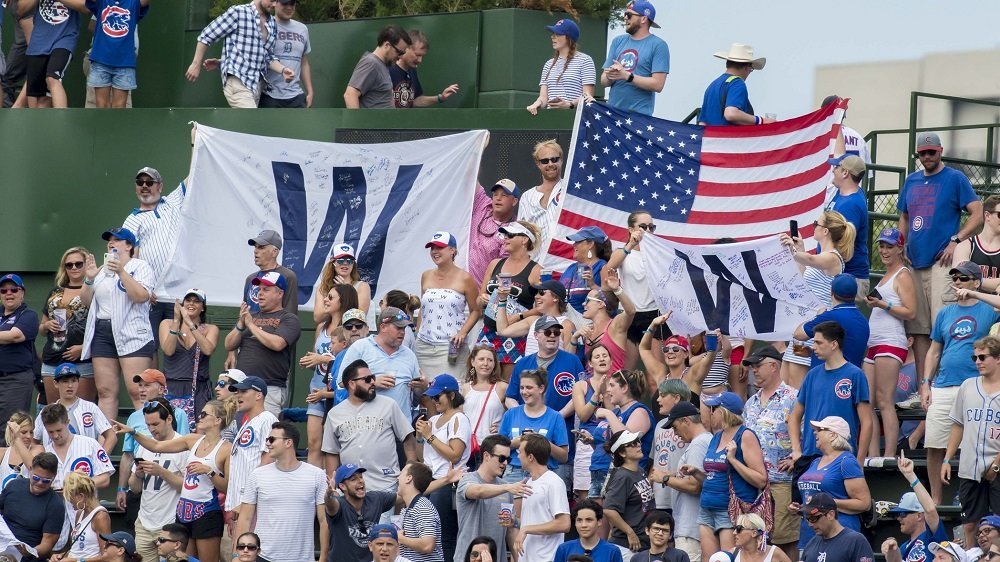 | | |
| --- | --- |
| Latest news and rumors: Cubs sign pitcher and utility infielder, Cubs OF gem | |
---
| | | |
| --- | --- | --- |
| Thursday, January 24, 2019, 10:34 AM | | |
Cubs' news and notes:
Cubs' Opening Day: 63 days. (March 28 vs. Rangers)
Pitchers/Catchers Report: 20 Days.
First Spring Training game: 31 Days. (Saturday, February 23, Brewers vs. Cubs at Sloan Park)
Colin Rea: Chicago has signed Colin Rea to a minor league deal. Rea has not seen MLB action since the 2016 year but has pitched to a 7-7 record with a 4.69 ERA and a 1.385 WHIP in his career. It is assumed, but unknown, if his deal includes an invite to spring training.
Cristhian Adames: Chicago has signed former Colorado SS/2B Cristhian Adames (yes, I did spell that correctly) to a minor league deal.
According to MLB TR, "now 27 years of age, the switch-hitter saw time over four MLB seasons with the Rockies but failed to make it back up last year." In his 498 Triple-A plate appearances with the Marlins org, Adames, put up a .269/.324/.370 batting line. Adames is capable of playing all over the infield and has primarily appeared at shortstop as a professional." In his MLB career (COL 2014-2017)) Adames slashed a career .206/.283/.278 with two homers and 20 RBI in 306 at-bats and had a career WAR of (-0.8).
Cole Hamels: According to Cole Hamels himself, he feels that with the return of Yu Darvish, the Cubs will have a "lights out rotation."
Cole Roederer: Kyle Glaser of Baseball America had this to say about Cubs OF prospect, Cole Roederer: "He's incredibly talented and I think the Cubs might have gotten a steal at the back of the second round. Kudos to area scout Tom Myers for staying on him even after his season-ending shoulder injury in HS."
Vegas ranks Cubs: BetOnline.ag has released their latest win totals for the NL Central, and per their prognostication, the Cubs and Cards are tied at 88.5 games each. The Brewers are predicted to finish third with 84.5 wins, and the Reds and Bucs are expected to compete for last place with 77.5 wins each. I'll say it now: I fully expect to see the Reds out of the cellar this year, and I wouldn't be surprised to see them capture third place.
Birthday wishes: Happy birthday to Cubs' left-hander, Jose Quintana who turns 30 today.
Wishing @jose_quintana24 a happy 3Qth birthday! pic.twitter.com/w1m00wqHjn

— Chicago Cubs (@Cubs) January 24, 2019
Latest news and rumors from around the league
Jeff Passan: According to ESPN's Jeff Passan: "Over the next few days, there are going to be a handful of relief-pitcher signings as teams comb the one-year market, league sources tell ESPN. One name generating a lot of interest, according to team officials: Ryan Madson. Another to keep an eye on Brad Brach."
Ken Rosenthal: According to Rosenthal, the Mets are "not in on Harper or Machado, though they should be."
Condolences: Former umpire, Jim McKean passed away this morning at the age of 73. McKean was an umpire in the AL from 1973-1999 and worked both the NL and AL in 2000 and 2001. He umpired in the World Series in 1979, 1985 and 1995. He also officiated in five ALCS series ('77, '83, '87, '91 and '98) as well as three All-Star games ('80, '82 and '93) and three ALDS series ('81, '85 and '99). He wore uniform number 8 after the AL adopted uniform numbers in 1980. CubsHQ would like to extend our condolences to Mr. McKean's family and friends.
Very sad news: Jim McKean was a first-class person. https://t.co/8IhPFr3bT6 For example: He was the crew chief the weekend that the Alomar/Hirschbeck situation happened in '96, and he handled it with such grace, empathy and professionalism.

— Buster Olney (@Buster_ESPN) January 24, 2019
D-Backs: Arizona has avoided arbitration with LHP TJ McFarland with a one-year deal worth $1.4M. There is also a team option for 2020 ($1.85M) with a 50k buyout.
Giants: There is now speculation that SF is also a player in the Machado lottery. The Giants are in rebuild mode and are looking for players who can be under team control for extended periods as the team continues to build.
Marlins: The Marlins have hired former OF Juan Pierre to serve as their minor league outfield coordinator.
White Sox: Chicago has signed former (2016) Marlins 3B, Chris Johnson, to a minor league deal.