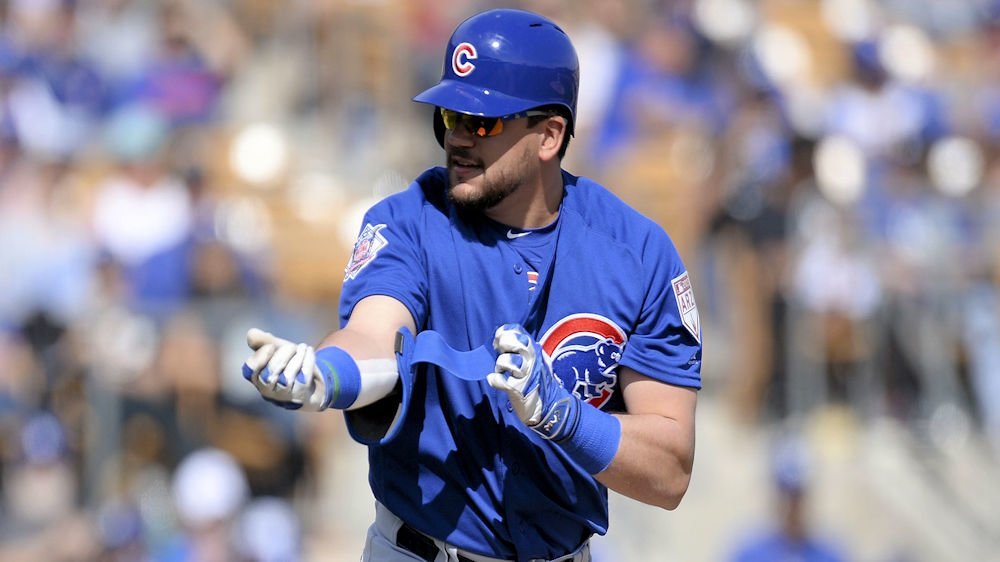 | | |
| --- | --- |
| The Cubs are walking to success in 2019 | |
---
| | | |
| --- | --- | --- |
| Tuesday, March 5, 2019, 12:50 PM | | |
With PECOTA's prediction that the Cubs would finish last this year, winning only 79 games, I decided to look at some numbers, if for no other reason than to save my own sanity by reassuring myself. There was little question that the Cubs starters would do their jobs, so the prediction of an off-year must have been based on that "broken offense" that Theo Epstein spoke of last November.
Yes, I know it's early in the spring. Yes, I know that guys won't play as hard (or nearly as often) now as they will starting at the end of this month, but still, I see some things that have piqued my interest.
NOTE: The stats used below are inclusive of Cubs' games from February 23 until March 3 (total of 10 games.)
First and foremost, I'm impressed by the level of patience that I see at the plate, so far, this year, mainly by Kyle Schwarber and Kris Bryant.
Going into this spring, Schwarber had a lifetime walk-rate of 13.7%. By taking more pitches than he swings at, Schwarbs has now drawn a total of 8 walks in 16 plate appearances, good enough for a 50% walk rate. Of course, his walk numbers won't stay that high, nor do I want them to. Kyle has trimmed down from what was a catcher's build, to a frame worthy of a quick outfielder, and with that, his swing-speed has improved tremendously. With eight official at-bats, Schwarber has started the spring with a .500 batting average on four hits, including a pair of doubles and has only struck out twice.
Kris Bryant, already owning an 11.9% career walk-rate has also exhibited restraint at the plate this spring, walking at a rate of 30.7% to start the year. Thus far, KB has drawn four base-on-balls in 13 plate appearances, turning his remaining nine at-bats into a .444 batting average, with two singles and a pair of home runs (5 RBI). Like Schwarber, Bryant has only fanned once this year as well.
Honorable mention to David Bote, who has now drawn three walks in 10 plate appearances (30% walk rate), while parlaying his remaining five at-bats into a batting average of .600 with three singles and a double.
In total, the position players from the 40-man roster of 2018 (which includes Mark Zagunis, Taylor Davis and Victor Caratini), have now accrued 23 walks in 164 plate appearances, earning themselves a walk rate of 14%. Not bad for a team who only walked 9% of the time in 2018, 9.9% of the time in 2017, and 10.3% of the time in 2016.
Even if you factor in all of the non-roster invites (who are currently walking at a rate of 9.7%), the entire spring training squad now has a total of 43 walks in 370 at-bats, good enough for an 11.62% walk rate. Outfielder Jacob Hannemann leads the non-roster players with five walks, followed by five players with two free passes each.
While the strikeout has been a little high to start the spring (currently 18.3% for 40-man roster members), it is considerably lower than both the 24.7% rate at which the team fanned last year, and the 22.3% from 2017.
In addition to fewer strikeouts and more walks, the overall team (40-man) OBP has also looked pretty healthy this spring. Currently sitting at .378 for the position players on last year's 40-man, the team is currently reaching base at a higher percentage rate than the team average over the previous four years (.334).
Even with a strikeout rate of 18.3%, the batting average is still up, with players from the 40-man batting a collective .280 to date. In terms of cumulative batting average, the team's best year under Joe Maddon's reign (2018) was only .258.
Thanks to Anthony Iapoce's approach, the Cubs, for the most part, have been making solid contact this spring. Focusing on sabermetrics and opportunity hitting (formerly known as situational hitting), Iapoce is resurrecting an offense that left the team and its fans wondering in 2018.
I know, I know, it's still early, but a guy can have faith, can't he?

Tags: Cubs Baseball
,
Kyle Schwarber
,
,
David Bote
,
Mark Zagunis
,
Taylor Davis
,
Victor Caratini
,
Jacob Hannemann
,
Joe Maddon
,
Theo Epstein
,
Anthony Iapoce