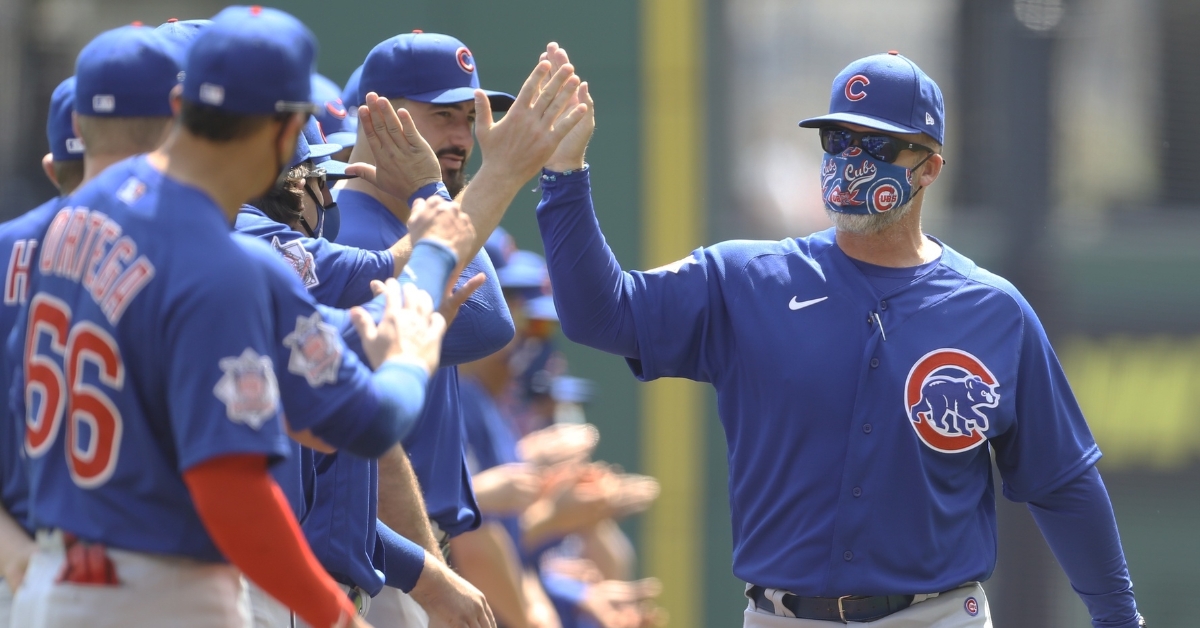 | | |
| --- | --- |
| Three takeaways for Cubs win over Pirates | |
---
| | | |
| --- | --- | --- |
| Friday, April 9, 2021, 8:43 AM | | |
Looking to get back on track following a pair of Milwaukee losses, the Cubs hit the road for game one of a six-game trip. First on the docket was the Pittsburgh Pirates, whom the Cubs took two of three from last weekend. Making his second start of the season was Jake Arrieta as he was looking for win number two against the Pirates.
Unlike his first time out, Arrieta battled a bit more command issues as the Pirates put a runner on third in three straight innings off him. Arrieta was able to pitch around most of the traffic, but a pair of runs in the fourth was all the offense Pittsburgh could muster, with Arrieta going six innings for the second straight outing.
Fortunately for him, Javy Baez hit a go-ahead and eventual game-winning homer in the sixth as the Cubs hit three homers on the afternoon to provide them with all the offense they needed in the 4-2 win. Here are some takeaways:
34.7 strikeout rate
Despite the amount of criticism the Cubs pitching staff has taken, for the most part, they have been strong, keeping the team in every game. The bullpen has been especially strong as they continue to impress. Their 34.7% strikeout rate entering the game on Monday led all Major League baseball ahead of the New York Yankees, who are in second.
With three strikeouts from Rex Brothers in four batters faced and three from Craig Kimbrel in his five batters faced, that percentage is sure to go up even more. Dan Winkler had a rough day, walking three men, and Dillon Maples battled through his command issues his last time out, but for the most part, the Cubs pen has been better than anticipated.
No one expected the type of strikeout percentage they have seen thus far except from maybe Kimbrel. With the strikeouts continuing to pile up, what once was viewed as a weakness for this team could be considered a strength. It will be interesting to see how David Ross handles things going forward, especially when guys like Kyle Ryan, Brad Wieck, and Rowan Wick are all healthy and ready to return.
Bro you know that's why people call you dirty, right?#CubTogether pic.twitter.com/nS0RYXws68

— Chicago Cubs (@Cubs) April 8, 2021
Once in 110 plate appearances
Baez has a track record of being a free swinger and will swing at practically anything. He has been that way his entire career and will continue to be that way. It is just the player he is, and no one is going to change that.
As frustrating as it for fans to watch him hit sometimes, Baez has done well as a hitter posting a .264-career average heading into this season while averaging 25 homers and 74 RBIs per year. Take his .194 average away last season and his .189 average as a rookie, and you have a player who has hit at least .272 every year he has been a pro.
That is remarkable when you think of it as he averages less than 40 walks a season while striking out close to 100 times. I think fans can live with the strikeouts here and there, but it is how he strikes out that gets fans heated. Instead of cutting down his swing and trying to make contact, Baez is up there hacking away, trying to hit every pitch 500 feet. Often it makes him look foolish and out of control.
Things have gotten so bad in terms of his eye at the plate that it took him 110 plate appearances to earn a walk which happened in today's game. Put that into perspective, and you are looking at roughly a month of playing every day without taking a walk. Essentially that adds up to less than 10 a season.
It would be nice to see Baez walk more, it is just not in his DNA, and I would argue that it would hurt him as a player. His aggressive nature makes him the player he is, and he can make a pitcher pay for virtually any mistake. Forcing him to be more patient would take that aggressive nature out, and it could lead to him letting too many good pitches go to waste.
.@javy23baez keeps it fair!#CubTogether pic.twitter.com/h8poSHfwMt

— Chicago Cubs (@Cubs) April 8, 2021
A first for Kimbrel
While the offense has been dormant at best this season, it was nice to see them rack up double-digit hits on Thursday. However, Kimbrel has been the biggest story of the season as he has yet to allow a run in four appearances. Not only that, he has yet to walk a batter and has punched out nine as he continues to look like his old self.
This is exactly the Kimbrel the Cubs have been waiting for since he arrived and someone they hope to lean on a lot this season. Even with him closing in on 400 career saves, there are some things he has never accomplished as a pro, and one of those things can be checked off. For the first time in his career, Kimbrel picked up a five-out save during the regular season. He did have previous five-out saves in the postseason but not in the regular season.
For as good as Kimbrel has been for most of his career, I found it baffling that he was never in a ball game long enough to pick up a five-out save. That shows you the value he has as a closer and how teams have used him in the past. When you think of the elite closers in the game, most of them are one-inning guys who can go multiple innings if needed. Kimbrel isn't one of those players as he is used for one inning and one inning only.
The fact that he went out there on Thursday to not only get the Cubs out of a bases-loaded jam but to pick up a five-out save shows the confidence David Ross has in him right now. He is pitching lights out, and he knows it. You can see the confidence continuing to grow in him, which could be scary and fun to watch this season.
Congratulations to @Kimbrel46, who recorded his 350th career save today!

He ranks 12th all time and 1st among active closers.#CubTogether pic.twitter.com/khRL59JMEI

— Chicago Cubs (@Cubs) April 8, 2021