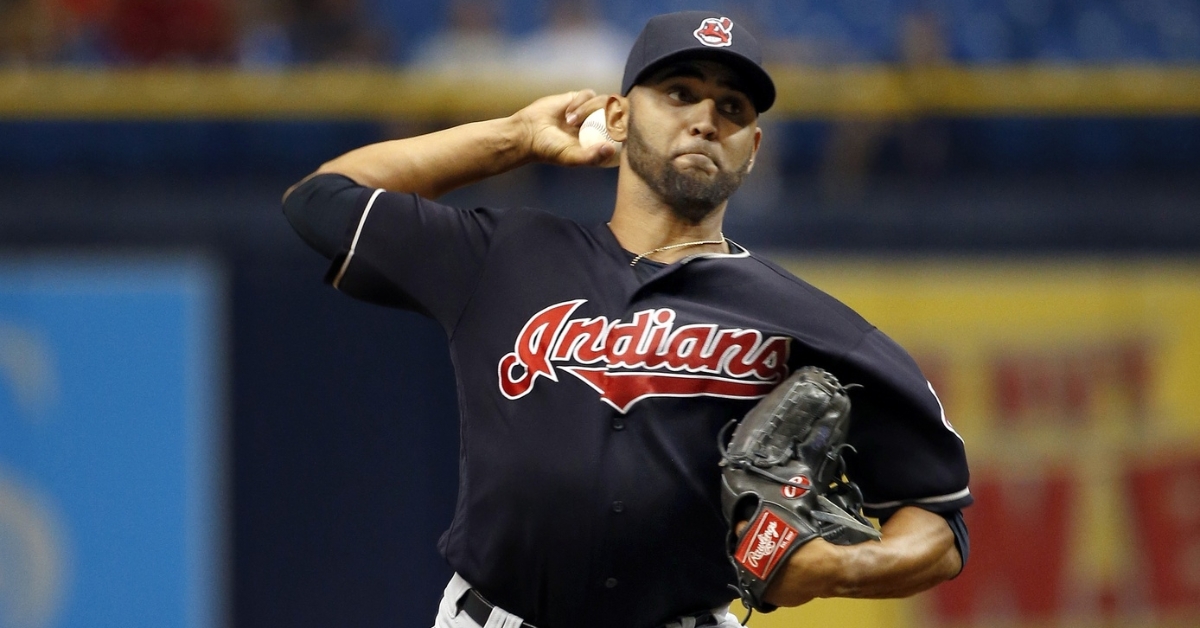 | | |
| --- | --- |
| Would this former ace help the Cubs in different role? | |
---
As free agency continues to come and go, we are still waiting for the Cubs to either make a big splash or trade someone from their roster to clear up some cap space. We all know the holes on this team and what needs to be filled, and one of those huge holes remains the bullpen. Sure, the likes of Tyler Chatwood/ Alec Mills (depending on starter situation), Brad Weick, Rowan Wick, Kyle Ryan and Craig Kimbrel will all be back giving the Cubs a nice anchor as of now, but work is far from done should Chicago want to have a solid pen again.
Bringing back Brandon Morrow on a minor league deal was an intriguing signing, and should he stay healthy could be a steal for the Cubs. However, one name that one is talking about that could be a candidate for the Cubs is Indians right-hander Daniel Salazar. Yes, we all want the Cubs to dish out money and go for Will Harris, Dillon Betances, and others, but that won't happen.
Keeping the reality check in mind, the best chance the Cubs have in bringing in some talented relief arms would be from the trade market. Whether that means some high-risk, low-cost guys, or proven guys that are looking to bounce back, Chicago needs to start getting creative, and quickly if they want to remain competitive in the Central. With the Reds continuing to build a solid roster, (now in on Francisco Lindor), The Cardinals the defending champs, and the Brewers continuing to sign under the radar players, Chicago appears to be the fourth-best team in the division at this point.
We are entering the part of the offseason where fringe guys who are looking for rotation jobs may have to settle for one year prove it deals instead of earning what they think they will. A lot of those one-year deals turn out to be bullpen options, which can be good or bad depending on the situation. With fringe players in mind, I started to look at all the rosters from last year trying to find some low-cost, high upside pitchers the Cubs could look at for next season.
There is a ton of pitchers that I think the Cubs could take a chance on to round out their staff, but one name that jumped out at me was Danny Salazar. For those of you who watch baseball regularly, this is a name that you should be familiar with as the Cubs were in on him as a trade candidate way back in during the 2015-16 seasons. At that time, Salazar was a young and cost controllable pitcher who was a hard thrower with great stuff and had tons of success for four seasons.
Following his strong run with the Indians, the injury bug began to set in during the 2018 season, including a shoulder injury that required surgery, which cost him all of 2018 and nearly all of 19. Once he finally returned to the mound last season, he injured his groin, and that was it as Salazar has tossed a total of four innings since the 2017 season. Given that he has missed so much time for the past two years, there is a chance that Salazar may be toast regardless of what role he is in, so signing him certainly comes with risks.
Before the injuries took place, Salazar was a legit top of the rotation guy who would never have been thought about as a remote depth option. On the flip side, Salazar is still just 29 years old and turns 30 this winter, and if healthy, he may still have the stuff to return to that form, but how could you bet on it at this point. If a team like the Cubs were to take a flyer out on him, why wouldn't they look at him as a reliever first instead of throwing him in the rotation?
I think this is an option the Cubs should consider even if it means pegging him in as a reliever over a starter. That would mean the Cubs are trusting his potential over his history and who knows he could rejuvenate his career much like Morrow did when he moved to the pen or Wade Davis. Salazar is not all that unfamiliar with relief duty, as he got his first taste in that role back in 2017. Although it was a limited sample size, Salazar dominated out of the pen and showed that he could be a great reliever.
With the longevity of his recent injuries, throwing him back in the rotation is very risky for a couple of reasons. First, coming back from nearly two missed seasons and having the longevity to make 30 starts at hopefully five innings or more will be a huge load to take on. The second reason why it would be difficult is the velocity spike he saw in the pen.
As a starter, Salazar sat around 94 mph, which is still a very solid fastball. In the pen, however, his heater had an uptick in velocity and began touching 97 mph. An extra bump in fastball velocity is huge going from a starter to a reliever, and the fewer innings he works, the more likely that higher speed remains intact.
Another important factor the Cubs must consider is the ability for Salazar to adapt to short bursts out of the pen by dropping his narrow pitch mix to the best he has. That would mean Salazar would need to focus on max effort with his heater on every pitch and work his breaking ball and changeup off that. Salazar has a lively heater and a plus changeup, so pairing those pitches together with a breaking ball and boom you have a solid reliever.
For much of his career, Salazar has been mostly fastball/changeup heavy while mixing in his breaking pitches at times. As a starter, that could get you in trouble when you limit your arsenal, but as a reliever, you can get by with two solid pitches since you only work minimal innings. Speaking of the Salazar change up, not only is it a tremendous secondary pitch, but it was rated the most valuable pitch among starting pitchers from 2015-17. Even better than current Cub Kyle Hendricks who came in third on that list.
To sum up this signing, not only do you get a guy not even 30 years old, but a guy who has been consistently hitting the mid 90's to go with one of the best change ups in baseball (among starters). He has shown the ability to increase his velocity out of the pen and has a wide array of pitches. I can't speak of his health right now, but lately, his history has not been the greatest. Should he be fully healthy and open to becoming a reliever instead of a starter, he looks to be the perfect signing for the Cubs that could help this club both in the long- and short-term windows.