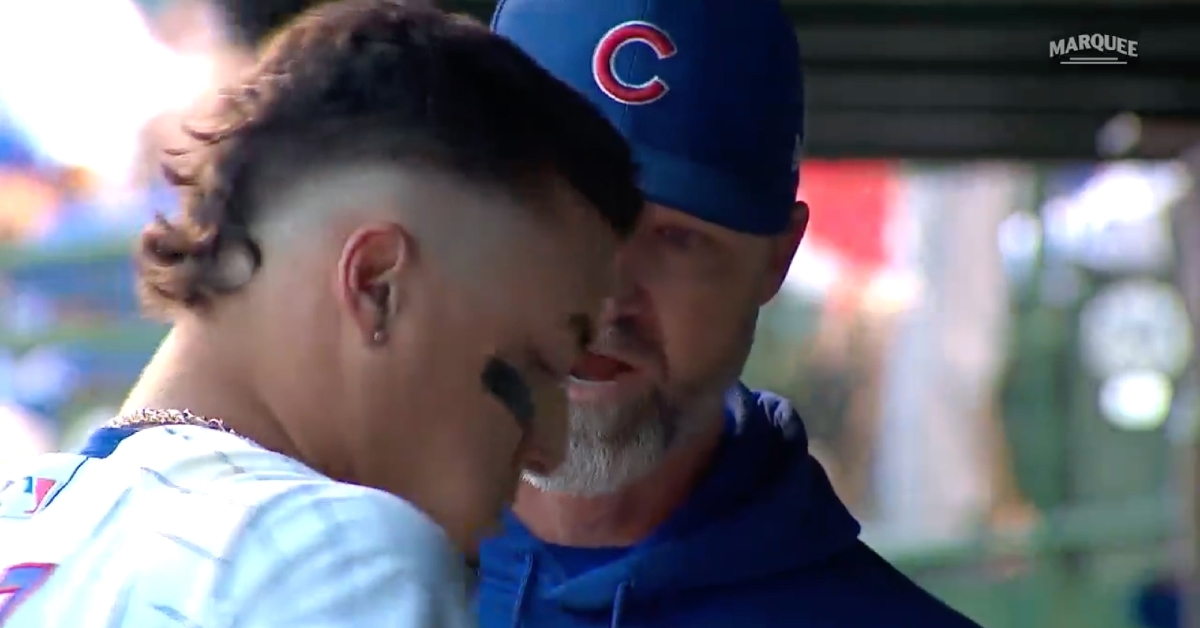 | | |
| --- | --- |
| Cubs News: Javier Baez, David Ross react to Baez getting benched | |
---
| | | |
| --- | --- | --- |
| Tuesday, June 22, 2021, 8:00 AM | | |
CHICAGO — Chicago Cubs shortstop Javier Baez may very well be the headiest, savviest player in baseball, which is what his made his uncharacteristically boneheaded mental lapse on Monday so surprising. Baez ran from first to third when a fly ball was hit with one out, as he assumed there were two outs, resulting in him getting doubled off at first to end the inning.
Manager David Ross briefly discussed the incident with Baez in the dugout and then removed him from the game, replacing Baez in the lineup with Sergio Alcantara. Baez did not argue with Ross during their dugout discussion, as he seemed to understand Ross' reasoning for benching him. The play in question occurred in the bottom of the fourth, when Baez reached base by grounding into a fielder's choice, making him 0-for-2 on the night. Earlier in the game, he grounded into an inning-ending double play.
Javy loses track of how many outs there are when on 1st base with Rizzo at-bat, and is then removed from the ballgame by manager David Ross.@Cubs #GoCubsGo pic.twitter.com/C20WagqoPt

— Billy Krumb (@ClubhouseCancer) June 22, 2021
Here's Báez and Ross in the dugout after the inning-ending double play. #Cubs pic.twitter.com/wO1m3oLO16

— Andy Martínez (@amartinez_11) June 22, 2021
The Cubs were losing 1-0 to the Cleveland Indians at the time of Baez's benching, and they went on to suffer a 4-0 defeat at Wrigley Field. After the game, Baez and Ross addressed the situation when speaking with the media, and no drama came about, with the former Cubs teammates supporting one another and Baez revealing that he understood Ross' decision. Ross rationalized the benching by correlating it with Baez's frustration over his struggles at the plate, implying that he did not want Baez to have to play when he was not completely locked in and focused.
"We have to make sure we're focused and locked in during the game," Ross said. "Sometimes, our frustrations can distract us a little bit."
Ross also made it clear that his decision was nothing personal toward Baez, saying, "I'm not trying to set an example of Javy, ever. That guy plays his butt off and brings it 99.9% of the time."
As for Baez, he chalked up his blunder to nothing more than simply losing count of how many outs there were. He did admit to being surprised by Ross' decision to sit him for the rest of the game, which was obvious by the look on his face when he finished his on-camera dugout discussion with Ross. However, Baez supported Ross' decision and blamed himself for putting Ross in that position.
"I can't go against [Ross]. I blame it on myself," Baez said. "I lost count of the outs. We talked about it, and we're on the same page, and I'll be there tomorrow to help the team."
Baez also said of Ross' lineup decision, "I was surprised. I never want to be out of the lineup. I respect his decision. He told me why it happened, and I said, 'OK, it's your decision.'"
Ross, Báez address yesterday's baserunning mistake. pic.twitter.com/3fa24wlRln

— Marquee Sports Network (@WatchMarquee) June 22, 2021
The only issue Baez had with the situation was Sergio Alcantara being inserted into the lineup on short notice, with Baez saying, "He was not completely ready to enter the game, which is what I didn't like."
Other than that, it seems to be water under the bridge at this point and something that will not carry over into the next game. Baez told reporters that there were "no hard feelings" between him and Ross," and Ross indicated that the lineup adjustment was made with the best interests of Baez and the team in mind. "El Mago" will presumably be included in Tuesday's starting lineup and will likely be extra motivated to return to form.