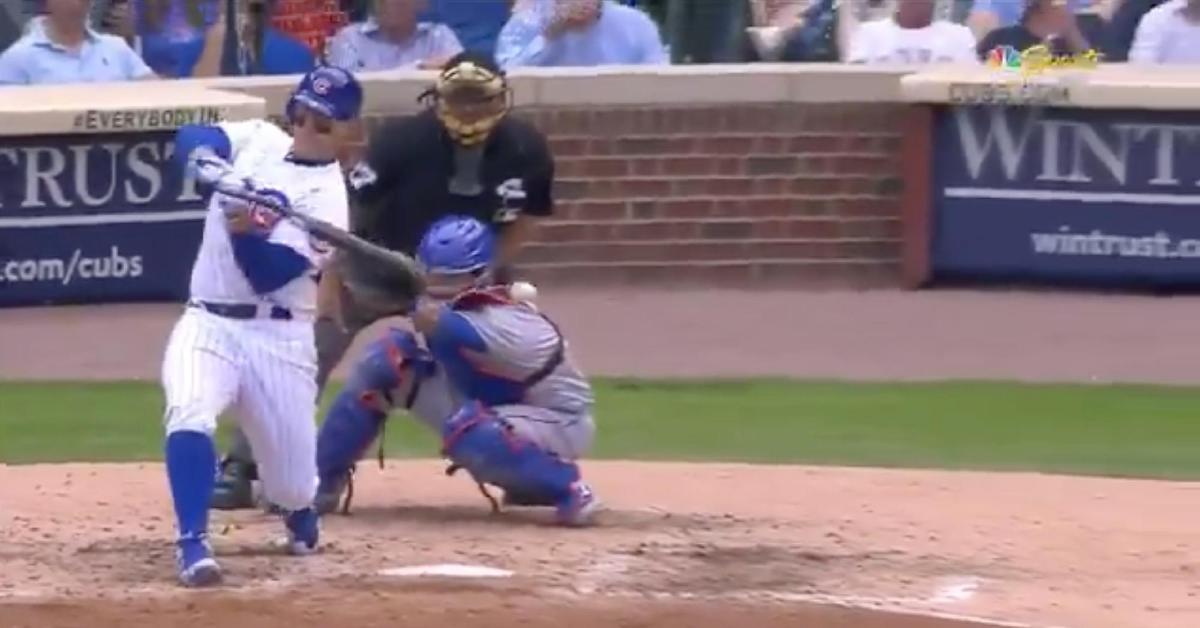 | | |
| --- | --- |
| WATCH: Anthony Rizzo suffers most confusing strikeout ever | |
---
| | | |
| --- | --- | --- |
| Friday, June 21, 2019, 5:31 PM | | |
CHICAGO — It is no secret that Chicago Cubs first baseman Anthony Rizzo crowds the plate when he is up to bat, which is the main reason why, season in and season out, he is consistently one of the MLB's leaders in the hit-by-pitch category. However, Rizzo has likely never experienced an HBP as confusing as the one that happened to him on Friday.
With the Cubs battling the New York Mets at Wrigley Field, Rizzo suffered a really unusual strikeout on a play that confused practically everyone except Mets starting pitcher Jason Vargas. In the bottom of the fifth, Rizzo swung at an inside pitch, which grazed Rizzo's forearm and ricocheted passed Mets catcher Tomas Nido, drawing into question whether it not it was an HBP, a passed ball or a strikeout.
Rizzo did not swing all the way through, but he was unable to check his swing before going far enough around for a swinging strike. Of course, a swing supersedes an HBP, and, since the swing marked the third strike, Vargas was certain that he struck Rizzo out. Therefore, Vargas was beside himself with frustration when a strike was not called. The third-base umpire seemed to indicate with his signal that he did not have a clear look at whether or not Rizzo went around, but, after deliberating, the umpires decided that Rizzo did indeed swing and thereby called him out.
Part of why Vargas was so upset was that he appeared to think that the third-base umpire had signaled that Rizzo did not swing, and Cubs manager Joe Maddon, who discussed the scenario at length with the crew chief, must have thought the same thing. However, television footage showed that the third-base umpire's signal was one that demonstrated that he did not have a call to make, which led to the deliberation. Ultimately, the home-plate umpire probably decided that Rizzo did, in fact, swing, and Vargas, who was pulled from the game after that, left the field feeling relieved that he was not robbed of a strikeout.
¯\_(?)_/¯ pic.twitter.com/jxjJPbpw6A

— Cubs Talk (@NBCSCubs) June 21, 2019
The umps miss a swing call and Jason Vargas gets so mad, a breakdown pic.twitter.com/3XknMtWA6l

— Jomboy (@Jomboy_) June 22, 2019