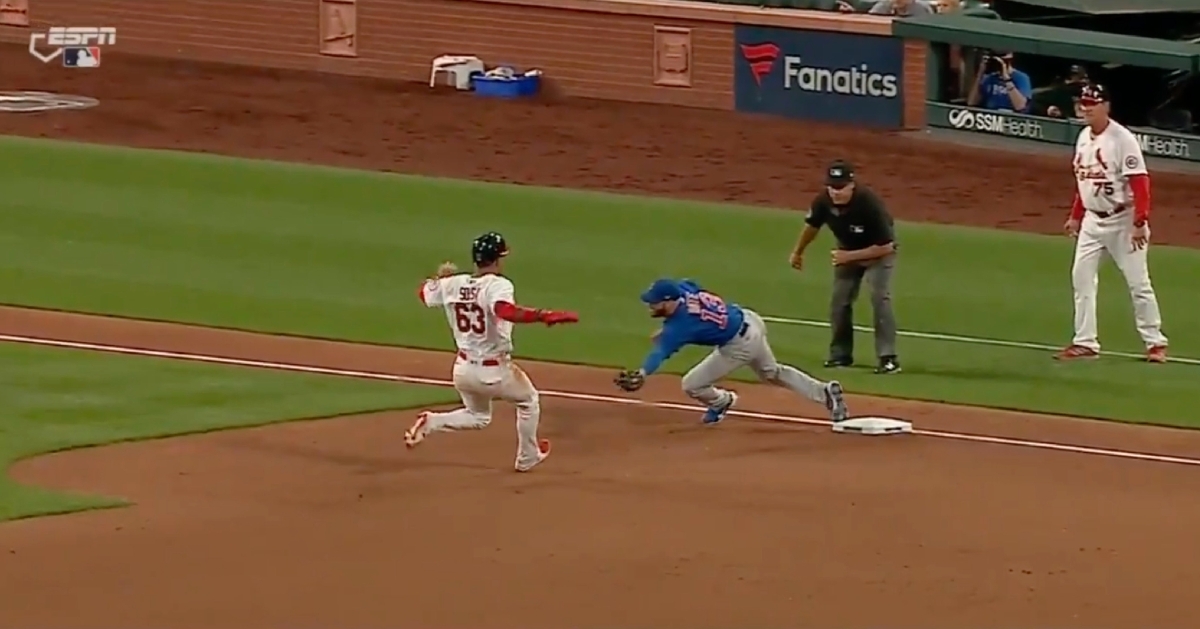 | | |
| --- | --- |
| WATCH: Cubs hosed by blown call, unable to challenge | |
---
| | | |
| --- | --- | --- |
| Sunday, May 23, 2021, 10:06 PM | | |
ST. LOUIS – The blown call in the bottom of the seventh in Sunday's clash between the Chicago Cubs and St. Louis Cardinals could be chalked up as "no harm, no foul" because the Cardinals, who benefited from the botched ruling, ultimately failed to score in the frame. With that being said, the umpiring mistake still could have seriously hindered the Cubs' chances of winning, thus making it unreasonable to simply slough off the instance of shoddy umpiring.
A missed call at third base allowed the Cardinals to load the bases with no outs at Busch Stadium, but reliever Ryan Tepera worked through the jam and kept the score tied 0-0. On a night of shaky umpiring, specifically with regard to the conspicuously wide strike zone of home plate umpire Erich Bacchus, a gaffe by third base umpire Phil Cuzzi superseded all of Bacchus' questionable strike calls in terms of ineptitude.
With runners on first and second, starter Adam Wainwright laid down a bunt that Tepera fielded and threw to third baseman David Bote. The throw was not exactly on target, but Bote was able to remain on the bag while stretching to make the catch. However, Cuzzi inexplicably ruled that Bote was pulled off the bag and ruled shortstop Edmundo Sosa safe at third. Making matters worse, after falling down, Bote appeared to swipe Sosa with his glove before Sosa reached the base on his slide, meaning Bote technically outed Sosa twice mere moments apart.
.@Cubs get hosed in the 7th because they lost a challenge earlier in the ballgame. BUT, Ryan Tepera gets out of a bases loaded, no-outs jam and they move to the 8th inning scoreless.#GoCubsGo pic.twitter.com/Kx8w8MpJN6

— Billy Krumb (@ClubhouseCancer) May 24, 2021
Cubs manager David Ross was ejected earlier in the game, and acting Cubs manager Andy Green, the team's bench coach, had already unsuccessfully challenged a call, thereby taking away the Cubs' ability to challenge, by the time the incorrect call in question came to fruition. Therefore, the Cubs were unable to challenge the ruling, which was scored as a Tepera throwing error. Justice prevailed, though, as Tepera was able to bear down and draw three straight outs to keep the Cardinals off the scoreboard. Regardless, Cuzzi's blown call was inexcusable, to say the least.
Mmm.@RTepera #CubTogether pic.twitter.com/MmNPVRFtkC

— Chicago Cubs (@Cubs) May 24, 2021