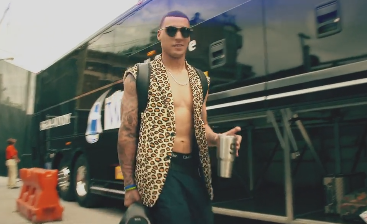 | | |
| --- | --- |
| WATCH: Cubs players wear 'short shorts' for road trip | |
---
| | | |
| --- | --- | --- |
| Thursday, June 23, 2016, 12:57 PM | | |
The Cubs headed off to begin their 11-game road trip in Miami on Wednesday evening after being swept by the St. Louis Cardinals at Wrigley Field.
The Cubs players and coaches dressed up with their short shorts along with a tank top for the road trip. The name of the themed trip is "Who wears short shorts? Anthony Rizzo wears short shorts" according to Cubs manager Joe Maddon.
The official Cubs Twitter account posted a nice montage of the Cubs players in their festive attire for their road tirp.
Who wears short shorts?https://t.co/jwjL91QfWu

— #VoteCubs (@Cubs) June 23, 2016
#Cubs road trip pic.twitter.com/yHwcAIDtFp

— Carrie Muskat (@CarrieMuskat) June 22, 2016
#Cubs pic.twitter.com/K3hcfM4tIN

— Carrie Muskat (@CarrieMuskat) June 22, 2016
#Cubs pic.twitter.com/rIEM7Mixvf

— Carrie Muskat (@CarrieMuskat) June 22, 2016
One more. #Cubs pic.twitter.com/fu9K8Iza7z

— Carrie Muskat (@CarrieMuskat) June 22, 2016
Javy's swag deserves two photos to capture it all: pic.twitter.com/lPXSfxFjW7

— Tony Andracki (@TonyAndracki23) June 22, 2016
Yep, those def qualify as short shorts, KB. pic.twitter.com/DL8v9P2YbQ

— Tony Andracki (@TonyAndracki23) June 22, 2016
Mr. Henry Blanco: pic.twitter.com/igF1QW08Z4

— Tony Andracki (@TonyAndracki23) June 22, 2016
Jon Lester with the Miami Vice look for the "Who wears short shorts? Anthony wears short shorts" theme trip. pic.twitter.com/FDLec2P560

— Tony Andracki (@TonyAndracki23) June 22, 2016
Russell said he can't wait to wear this again. Maybe to Hawaii or another Florida trip. pic.twitter.com/R33HHzMv3y

— Tony Andracki (@TonyAndracki23) June 22, 2016
Blurry but here's Bosio and Montero: pic.twitter.com/qI16yumCXz

— Tony Andracki (@TonyAndracki23) June 22, 2016
Rookie sensation Willson Contreras: pic.twitter.com/nnfhFpZNrU

— Tony Andracki (@TonyAndracki23) June 22, 2016
Hammel rockin' the chain: pic.twitter.com/KJy9UBwLF9

— Tony Andracki (@TonyAndracki23) June 22, 2016
Albert Almora with a pink tie and no undershirt: pic.twitter.com/FPV2ZrRHLc

— Tony Andracki (@TonyAndracki23) June 22, 2016
Jake Arrieta ready for South Beach: pic.twitter.com/avXiwRnLzj

— Mark Gonzales (@MDGonzales) June 22, 2016
Lackey and Ross: pic.twitter.com/t52u6k7tev

— Mark Gonzales (@MDGonzales) June 22, 2016
Chris Bosio ready for Miami: pic.twitter.com/qmHMPLg1Xy

— Mark Gonzales (@MDGonzales) June 22, 2016
Travis Wood looks ready for the Everglades: pic.twitter.com/0PhomD1zCy

— Mark Gonzales (@MDGonzales) June 22, 2016
Cubs OF Dexter Fowler going shirtless https://t.co/UWh7Hu0SSd pic.twitter.com/lB54COdczw

— Jesse Rogers (@ESPNChiCubs) June 22, 2016