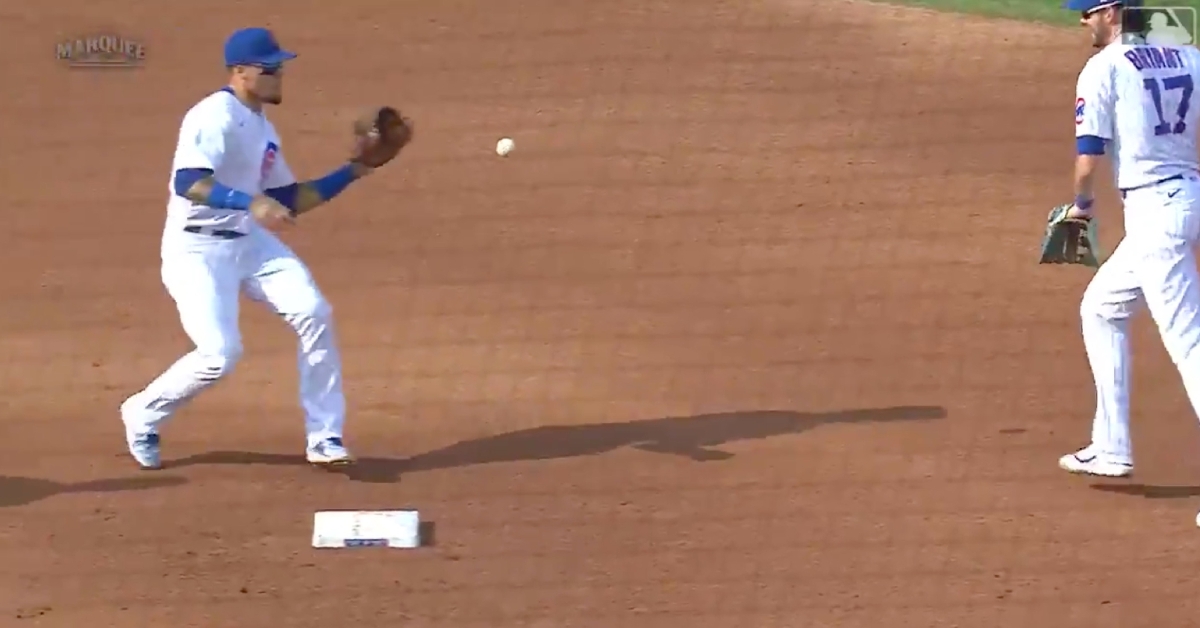 | | |
| --- | --- |
| WATCH: Cubs turn two sweet double plays featuring glove flips | |
---
CHICAGO — The St. Louis Cardinals had a rough day on the defensive end in their 5-1 loss to the Chicago Cubs on Monday, committing two costly errors. The Cubs, on the other hand, pulled off two sweet double plays made possible by glove flips.
Shortstop Javier Baez positioned himself at second base on both double plays, firing to first baseman Anthony Rizzo on each occasion. The first one, a 5-6-3 double play, came in the top of the fourth, and the second, a 4-6-3 double play, occurred in the top of the sixth.
The fourth-inning double play happened during a defensive shift on the Wrigley Field diamond. Third baseman Kris Bryant was positioned near second base when he fielded a grounder hit up the middle by Brad Miller. He cleanly fielded the ground ball before flipping it out of his glove to Baez.
Tommy Edman grounded into the sixth-inning double play. With no shift in play, second baseman Nico Hoerner fielded the burner in the 3-4 hole and made a perfect backhanded glove flip to "Javy" at the bag. Baez threw a laser to Rizzo that outed the speedy Edman just in time, capping off a flashy web gem. For good measure, Baez and Hoerner teamed up for another 4-6-3 double play in the top of the seventh that saw Rizzo stretch out and catch Baez's throw, outing Matt Carpenter.
How many best friends can one pitcher have? pic.twitter.com/6r3S0COc0t

— Chicago Cubs (@Cubs) September 7, 2020