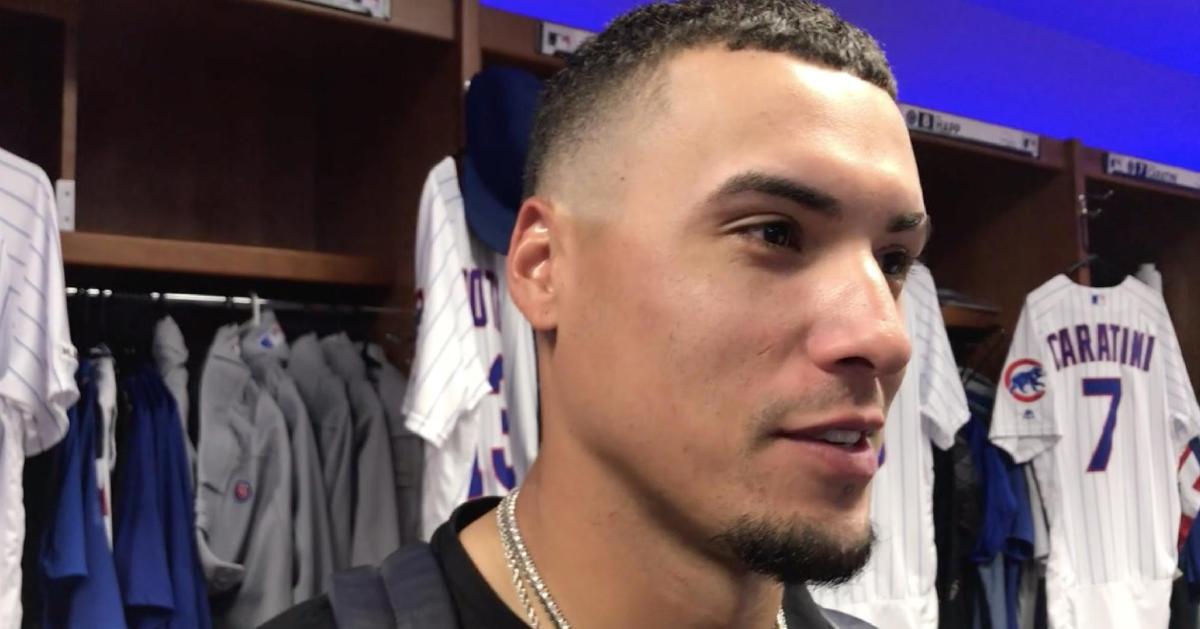 | | |
| --- | --- |
| WATCH: Javier Baez reveals Joe Maddon encouraged him to bat left-handed | |
---
| | | |
| --- | --- | --- |
| Friday, August 9, 2019, 2:15 PM | | |
CINCINNATI — Blowouts in baseball make for interesting moments late in games, and, in the ninth inning of the Chicago Cubs' 12-5 blowout win over the Cincinnati Reds on Thursday, a left-handed at-bat stole the show. With Reds position player Kyle Farmer pitching, Cubs shortstop Javier Baez, a natural left-hander who only bats and throws right-handed, decided to bat left-handed against him.
"At first, I was scared," Baez said when speaking with reporters about his left-handed plate appearance. "I didn't want to do it because I didn't know how it was going to be."
.@javy23baez bats left-handed against a position player pitching.

Enjoy. pic.twitter.com/FmI01cih1L

— Chicago Cubs (@Cubs) August 9, 2019
Can't stop thinking about Javy batting lefty and trying to hit a ball to the moon. pic.twitter.com/cutHnASZia

— Chicago Cubs (@Cubs) August 9, 2019
Baez revealed that Cubs manager Joe Maddon encouraged him to bat left-handed, which led to Baez, who had previously turned down the opportunity to bat lefty in games, to relent. "Javy" gave it his all in the ninth-inning plate appearance, as he swung for the fences when facing Farmer's very slow pitches. In the end, Baez popped out, and he told the media that bad timing on his swings led to the popup. However, Baez did not rule out batting left-handed again in the future and claimed that he would continue working on it in batting practice.
"I just didn't know when to start (swinging)," Baez said of his left-handed at-bat. "I'll probably do it again if I face a position player or somebody that's not throwing hard."