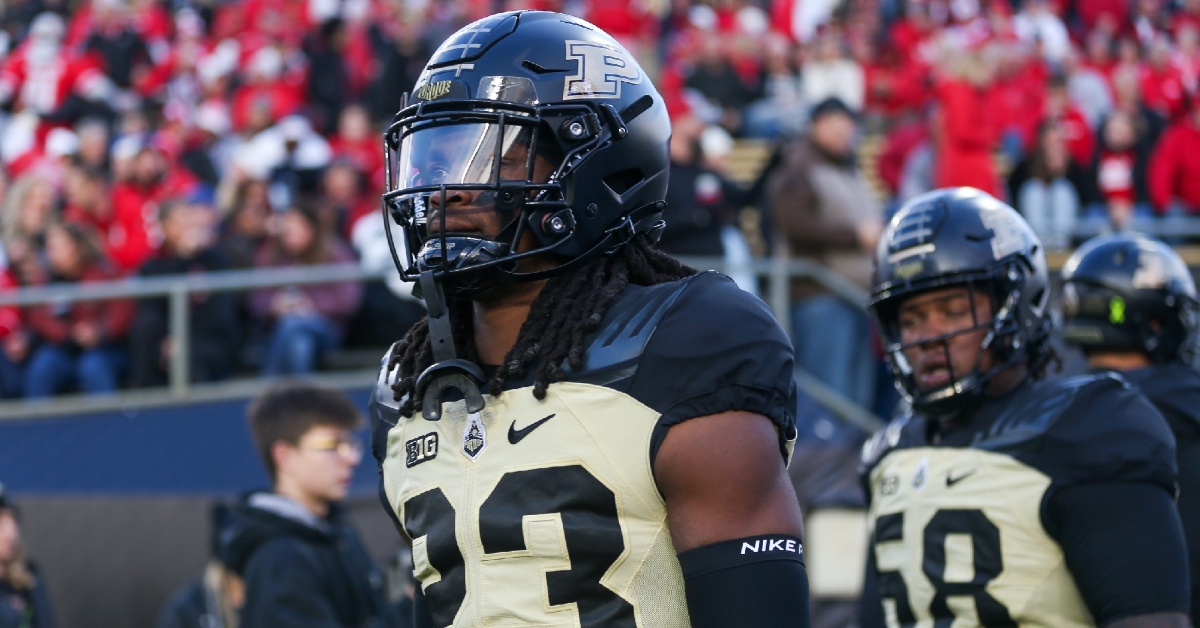 | | |
| --- | --- |
| Bears Draft Target: Cory Trice | |
---
Now that we are just over 72 hours away from the 2023 NFL draft, things will start falling into place. With the first round set to take place Thursday, expect there to be a lot of chatter surrounding the Bears and whether or not they keep their No. 9 pick or trade it away for more picks later on.
If I were to guess, the Bears will hold on to their No. 9 selection for as long as they can, and it would be a last-minute thing if they trade it away. However, day two and day three are where it does get interesting for this team.
Given the number of picks that the Bears have acquired since the middle of the season, this team will have many options beyond the first round to find talented players.
Day two could especially be a big day for the Bears as this could be the day that leads to the most movement overall to trade into round one or two. In any instance, one player that Chicago fans should keep tabs on as a day two selection for this team would be Purdue CB Cory Trice.
Given the makeup of the Bears secondary and having guys like Jaylon Johnson, Kyler Gordon, Jaquon Brisker, and Eddie Jackson, adding another CB may not seem necessary for this team. However, Johnson is approaching free agency soon, and if the Bears can't work out an extension with him, someone will need to replace him. Adding a guy like Trice in the second or third round would give this team an insurance policy should that happen, and he is a dynamic player in the secondary.
Although he is not in the same category as Devon Witherspoon or Christian Gonzalez, Trice is getting tons of pre-draft hype, and rightfully so. A big reason is his size, as he stands 6-3 and checks in at 206 pounds.
That allows him to contend with some of the bigger WRs in the game, and he could prove to be a tough matchup for all of them.
He has elite size for a corner, and his agility is off the charts. He'll be a tight-end stopper at the next level after allowing just one catch on 88 press coverage snaps in 2022. Knowing how important press coverage can be in this league, allowing only one catch on press coverage is crucial.
Trice was a big-time player for the Boilermakers and was easily their top corner during his four years with the program. During his time with Purdue, Tric accumulated 106 tackles, with 90 of them coming as solo tackles.
Four of those tackles came as tackles for a loss, showing you he can make plays in the backfield.
When you look at his coverage stats, he has 15 career pass breakups in school and five career interceptions while returning them for 57 yards and one score. Playmaking ability is not necessarily part of his game, but instead, he will be a matchup problem that could help neutralize some of the better TEs or WRs in the game.
Despite his size, Trice has shown elite speed, as his 4.47 40-time puts him right up there with some of the faster CBs in this year's class. That speed makes him a unicorn for his size, and he will use that size and speed to his advantage. However, he needs to work on some parts of his game, and one of those things is playing too clingy in pass coverage.
Although he does have good speed, it takes him a little bit to reach that speed, so he can be a liability when beaten on deep ball situations. He is also a below-average tackler and run-stopper despite his size.
That is the most significant part of his game that he needs to work on, and if he can, he could be a steal on day two.
While he has legitimate strong safety size, Trice's game is better suited for the cornerback position. He's getting slept on. He can't play in certain coverages, but that guy is a monster in press.
This is someone that Alan Williams could mold into one of the better press coverage guys in the game if given a chance.