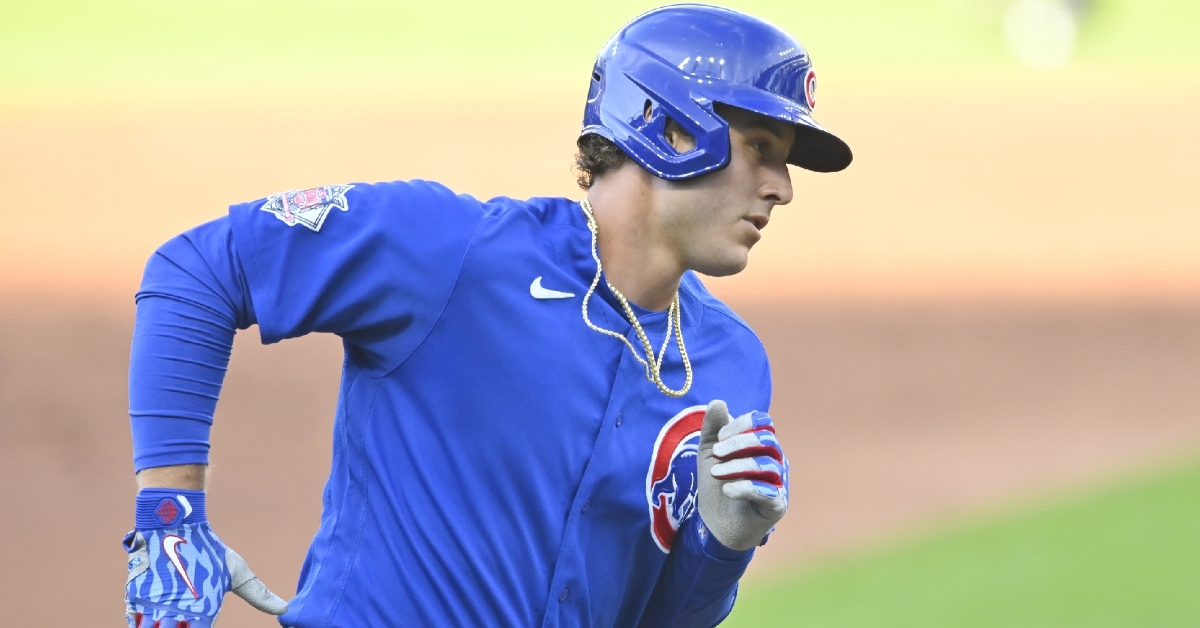 | | |
| --- | --- |
| 2021 Cubs Projections: Anthony Rizzo, other first basemen | |
---
As we continue to move across the diamond for our season projection series, we shift toward the infield's right side. This is where the Cubs' heart and soul is and, by all accounts, the de facto captain on this team. This also happens to be the team's longest-tenured player as he has been with this team since 2012.
If those clues still haven't given it away, today we discuss Anthony Rizzo and the first basemen I expect to see this year. Unlike most positions on this roster, first base is the one position where the Cubs don't have a reliable backup should Rizzo go down long-term. Guys like Austin Romine, Ian Happ, David Bote, and Kris Bryant have all played some games first, but those are not guys you want to stick their long term.
Fortunately, the Cubs do have some first base depth in the minors this season which could play a role in the season. They haven't had much of it in the past, and given the injury history surrounding Rizzo's back, it is probably needed. Here is how I see the Cubs first basemen stacking up this season.
Anthony Rizzo: Cubs fans are bracing for the possibility that this could be Rizzo's last season in Chicago. After all, he took a team-friendly contract seven years ago and is about to hit free agency. Given his age, he will only be able to cash in once, so this will be the offseason to do just that.
Losing Rizzo to anyone else would crush Cubs fans, especially when you look at what he meant to this team. Of all the players playing for contract extensions this season, Rizzo makes the most sense to extend, even if only for three more seasons. In his nine seasons with the Cubs, Rizzo has been nothing but consistent and has been as big of run producers in the lineup.
Sure, he tends to get off to slow starts, but by the end of May and the beginning of June, he tends to heat up and is one of the toughest hitters to face the rest of the way. 2020 was certainly a year to forget for Rizzo as he never got comfortable at the plate. That can be said about many players, but seeing Rizzo struggle as he did was a shock. Of all the hitters poised for a bounce-back season, he would be the one I think gets back on track.
Projection: 144 games, .277 average, 30 homers and 105 RBIs: Rizzo will have to take care of his back, especially early in the season, as that is when it tends to flare up. I expect David Ross to monitor that and maybe give him some extra days off early in the season. When in the lineup and healthy, you know what you are going to get out of him.
Rizzo is a run producer and knows how to reach base as he isn't afraid to take walks or get hit by pitches. He also brings gold glove defense to the field every day, which helps his pitchers and infielders alike. His numbers the last few seasons haven't been where you might expect them to be, but he still has been the most consistent bat in the lineup the past five years. I look for that to continue this season as he puts together his best season since 2018.
Alfonso Rivas: One of the more intriguing prospects in the Cubs system is that of Alfonso Rivas. The first basemen was previously a top 20 prospect in the Oakland A's system, and the Cubs looked to acquire him in 2014. Unable to do that, they grabbed him last season when the team dealt Tony Kemp to Oakland in exchange for Rivas.
Unlike most first basemen, Rivas isn't going to bring a ton of power to the plate, but instead, he is more of a high average hitter who makes solid contact. Rivas has seen a little bit of big-league time, but not much at this point, so expect him to be sent to AAA or the new Alternative site, which is returning once again. He will be one of the first players called up if Rizzo goes down, and I think he is a sneaky good player that many fans will grow to like.
Projection: 35 games, .275 average, 2 homers and 13 RBIs: As mentioned, Rivas will not hit for a ton of power, but he does have a beautiful swing. It is almost impossible to think Rizzo will make it through the season without any injuries, so I do expect him to get called up at some point this season, even if it isn't until September.
Rivas brings with him a left-handed bat with the ability to hit for contact, something this team has lacked. Although young on experience, he was pegged a top prospect for a reason but hasn't had the chance to prove why. Maybe this is the season where he can do that, even if a small sample size.
Patrick Wisdom: Signed in late November to a minor league deal, Patrick Wisdom is returning to the Cubs. After reaching an agreement with the club last July, Wisdom saw action in two games last year, going 0-2 against the White Sox in the final series of the year.
Across his 105 career major league games, Wisdom has managed just a .179 average with six homers and 20 RBIs.
His average isn't much better as a minor leaguer, batting just .245 in 10 seasons but has slugged 131 homers. Seeing him on the major league roster at any point would be the last resort and something the Cubs would be concerned about.
Projection: 5-10 games, .200 average and one RBI: If Wisdom is on the team this season, it will strictly be down the stretch as a September call-up to give the Cubs another bat off the bench. Even then, don't expect him to start any games and strictly be used as a pinch hitter. His at-bats will be limited, but I do think he makes good contact this season to at least buy a few hits.

Upgrade Your Account
Unlock premium boards and exclusive features (e.g. ad-free) by upgrading your account today.
Upgrade Now