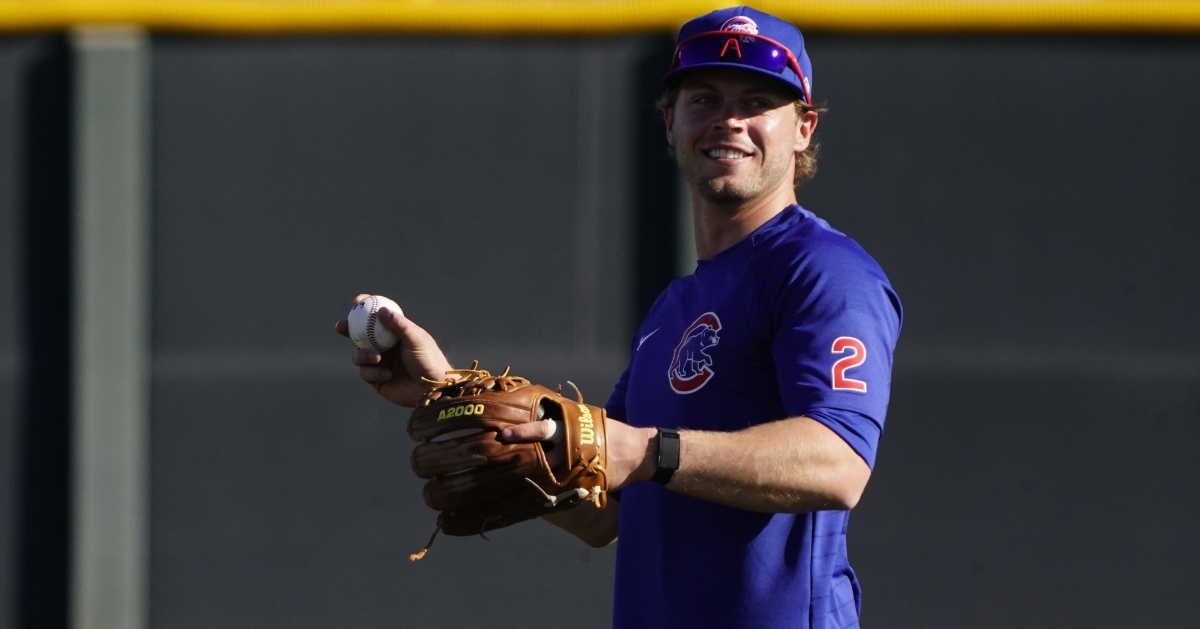 | | |
| --- | --- |
| 2021 Cubs Projections: Nico Hoerner, other second basemen | |
---
We continue moving across the infield to second base for the next stop in the season projection series. Off all the roster positions, the second base comes with the most questions as the Cubs are still trying to figure out what to do. David Bote, Nico Hoerner, Illderamo Vargas, and Eric Sogard are all options at this point, but does anyone have a clear advantage over the other.
I have gone on record many times saying that Hoerner should start the season in the minors, even if for a month, to get a little more seasoning. With the AAA season now being pushed back to May, not only do I find it highly unlikely he ends up in the minors, but at this point, I think it is his job to lose even he isn't an everyday player right away. This will be an exciting position to watch as Spring Training continues.
Nico Hoerner: The former top prospect in the system three years ago, Hoerner has shown flashes of greatness and areas of struggles. After bursting on the scene in September of 2019, Hoerner had a rough go of things in the year to become more of a back up to Jason Kipnis by season's end. That doesn't mean he is a bust by any means, and it just means pitchers figured him out, and he couldn't adjust as quickly as he would like.
That shouldn't surprise anyone as Hoerner has yet to play 170 professional games, seeing roughly 100 games at the minor league level and 65 games in the majors. A big reason for that was injuries his first two seasons, but Hoerner is still raw and learning the type of player he wants to be. The good news for Cubs is that he loves to work and is a gym rat. He has added a lot of muscle this offseason which could translate into power, and with a modified approach, he could become a great bat in this lineup.
Projection: 112 games, .283 average, seven homers, 43 RBIs, 11 steals
Hoerner has always been known as a contact first type of player who isn't afraid to put the ball in play. His short compact swing is good for using the whole field as he doesn't walk or strike out much. His aggressive contact first approach worked when he was called up, but at times he got a bit too aggressive last year, leading to a higher strikeout rate than normal.
Hoerner is very solid and makes all the plays you expect most young middle infielders to make from a defensive standpoint. He has also seen minimal time in the outfield, so he could turn out to be a versatile player. The power isn't there now, but more will come as he puts on more muscle and refines his strike zone approach. He also gives the Cubs a little bit of speed which is something they lack.
Right now, I do feel the second base job is his to lose, but that doesn't mean he will be an everyday player. I expect him to get most of the starts, but he won't start every day quite yet. If everything pans out, you are looking at a top of the order bat that could be suited for either leadoff or the No. 2 spots for years to come.
Illderamo Vargas: Signed as a free agent off waivers last year, Vargas spent most of his Cubs season working out in South Bend before getting called up in August. Across the final month of the season, he saw a few starts here and there, showing flashes of power and the ability to make contact. Unlike Hoerner, Vargas doesn't have a roster spot now and is instead fighting for one of the final bench spots.
Versatility is undoubtedly beneficial to having him on your team as he can play both middle infield positions and third if needed. He is precisely the type of player who can benefit from a bench role and give the Cubs a bit more depth overall.
Projection: 45 games, .250 average, three homers, 14 RBIs
Vargas may or may not make the opening day roster, but he will be on the team at some point this season. When that happens, it will be interesting to see how David Ross decides to use him. Ideally, I look for him to be more of a pinch hitter or pinch-runner, but he could work his way to getting at least one start a week. A good spring will go a long way for him.
Trent Giambrone: One of my favorite things about Spring Training is watching how some of the younger prospect guys play with the big-league team. Over the past two seasons, Trent Giambrone has been the best bat at camp, translating into a strong 2019 showing for the Iowa Cubs.
Cubs fans have yet to see him this spring, but I expect to see him at some point. A second baseman by trade, Giambrone has now seen action at third, shortstop, and both corner outfield spots as they have turned him into a swiss army knife. Should he put together another strong spring, there is no reason not to expect to see him in 2021.
Projection: 20 games, .200 average, 3 homers, 11 RBIs
As good as Giambrone has been in the spring, he has been inconsistent in terms of average in the minors. The power numbers have been great, averaging 18 or more homers while also adding 15 steals. The problem has been his inability to hit above .250. Coming off a season in which he hit just .223, he needs to hit more consistently if he wants to land on the roster this season.
Eric Sogard: One of the holes the Cubs wanted to fill heading into spring was finding a veteran second baseman to platoon with Hoerner. Not only that, but Chicago wanted a left-handed bat like what Jason Kipnis brought to the table. With the market thinning out, Eric Sogard was available, and the Cubs inked him to a minor-league deal with an invite to spring.
Sogard has been a steady utility-man his entire career and is someone the Cubs have targeted in the past. He will not be someone who will hit for a high average, but he does all the little things right and can play virtually every position on the diamond. Considering he is a late arrival to camp, it may be hard for him to make the team, but if there is a bench spot available, he will contention.
Projection: 74 games, .245 average, 4 homers, 22 RBIs, 8 steals
I not only feel like Sogard will make this roster out of camp, but I think he could play a significant factor in the team's success this season. Not only do I expect him to get the bulk of his starts at second base filling in for Hoerner, but he will give Javier Baez, Kris Bryant, and perhaps other days off in the process.
Sogard is undoubtedly not going to wow you as a player, but he brings durability, consistency, and leadership to a team lacking some veteran presence. When given a full-time role with the Brewers in 2018, Sogard put together one of his better career seasons. Coming in with a 275-career average at Wrigley Field, Sogard may get more at-bats than most predict this season.

Upgrade Your Account
Unlock premium boards and exclusive features (e.g. ad-free) by upgrading your account today.
Upgrade Now