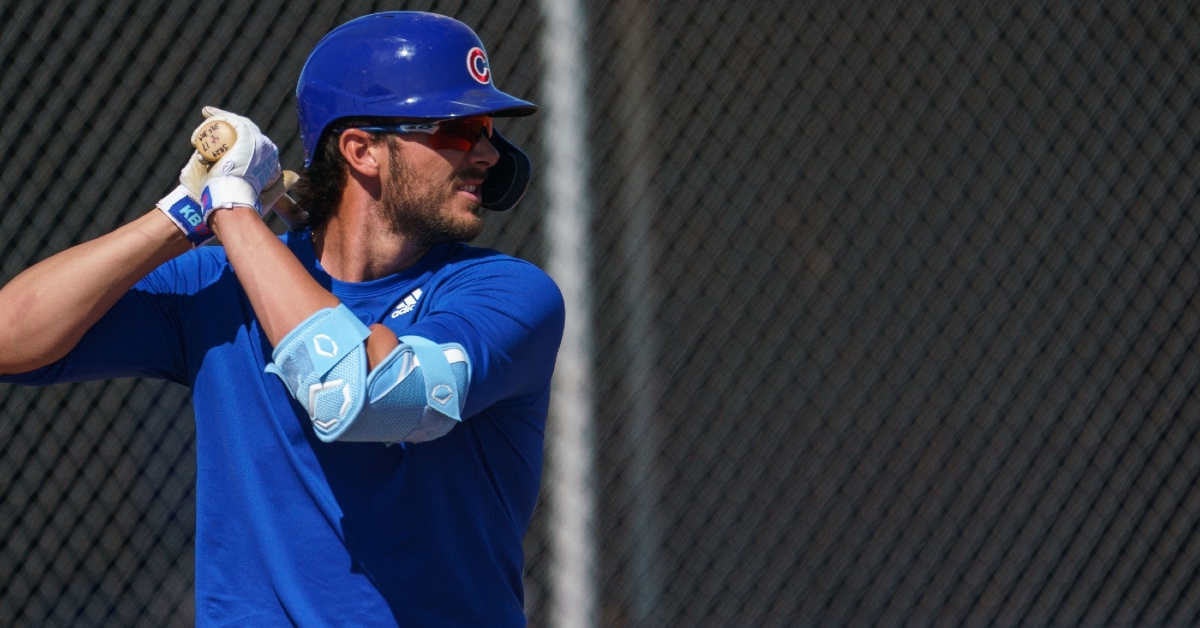 | | |
| --- | --- |
| 2021 Cubs Projections: Third Basemen including Kris Bryant | |
---
| | | |
| --- | --- | --- |
| Tuesday, March 9, 2021, 8:29 AM | | |
Heading into the 2021 offseason, the biggest question mark on the Cubs roster may have been the third base position. That wasn't because of competition or anything like that, but more so constant trade rumors surrounding Kris Bryant as no one knew how it would play out.
As the offseason continued, those talks started to die down, and eventually, Bryant and the Cubs agreed on a 2021 salary to keep him on the club this season. Jed Hoyer has also said that the Bryant trade talks are happening no more as he is locked in and ready for the 2021 season.
Whatever happens, this season, however, is going to determine his long-term outlook with this team. Bryant has said he is willing to listen to whatever offer, if any, the Cubs give him. However, when you look at how things went following the service time issue, to reports of him turning down a seven-year 200-million-dollar extension, there are many questions about whether he wants to stay in Chicago.
Bryant says he does, so I guess fans should take him at his word for that, but his numbers need to improve for a new contract. Since his MVP season in 2016, Bryant hasn't come close to reaching those numbers again. Injuries have played a role in that during the 2018 and 2020 seasons, but even then, his power numbers are not what Cubs fans expected after his first two seasons. Maybe moving him down in the lineup this season will help those numbers.
Kris Bryant: When the Cubs drafted Bryant No. 2 overall in 2013, it signaled the beginning of the World Series build. He was the second piece acquired for that puzzle, with Anthony Rizzo being the first piece in 2012. Since then, Bryant has reaped the rewards for the Cubs, spending not even two years in the minor leagues before getting a call up in 2015.
After winning rookie of the year in 2015, Bryant followed that up with an MVP in 2016 as the sky looked to be the limit for him. Then, inconsistency and injuries started to pile up as he has not seen a season like 2016 again. That is a bit concerning when you look at a guy playing for a long-term contract. However, this is a contract year, so look for Bryant to do whatever he needs to do to stay healthy and put-up big numbers.
There is no denying the potential Bryant still has, and the Cubs may not have seen his ceiling yet. That is why moving on from him would be extremely difficult to do, especially if he can prove he has more of 2016 or better in him. Not only is Bryant valuable at the plate, but he is valuable in the field and can play a variety of positions. He primarily plays third with some outfield mixed in but look for him to focus more on third this year to cut down on injuries.
Projection: 148 games, .287 average, 34 homers and 111 RBIs
I am expecting a big year for Bryant for a couple of reasons. First, the trade talks that he has heard the past few seasons have gone to rest, which should allow him to focus solely on the Cubs this season with a clean mental state. Second, this is a contract year, and if Bryant wants a lucrative deal next offseason, he needs to show he can not only stay healthy but produce at a high-level again.
Third, this one falls on David Ross and what he does with the lineup. Trying Bryant in the leadoff role didn't work last season, so don't look for that to happen again. Leaving him in the No. 2 hole is suitable for average but takes away his RBI opportunities. This season I look for Ross to leave him in either the cleanup spot or third spot in the lineup to maximize his run-scoring opportunities. He has a big bat that can change the game with one swing so having guys in front of him is a good thing.
David Bote: The defacto backup third baseman is David Bote, but he is more of a utility guy. Bote has seen the bulk of his starts at third, filling in for Bryant when he is injured but has seen time at both second base and a couple of starts at first. Look for all of his opportunities to come at either third or second this season as he will be the Cubs primary infield option off the bench.
Bote is an intriguing player, which is why the Cubs extended him for cheap a few seasons ago. His average hasn't been excellent in his three MLB seasons, but he does have the ability to hit in the 270-280 range with some surprising power. Having guys like Bote on the bench is the perfect complement to any lineup. He will continue to see plenty of action.
Projection 110 games, .268 average, 12 homers, 47 RBIs
Bote will get plenty of playing time, but it just depends on how many starts and where. Every year he is with this team, he seems to get better both offensively and defensively, although last season didn't show that. Bote is good enough to be an everyday player, but the way the roster is constructed, that won't happen right now. Having him platoon and or come off the bench to make starts is enormous for this team, and I look for him to be a significant contributor this season.
Christopher Morel: Unlike Bote or Bryant, Morel will not be in the major leagues and will not be there for quite some time. That doesn't stop him from being in Spring Training right now, as he has seen some at-bats early. Morel may be raw, but he is a top 10 prospect for a reason and has seen his name pop up in trade talks as many teams want him.
The Cubs brought in guys like Matt Duffy and others to be emergency fill-in situations in case Bryant goes down, but Morel could be the future at the hot corner. Ultimately his future is dependent on Bryant and what the Cubs do with him. Should Bryant choose to stay in Chicago and sign a long-term deal, Morel may get traded for a chance to play. If Bryant isn't brought back or isn't signed to a lucrative contract, that clears the way for Morel to step in hopefully soon.
Projection: 97 games, .272 average, 11 homers, 41 RBIs
Morel is going to hit, and he showed flashes of that in 2019. However, he still doesn't have a ton of experience under his belt and needs a bit more seasoning. After dealing with some injuries last season, Morel never settled into a consistent groove during the season. Look for him to start the year in South Bend and possibly land in Tennessee if his playing time is constant.