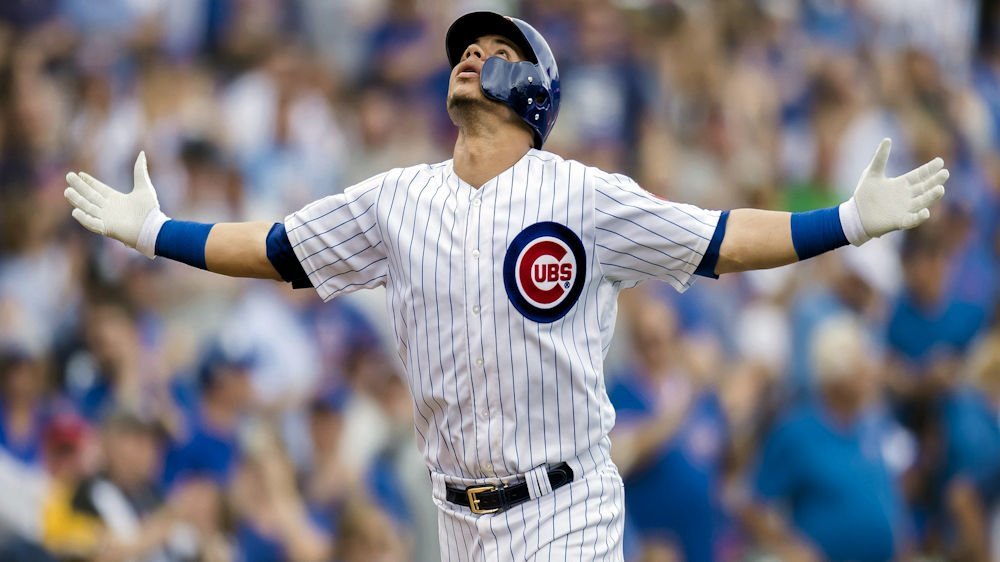 | | |
| --- | --- |
| Breakdown of Cubs offense Part 2: Looking for Improvement | |
---
| | | |
| --- | --- | --- |
| Sunday, February 24, 2019, 8:13 AM | | |
LOOKING FOR IMPROVEMENT
If I wanted to bash the entire roster, I could put them all under this category as it was not a pretty sight during the second half of 2018. However, I will not do that because many factors stood out as to why some of those struggles happened. That does not excuse the lack of power and production for some of these core players as these players will be looking to attempt to get back to their 2016 and 2017 ways.
WILSON CONTRERAS: To say he had an interesting season is an understatement. He opened spring training claiming he was the best catcher in the game and throughout the first half, it appeared he had a good claim earning the start for the All-Star game. However, it was a tale of two seasons as his second was dismal and saw him become a shell of what he was in the season plus before. 2016 saw him burst onto to the scene as a rookie hitting .282 with 12 hrs and 35 RBI's in just 76 games.
In his first full season in 17, he certainly didn't disappoint crushing the ball to a tune of (.276, 21, 74) and showing off an impressive cannon behind the dish. The 2018 season got off to a similar start average-wise, but the power just wasn't there. As the season progressed, he averaged began to decline and his power outage was so bad that he went nearly two months without a home run.
He caught the most innings of any catcher in baseball and playing 40 games in 41 days down the stretch; fatigue may have been a factor as he limped to the finish line (.249, 10, 54). However, no excuses can be made as these are professional hitters who need to learn how to adjust on the fly.
ALBERT ALMORA: Much like Contreras, Almora got his first taste in 2016 playing periodically in 47 games. He proved himself worthy in 2017 hitting near .300 (.298) while hitting eight homers and 46 RBI's. Hoping to continue to take the next step forward in his development, Almora hoped to grab hold of the center field job in 2018 and run with it.
How could one not want him out there every day with his gold glove caliber defense and aggressive nature at the plate. All signs pointed full speed ahead in the early going as Almora found a spot in the leadoff hole hitting .323 in that role and giving the Cubs a jolt, they were missing since Dexter Fowler left. We all know Joe Maddon likes to move things around and that was exactly the case with Almora as he began to shift further down the lineup throughout the year.
The biggest issue with him is his inability to consistently hit right-handed pitchers (over 100 points lower) than that of what he does against lefties. That is what makes it hard for him to be in the lineup every day. Despite that, he still managed to hit (.286, 5, 41) hoping to make it hard for Maddon not to use him every day.
IAN HAPP: Although not on the 2016 roster, Happ is on this list just because he is a part of the core and played his way onto the roster early in 2017. After smoking the baseball in AAA for one month, Happ was able to call Wrigley Field home for much of 2017 where he saw respectable numbers or a rookie (.253, 24, 68). Not only did he show his power potential, but also the ability to play multiple positions and was more athletic than would believe.
Then last year happened where he not only hoped to be the leadoff hitter, but potentially be a younger version of Ben Zobrist. He made that known loud and clear on the first pitch of the season launching a leadoff homer to right center in Miami. That moment, although exciting, was about all the good news Happ saw for much of the season. As strikeouts continued to pile up despite a strong walk rate early, his average sank to .233 while the 15 hrs and 44 RBI's would have gone up had he made more contact. Happ has a big year in front of him this season as his name has been tossed in with trade talks. The question is was last year just a sophomore slump or is this the Happ we will be expected to see.
KYLE SCHWARBER: For Schwarbomb's in the 2015 playoffs, to torn ACL, to world series hero, Schwarber's first two seasons were quite a journey unlike most ballplayers have seen. Finally, healthy in 2017 and is his first full season, Schwarber was looking to jumpstart the Cubs offense and hit from the leadoff spot. That spot no only proved to be disastrous for him, but for the team also as he was sent down to AAA for two weeks in July hoping to figure things out. It seemed he did even though a production line of (.211, 30, 59) is far from impressive, but his 260 plus average after returning from the Minors as something he could build off for 18.
With hopes of getting back to what he did in 2015, Schwarber was hoping a more patient approach would pay off. That was precisely the case early on as his big first half landed him in the home run derby where he claimed runner up honors. The second half was different story as he seemed out of sync most of the time. The walks began to drop along with his power, and the strikeouts started to skyrocket. Despite 26 homes and a career-best 61 RBI's his .238 average has people wondering how he could have been a .330 hitter in the minors. With all the DH talk surrounding baseball this year, if he doesn't start trending upward in the overall production aspect, he may be a DH in the AL before too long.
ADDISON RUSSELL: This is the Cubs biggest mystery of all to sort through this season as he was once viewed as a cornerstone for this organization. After busting out for 21 homers and 95 RBI's despite a .238 average in 16, injuries have slowed his development down the past two seasons and power has gone with it.
In 240 games since, Russell has hit just 17 home runs and drove in 81 runs. His batting average has gone up in each season from .239 in 2017 to .250 in 2018 showing that he is making contact, just not the power contact he once showed. Russell is a wild card this season due to the fact he is serving a suspension for 26 games into the season. Once he comes back from that, will the Cubs give him a chance to prove himself, or just cut ties and trade him off.
Two names not listed are Kris Bryant and Ben Zobrist. I chose to leave Bryant out because he gets a mulligan for last season. After getting hit in the head in April, to a lingering shoulder injury all season, he was never himself last year, and it showed. If you want, you can look at his power numbers from 2015 and 2016 and compare them to 2017 and criticize him there if you want. By doing that you fail to look at the bigger picture in that Bryant has tried to become a more complete hitter instead of a power hitter and he knows who he is as a hitter.
Ben Zobrist:/ The veteran utility player, on the other hand, is an anomaly. After giving the Cubs everything, they could have asked for and more in 2016 hitting (.272, 18, 76) and taking 14 more walks than strikeouts (96/82) 2017 was a year to forget. Nagging injuries and his aging bat bared their ugly head to land him with one of his worst seasons ever (.232, 12, 50) and a 54/71 BB/K ratio.
Looking to prove that it was only a fluke in 17 Zobrist responded in a significant way last season showing that he still deserves to play every day. He led the team and was the only hitter above .300 at .305 while hitting nine homers and 58 RBI's. His 55BB/60 k was also a nice improvement as he was able to remain healthy all year. That brings the question for his 2019 campaign. This being his final year of the deal, how will he be used to stay on the field yet rested enough to be healthy and produce. His veteran leadership is something that can't be replaced, and the Cubs know that entering this season.
You can go through all the numbers I laid out there for you and think what you want about them. Most people will indeed say the offense is broke and is struggling. That is a rightfully accurate observation given the decrease in power numbers for some hitters the past season. But is the offense broken or is it bad luck?
My take on that is I think it is a little of both. The bad luck part of has to do with three different hitting coaches in the past three seasons, meaning each one has a different way of doing things. Certain players respond to new coaches differently and perform better than others. Injuries have played another reason as to why the offense has not been where it once was. 2016 was a magical ride, but luck was indeed on the Cubs side as they avoided major injuries for significant periods.
The last two seasons have not been as lucky when you look at how many games missed came from core players. Just when you think a player was about to get hot, an injury happened, and they were never able to recover. That hurts the lineup in the long haul because of everyone presses that much more to succeed.
The main reason why the offense I feel has broken is the approach the team has taken recently. When Maddon first got here, the Cubs were about the long ball or big innings and could have cared less about batting average. As his managerial tenure with Chicago has gone on, they have been improving on their batting average, but the power numbers are going down. You can get away with that if you are a good small ball team, but the Cubs are not.
What I have noticed the most in the past two years is the approach at the plate for Chicago. I feel they have gotten to selective and complacent at the dish looking to hit one pitch even if they don't see it. Sure, some hitters have been aggressive, but too aggressive at times is a bad thing. 2016 was a prime example of what perfect aggressiveness can do.
If you watch a lot of at-bats from that season, the Cubs hitters were aggressive yet patient at the same time. Not only did they lead the league in pitches seen per plate appearance, but they also were near the top in first-pitch swings/hits also. That shows you right there that they could wait for a specific pitch, but if they saw it right away, they wouldn't hesitate.
The past couple of seasons something has been missing. They are either being too selective early and falling behind that way, or too aggressive early forcing them to be aggressive all at-bat long. As a team, they need to get back to their 2016 approach that made pitchers cringe when they faced this lineup. Yes, the Cubs do have free swingers on this team and that is who they will always be, but they also have patience, power, and guys that can put the ball in play. This team has too much talent and potential for the offense to be broken forever.
Now it is time to fix this and get back to the Cubs baseball these players know how to play.