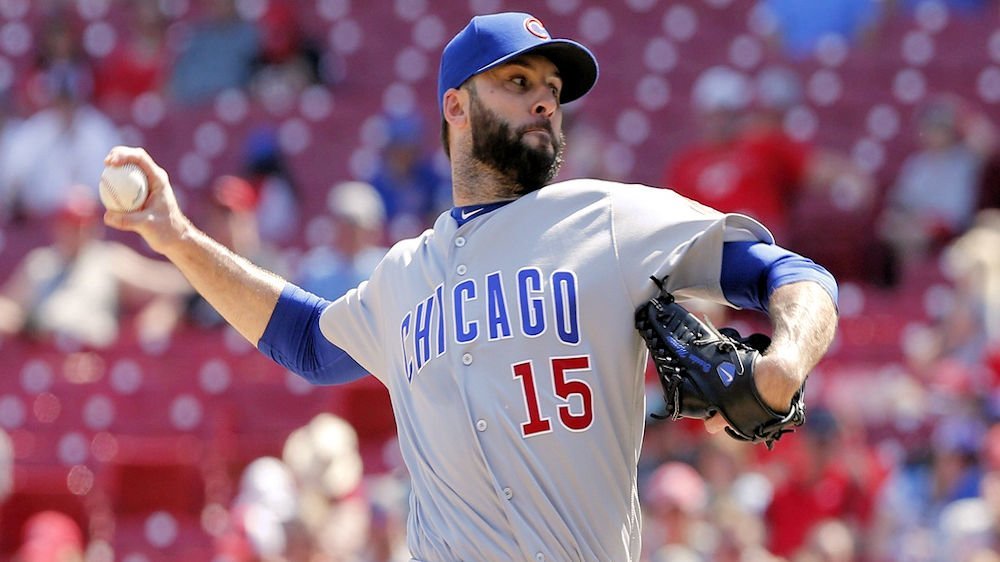 | | |
| --- | --- |
| Commentary: Brandon Morrow and what could have been | |
---
| | | |
| --- | --- | --- |
| Monday, August 26, 2019, 11:58 AM | | |
By now it comes as no surprise to any of us that Brandon Morrow will not be returning to the Cubs this season if ever. The 35 -year old closer was inked to a two year 21-million-dollar free-agent deal with an 11-million-dollar option for next year has been shut down for the season after another setback in his rehab.
Given the number of arm issues Morrow has had in his career, this is not shocking for anyone as the front office missed on this contract. This was one of those deals where I think the Cubs panicked a bit after Wade Davis left following the 2017 season which left the Cubs in desperate need of a closer. Add in the fact that Morrow was nearly unhittable against the Cubs during the 2017 NLCS before fading in the World Series, Theo and Company decided to take a chance on him for what looked to be a gutsy but good signing at the time.
Morrow displayed all the qualities of a dominating closer last year with Chicago as he managed to go 22-24 in saves while posting a sparking 1.47 ERA. He also struck out 31 hitters compared to just nine walks in 30 2/3 innings showing just how dominating he could be when on. Armed with a 97-99 MPH heater that sat on the corners, Morrow's out pitch was his front door slider that barreled in around 90 MPH. That pitch was on full display during the 2017 Dodgers playoff run which is why the Cubs fell in love with him.
Morrow struggled with injuries ever since putting on a Cubs uniform, however, as he missed two weeks early in the season from straining his lower back in a strange clubhouse incident. Morrow rebounded from that to pitch solid over the next two months before a bicep's injury right around the all-star break had him on the shelf for the rest of 2018. That injury turned into offseason elbow surgery in November which already had Morrow behind the eight ball in terms of returning to the Bigs in time for Spring Training.
After sitting out most of the winter and into spring training, the Cubs placed Morrow on the 10-day IL with early May as the expected time of arrival for him. Then, another set back shut him down during extended spring training, which forced him to miss even more time. Morrow continued to battle back and began throwing again in June with late July/early August as his next goal. Once again, another setback delayed his return, but Morrow kept the Cubs confident that he would be back in September throwing on a big-league mound.
Then on July 29th Morrow was dealt with the news everyone expected which was "getting shut down for the remainder of the season." It was on that day where Morrow was diagnosed with Radial Tunnel Syndrome with the next step of Radial Nerve release and Decompression surgery on the way. Not only could this spell the end of his Cubs career but could be the end of his career in general.
Morrow proved to be one of the recent misses by the Cubs front office in recent years, which is why they were handcuffed and hesitant to sign high priced players this past offseason. Yes, injuries are going to happen, and there is nothing you can do about them, but when you have a player with the injury history of Morrow that should be a red flag right there.
Whether blinded by his dominance in 2017 or led to believe the injury history was behind him, the Cubs decided to pay Morrow and name him their closer immediately. Up until his season-ending injury in 2018 that signing proved to be a steal but once the injuries piled on the tailspin began. The biggest mistake the Cubs front office made regarding Morrow was continually waiting and hoping that he would contribute in 2019 instead of finding a closer right away. Sure, Pedro Strop filled in admirably for him last year, but he has never been a closer before and cannot be trusted in that role long term.
By waiting for Morrow to see what he could bring to the table this season the Cubs were left with a broken bullpen that was like putting together a puzzle early in the season. Once more injuries piled up early in the season the Cubs were left with even more problems as their top two closers were now on the shelf.
That forced Theo to take another risk and bring in Craig Kimbrel who although hasn't been great all the time has looked much better lately, which is good news for the stretch run. I was a fan of the Morrow signing last season if used the right way. Given his injury history, I knew the Cubs had to monitor his workload. I also felt that he would be better served as the eighth inning man like he was for the Dodgers, but without a proven closer last year they had no choice but to use him as their man.
With all the injuries he has dealt with the past two seasons I certainly feel for the guy, but this was a blessing in disguise for the Cubs because I think it taught them to stop looking at pitchers based on one good season and instead look at their overall body of work and injury history. Morrow may be done with baseball in 2019 but will he be done with the Cubs all together?
I know for sure the Cubs will not pay him 12 million for next season so they will exercise that three-million-dollar release. It wouldn't shock me, however, to see the Cubs try to bring him back on a one-year deal worth a few million. With Strop, Kintzler, and Cishek in the final years of their contracts, the Cubs bullpen will have some holes next year with the back end being one of them.
Kimbrel will be closing games for the next three seasons, but should Morrow prove he is healthy once again come spring I think the Cubs may take a flyer out on him and give him a prove-it type of deal. They could immediately put him in the setup role, which is where he is more comfortable. That alone would provide the Cubs with one of the best back ends in all of baseball. I have a gut feeling that Morrow will end up back in Chicago one way or another next year.