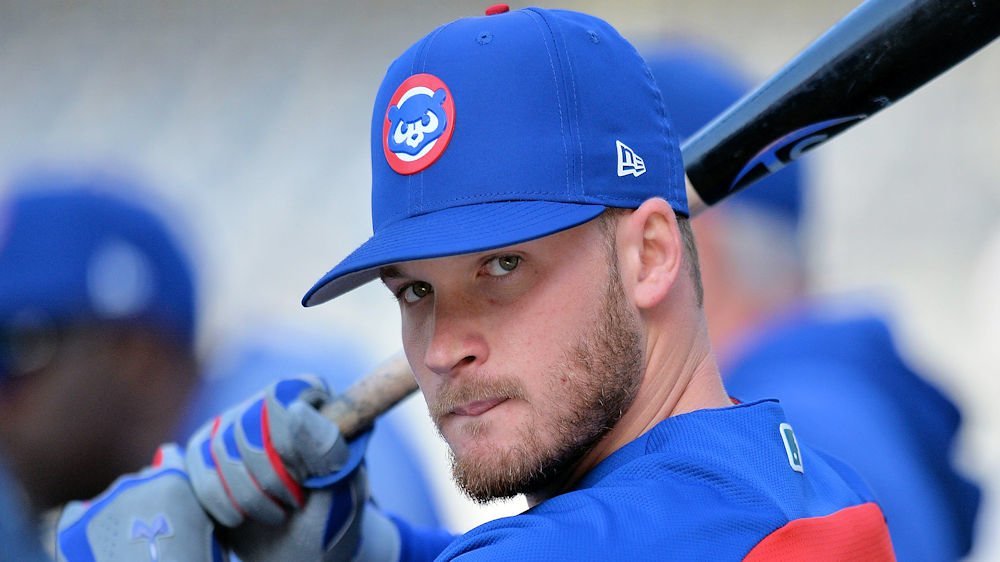 | | |
| --- | --- |
| Commentary: Epstein drops the hammer on Ian Happ | |
---
| | | |
| --- | --- | --- |
| Sunday, March 24, 2019, 3:28 PM | | |
Back in October, Cubs President, Theo Epstein laid down the gauntlet "It's time to stop evaluating in terms of talent and start doing it in terms of production." I commented then, that if Epstein stayed true to his words, a couple of "brand-name" players would find themselves in trouble.
On Saturday, Epstein made Ian Happ his first example, by announcing that the 24-year old was being moved to the minor league side of camp and will begin his season in Triple-A Iowa. Not that any player would be happy with such a decision, but Happ didn't take the news well at all, as per Joe Maddon. "He's not very happy, and he shouldn't be happy. He was surprised. I really don't blame him," Maddon said.
Maddon went on to say, "We knew that it'd be a difficult conversation but having difficult conversations should never dissuade you from making what you perceive to be the right decisions."
Happ's mandated departure shouldn't have surprised Happ, his teammates or the fans, as this has been a long time in the making. There's an old Latin legal term: "Res ipsa loquitur," that when translated, means "the things speaks for itself." (For those trying to figure it out, it's pronounced "race ipsuh low-quit-er.")
Happ's spring was nothing short of abysmal, both while playing the field and at the plate. While no player is immune to fielding errors, or an occasional slumping bat, it was Happ's continuing decline at the plate that cost him his spot on the 25-man roster. Following his 2017 and 2018 campaigns, Happ earned himself the dubious honor of holding the number one and two spots in the record books, due to having the most strikeouts by any Cubs in history, with 400 or more plate appearances.
Joe Maddon said not too long ago that Happ was going to be getting playing time almost every day, whether in the outfield or the infield. In nearly the same breath, he also stated that Albert Almora, Jr. was not ready to be that everyday player yet. I like Maddon, but that was a move that left me furious and scratching my head.
Again, the principle of res ipsa loquitur applies here. Not that Almora hadn't proven himself (of the two) as the superior outfielder and batsmen last year, but his spring has been phenomenal. I told myself that I wasn't going to bore you with stats, but I guess one chart won't hurt anything...

Benching Almora in favor of Ian Happ would have been a travesty, especially considering that Almora's WAR for 2018 was 1.7 (3.4 career) as opposed to Happ's 2018 WAR of 0.6 (2.3 career).
People seem to think that I dislike Ian Happ: Not so. I dislike the on-field results, not the man himself. I talk to players who say he's a decent guy, quiet, but with a good heart. They tell me he can smash a golf ball with the best of them, but I'd be a liar if I didn't say that he should be hitting a baseball equally as well.
My job as a writer is to write, without interjecting my feelings, and to look at the games, the stats, and the big picture to write noteworthy things. To be truly able to analyze the game, you must be able to be objective, not subjective. You must separate your heart and your feelings from your ability to reason, and you must have the ability to look at a guy's numbers and not his face. The object of the game for fans is to have fun, to be entertained, while the objective for the team is to win. This isn't a game to them; it's a business and a multi-billion-dollar one at that.
Fans waited all winter for Theo Epstein and the Ricketts family to do something big, to improve the team, and while it may not be what you wanted, this was the most significant step the team took toward improving this year.
I wish Ian Happ well. I hope he goes to the minors and starts hitting everything he sees. I hope he learns to be patient, and that he returns to his ability to take walks when he has too. I hope he becomes a Silver Slugger and wins five Golden Gloves. Whether with the Cubs or someone else, he'll shine one day, but this just wasn't his time.