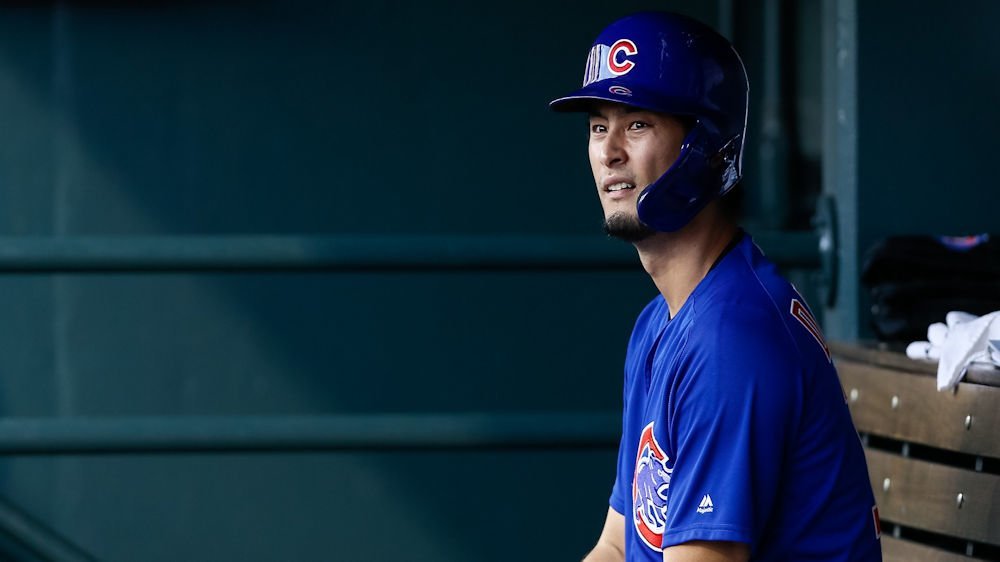 | | |
| --- | --- |
| Commentary: How Yu Doin'? | |
---
| | | |
| --- | --- | --- |
| Tuesday, August 20, 2019, 7:58 PM | | |
Heading into the All-Star break, the Cubs' marquee acquisition from just one off-season ago, coming off a lost year, still looked...well, lost. With a 5.01 ERA, 5.31 SIP (fielding independent pitching), and 4.55 BB/9 ratio, things were looking awfully bleak.
After an injury-plagued 2018 season, seeing Darvish struggle this season is not something Cubs fans were expecting or hoping for. There was more than a reason for concern and fans had to begin to wonder if the Cubs would ever see anything of a return on their 126 million investment.
While Darvish hadn't been battling injuries as he had last year, he likely had started to battle with himself. And in the process, while there have been claims from Maddon and Darvish that his confidence was better than ever, heading into his July 3rd start he had to be starting to lose confidence, with any remaining Yuuuuuus turning quickly into boooooos. And to be fair, I don't think fans or the club thought it would take 17 calendar months for Darvish to capture his first win at Wrigley, which finally took place on July 17th.
But something has seemed to turn around for Darvish since his start before the all-star break, and since baseball resumed July 10th, he has looked like a new man. Post-all-star break, Darvish has had a 2.36 ERA, 2.86 FIP, and 0.43 BB/9.
He has taken a page from Jose Quintana's book and has begun pounding the strike zone, while his walk rate has dropped to a place it has rarely been throughout his entire career. To put it into perspective, throughout his first 156 career (big league) starts, there was only 11 total where he did not walk anybody. He hasn't walked a batter over his last four outings, spanning 24 IP. He also has 36 Ks over that same stretch. This makes him the first Cubs pitcher to ever have four straight starts with at least eight strikeouts, and 0 walks. (It makes him the second starter in history to achieve this, with the other being former Cub Jeff Samardzija.) Before his recent spot-on control, Darvish had never gone back-to-back starts without allowing at least one walk. That spanned over his first 160 career big league starts.
Going back to July 3rd, where everything seemed to begin to turn around, Darvish has 48.2 innings while allowing only two walks alongside his 57 strikeouts. He has been in a zone, using all of his pitches and hitting all of his spots.
Perhaps most impressively, he has been using his fastball—which has been touching the high 90s, topping out at 98 again—to pound the zone, as he seems to be feeling much more confident with it than before.
Teammate Anthony Rizzo, on Yu Darvish & his fastball recently.
"He's more of an animal on the mound. The grunting there in the sixth. Reaching back when he needs it — being smart. He's got confidence in his fastball. It's fun to play behind."
As the Cubs sit 1/2 game out of first place behind the Cardinals and continue to have bullpen question marks, it is essential that Darvish can continue this run of success and keep pitching into the sixth innings of games. His season stats, after his abysmal start, sit at a tidy 4.21 ERA and 1.16 WHIP to go along with 168 strikeouts and 51 walks across 139 innings for the season. He draws the San Francisco Giants at Wrigley Field on Wednesday as he'll look to keep his run going, as the Cubs season slowly continues to wind down.
Every victory counts, and I think Yu knows it.