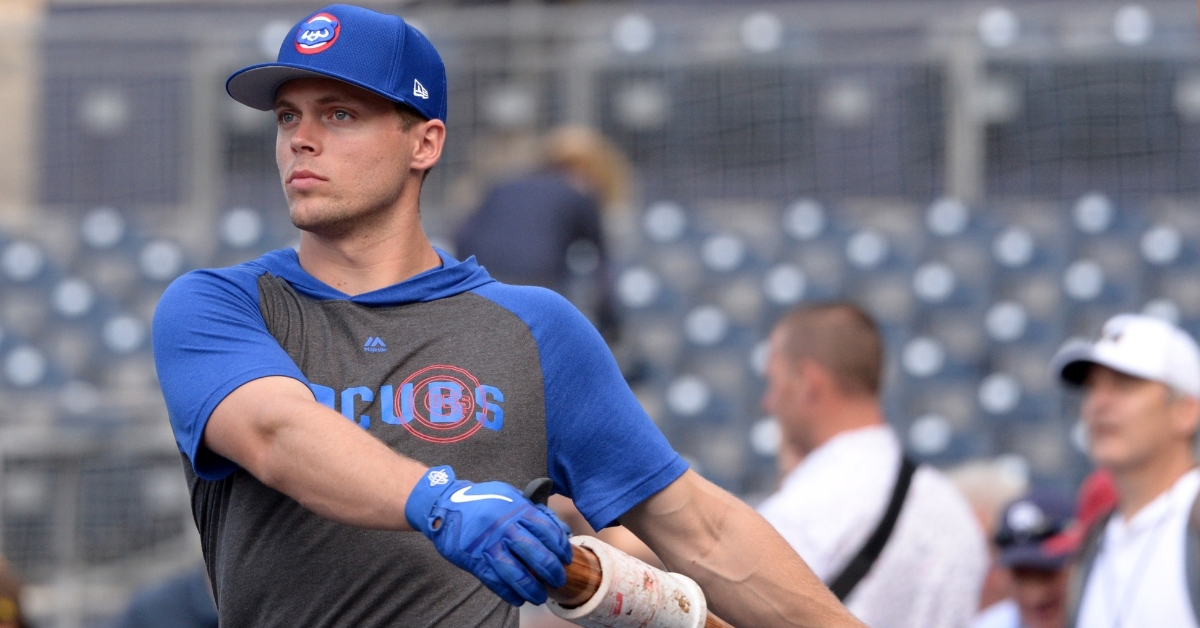 | | |
| --- | --- |
| Commentary: Why Not Now? NICO Is HERE! | |
---
| | | |
| --- | --- | --- |
| Wednesday, September 11, 2019, 6:01 PM | | |
"I just want you to go play, Nico," Cubs manager Joe Maddon said, recounting the conversation. "I don't want you going over a lot of scouting reports. I don't want you overthinking anything. Just play like you've been playing all summer. Go."
Remember those words, and remember that date-September 9, 2019-Nico Hoerner Day! Truer words could not have been spoken from the manager to the Cubs #1 pick from 2018 and truth be told; truer words could not be more timely for this group. When manager Joe Maddon spoke about Cubs new call-up Nico Hoerner he mentioned his "bat-to-ball" skills and boy, did we ever see that in his debut. Hoerner went 3-5 with two runs scored and four runs batted in versus the San Diego Padres and the Chicago Cubs came away with a 10-2 very much needed W. It wasn't just that he came away in his debut with three hits respectfully, it was how he did it. A bloop single down in the count, a liner down the third baseline for a triple, and a rocket shot back at the pitcher, a former college teammate by the way, that made his approach all the more apparent, and awesome. Notice what wasn't there-the homerun.
Now, with a pivotal division and wild card race in full swing, it's those "bat-to-ball" skills that are going to be so vital to catching those "boring" Cardinals and keeping up with the Nationals and in front of the wild card chasing teams behind them.
Now, guess who else has those same skills that are going to be so pivotal as we round out 2019? Ben Zobrist. That's right. It's Ben Zobrist, the recently returned leader this club so badly needed. Not only are his experience and leadership back, but so is his bat. Zobrist is the King of a good AB, which could not come at a better time for these Cubs if they have any ambitions of winning the division again or claiming that second wild-card spot. Not to mention if Joe Maddon wants any chance to get an extension, it's going to be an emphasis on this type of good hitting that could win the division, win postseason series games, and ultimately win him another World Series, which may be the only way an extension happens at all anyway.
You've heard it said before, "good hitting is contagious" by every baseball mind ever to play or watch a game, but that's precisely what needs to take place in these last few weeks before the postseason. If these Cubs want to compete for their first World Series title since 2016, which is still so much fun to say, then they are going to have to adopt the right AB approach more than any analytical launch angles, scouting reports, and overthinking. Baseball is still very much a human game and while analytics have their place in matchups, etc. it's going to be the ones who can "just play" and not "overthink" that will bring this team to the finish line with another NL Central title.
Picture it. Castellanos with his 14 HR in 39 games with the Cubs and always a good at-bat, Zobrist in the leadoff with a good at-bat, Hoerner who has been advised to just "go play" and has advanced bat-to-ball skills with a good at-bat, Schwarber who has surprisingly been extremely effective at taking pitches and having good at-bats, Heyward (Yes, I said it!) who although has been slumping since the terrible experiment at putting him in the leadoff spot with a good at-bat, Bryant with his power and yes can have good at-bats, and Contreras and Rizzo with their power after all of these good at-bats, and what do you have? Arguably the deepest lineup in the major leagues.
Now, there is a kicker-they have to go back to having good at-bats. In 2016, these guys were the best team in baseball at taking pitches and wearing out starters' pitch counts which would lead to early bullpen trips and even more effective at-bats that got people on base and scored runs. Which, inevitably is what you need to win games. We've seen this in bits and pieces, and if you've followed the Cubs at all, you are one who has been waiting for it just to burst open like a geyser where every game is full of them, yet you are still waiting for it. If, and I do mean IF, this can happen, can we say "hello October?"
The old adage still applies to "just make it to the dance," and we can see what happens. To get there this is what it's going to take, and it most definitely can begin with the newest Cub in Hoerner, heck, why not now? Hoerner is HERE!