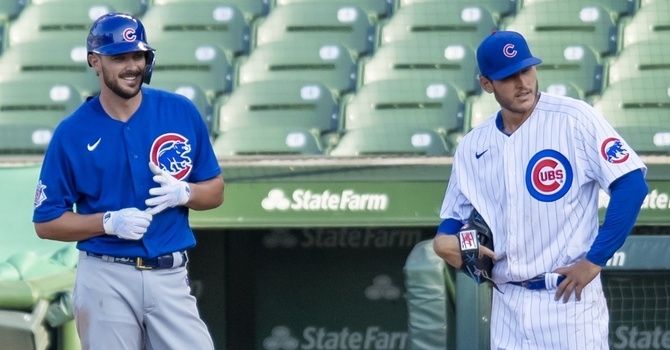 | | |
| --- | --- |
| Cubs News and Notes: Cubs free agents, Rizzo's team option, Free agent Ryan Braun, more | |
---
| | | |
| --- | --- | --- |
| Friday, October 30, 2020, 5:20 PM | | |
Although no one can be touched for the next few days, players have begun their declarations to test the free-agent market. While every team has had players declare themselves as free agents, my intention was to focus on the NL Central Division.
In addition to those seeking better deals in free agency, teams have also begun to exercise (or decline) player options.
Chicago Cubs
Joining the free agency ranks are 2B Jason Kipnis, RHP Jeremy Jeffress, LF Cameron Maybin, LHP Jose Quintana, RHP Tyler Chatwood, CF Billy Hamilton, C Josh Phegley, and LHP Andrew Chafin.
ICYMI: Who stays, who goes with #Cubs free agents?: https://t.co/JuGgAqk2IQ pic.twitter.com/4eK13LOC3r

— CubsHQ.com (@ChicagoCubsHQ) October 30, 2020
Maybin, Hamilton, and Chafin were all rentals, acquired at the July 31st trade deadline, while Phegley and Jeffress were both signed last winter. None of these should come as a surprise, as they're called "rentals" for a reason, although I would hope the Cubs would do their best to retain Jeffress, as he proved to be David Ross' go-to-guy in the pen.
Neither Quintana nor Chatwood received the $19M qualifying offer, so their choice to become free agents should really come as no surprise.
To date, no decision has been made on Jon Lester's $25M option ($10M buyout), but it is widely presumed that the Cubs will decline the option and pay the $10M to be out from under Lester's contract - not a bad piece of change to not be retained.
Jon Lester is buying beer for Chicago #Cubs fans this weekend: https://t.co/1V94yvgmIR pic.twitter.com/TQPnppdORw

— CubsHQ.com (@ChicagoCubsHQ) October 30, 2020
The Cubs have also yet to decide if they'll exercise the $16.5M option on Anthony Rizzo. Rizz has played for a very small amount of money for the last several years, and to decline his option would certainly be taking the easy way out. Even with his option picked up, it's highly unlikely that the Cubs will be able to re-sign Rizzo once he becomes an unrestricted free agent next winter. He's going to want a big payday, but that's not something that Tom Ricketts probably looks forward to handing out.
Cincinnati Reds
Free agency declarations: RHP Anthony DeSlafani, RHP Trevor Bauer, SS Freedy Galvis, LHP Jesse Biddle. While the club has made no decision on options, former Cub Robel Garcia was claimed off waivers from Cincinnati by the Mets on October 26th.
Trevor Bauer just gets social media pic.twitter.com/XCzF76tAsD

— Always The Jake (@alwaysthejake) October 28, 2020
Milwaukee Brewers
The big news out of Wisconsin today was that the Brewers would not be exercising their option on Ryan Braun. Speculation says that Braun will announce his retirement, but there's been no official word as of yet. Braun has, however, declared free agency.
The #Brewers have declined their half of the 2021 mutual option on OF Ryan Braun, who becomes a free agent. pic.twitter.com/FGKKq1yX3l

— Milwaukee Brewers (@Brewers) October 30, 2020
No other Brewers have declared free agency at this time.
Pittsburgh Pirates
Only two players (so far) have declared free agency from the Bucs: Former Cub (LHP) Derek Holland and righty Keone Kela.
The Pirates have a ton of changes to make if they want to be anything even close to competitive next season. The question is, will they finally pull the trigger and spend some money. Granted, that's not an easy task when average attendance is under 8,000 per home game.
St. Louis Cardinals
The Cards are taking a bit of a hit this year - something they were spared from last winter. Declaring free agency are 2B Kolten Wong, RHP Adam Wainwright, C Matt Wieters, C Yadier Molina, and 2B Brad Miller.
Tomorrow, for the first time in more than 20 years, Yadier Molina will not be under contract with the #stlcards.

— Jeff Jones (@jmjones) October 28, 2020
Losing Wainwright is going to cost the RedBirds some games, but losing Molina and Wieters is going to create some real issues, as there's nothing as important as a veteran backstop. Even worse, per their depth chart, the Cards are now without any catcher whatsoever.
At around the 11:30 mark, Adam Wainwright tells @DannyMacTV he and fellow soon-to-be-free agent Yadier Molina had a conversation last season in which they agreed, "Let's go somewhere together." Then, Wainwright adds that he and Molina would like to stay with the #Cardinals. https://t.co/yzXFuNjGRm

— Mark Saxon (@markasaxon) October 27, 2020
On the surface, it's hard to tell whether the Cards or Reds are taking the bigger hit this winter. Trevor Bauer will undoubtedly be the most sought after pitcher, but losing DeSclafani will hurt as well. On the other hand, Wainwright was a staple in the Cards rotation, and losing two veteran catchers won't do much good either.
Then again, the Cubs will be down three starters (if Lester does leave), though one hole will be quickly plugged by Alec Mills, who may very well be the #3 man next season… assuming that we actually have a season.
Stay tuned, the Hot Stove is just starting to smolder, but it won't be long until the flames are burning hot. In addition to the free-agent market and club options, there's still a question about who will (or won't) have contracts tendered to them.