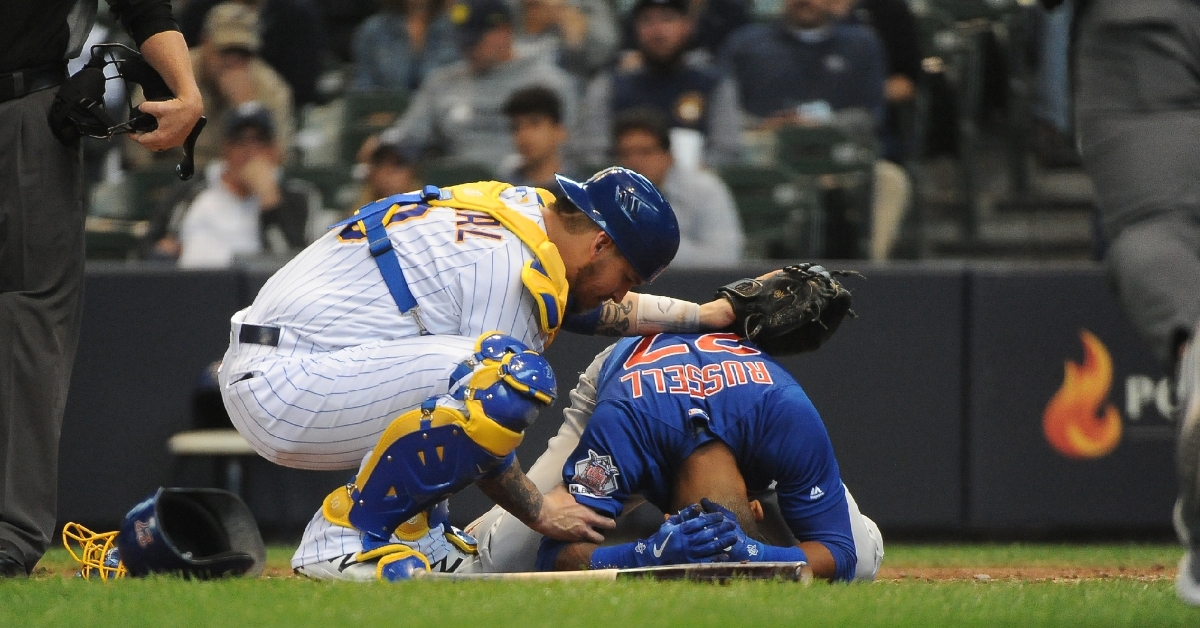 | | |
| --- | --- |
| Cubs Odds and Ends: Russell's bonus, Kyle Boddy and Cubs, Felipe Vazquez arrested | |
---
| | | |
| --- | --- | --- |
| Wednesday, September 18, 2019, 6:12 PM | | |
On September 8th, Addison Russell took a fastball to the face in the Cubs/Brewers game, sending him crashing to the ground, with blood from his nose and tears in his eyes. Russell was immediately placed on concussion protocol, and then subsequently put on the concussion list. Yesterday, the Cubs placed Russell on the Concussion IL, but some speculate it wasn't for Russell's health and safety, but rather as a way for the Cubs to save money.
By making this move just a day or two before Russell should have become cleared by doctors to return to duty, the Cubs have now avoided having to pay Russell a $100,000.00 roster bonus. This is not going to sit well with Scott Boras and could lead to Russell and Boras filing a grievance with the Players' Association.
I thought Russell's days as a Cub were numbered after his domestic violence incident, but the Cubs vowed to stand by him (for an unspecified period of time). Then, Russell was optioned back to Iowa for not understanding the hand signals, and again I thought that was undoubtedly going to be the end for him in Chicago. With this latest move by the Cubs, especially considering the timing, I don't see Russell returning at this point for another season- but then again- I've said this before.
This seems like it may be the first real sign that the Cubs have lost interest in Russell. They were able to barter with Boras when they signed a one-year deal over the winter to avoid arbitration, paying Russell nearly two million less than he expected to earn, in part, due to the remaining suspension that he served to start the year.
According to an MLB Trade Rumors article about this situation, "With rosters expanded in September, the use of the injured list changes significantly. The 60-day IL remains relevant because it allows teams to open a 40-man roster spot. But the only real reason to use the 10-day or 7-day concussion lists is to make a recently optioned player eligible for an earlier recall.
In this case, the Cubs have nothing to gain beyond avoiding Russell's next roster bonus. His arbitration contract includes a $4.3MM salary and $100K bonuses at 30, 60, 90, and 120 days on the active roster (plus $200K for 150, which he cannot meet)."
While this may seem like sort of a dirty move by the Cubs, realize that baseball is a business where players and teams live and die by the contracts that they sign with one another. Every team does their best to avoid paying out money that they need for use elsewhere, while each player does his best to manipulate contract clauses in his favor.
According to Gordon Wittenmyer of the Chicago Sun-Times, "While this brand of penny-pinching at the expense of an employee isn't generally justifiable, this contract was negotiated under unusual circumstances."
The Cubs did issue an explanation for the move, stating that their decision was centered upon request for the concussion protocol.
I'll have any updates for you, as they develop.
Cubs reportedly interview Kyle Boddy
According to Sahadev Sharma (The Athletic), a source tells him that the Cubs have interviewed Driveline founder and owner, Kyle Boddy, for an unspecified player-development position. Boddy's Driveline company specializes in advanced technology tools for baseball, including things like pitching and hitting programs (software), and the development of the "Axe Bat" that Kris Bryant is so fond of.
According to Sharma, things like "Edgetronic cameras, Rapsodo devices, and KineTrax are not nearly as useful without the right people around to properly interpret them." Boddy has helped to popularize all of this technology, so what better man to have in the analytics department than Boddy? As of June 25 (one day after announcing his interest in wanting to join an MLB team in some capacity), Boddy had already heard from seven different teams, so there's no telling where the Cubs may stand at this point.
Several Cubs, including Kyle Hendricks, Rowan Wick, and Brad Wieck, all swear by Boddy's equipment, stating that it's helped them turn the corner. With the way Hendricks and the bullpen have performed, it would certainly seem that Boddy's equipment makes some difference in the pitching realm, and Bryant with his Axe Bat has certainly shown improvement as well. The question is, will the Cubs be able to lure Boddy to their side? I'd have to go back and double-check, but I'm quite sure Boddy was present yesterday for Craig Kimbrel's sim-game, which may be a good sign that he has at least interest in Chicago.
Vazquez incident gets worse and worse and details emerge
As details continue to emerge about Felipe Vazquez's arrest and subsequent felony charges involving sex crimes involving a child, details continue to develop, painting a darker and more disturbing picture of what went on.
Vazquez was arrested by Florida authorities on Tuesday, charging him with three felony counts, all involving minor children.
Pittsburgh Pirates closer Felipe Vazquez has been arrested and charged with one count of computer pornography, solicitation of a child and one count of providing obscene material to minors, according to police in Lee County, Florida.

— Jeff Passan (@JeffPassan) September 17, 2019
By Tuesday afternoon, it was revealed that Vazquez had been involved in a sexual relationship with a thirteen-year-old girl; he apparently met her while she was in the stands at PNC Park, while he was in the bullpen. According to the victim, the two kept in touch via social media and text messages since the meeting.
Disturbing details from Lee County police on the arrest of Pirates closer Felipe Vazquez, who is facing multiple charges. pic.twitter.com/zkHlrMcgEw

— Jeff Passan (@JeffPassan) September 17, 2019
More details emerged on Wednesday, stating that Vazquez admitted to driving nearly an hour in 2017 to meet the 13-year-old girl, then tried to have sex with her, according to a criminal complaint released today. After a failed attempt, Vazquez, then 26, left to go to a game, per the complaint.
This will undoubtedly end Vazquez's four-year, $22M deal with the Pirates, as well as his promising, four-year MLB career. Under no circumstance can MLB hand out any acceptable suspension in this case, and under no circumstance can the league offer some sort of suitable rehabilitation program for Vazquez.
Prison time is almost a given, and the victim and her family need to be taken care of by the Pirates' organization. I don't just mean compensation, I mean that the franchise should at least feel obligated and compelled to do as Theo Epstein and the Cubs did, with regard to Russell's situation, including, but not limited to, making sure that counseling takes place for the victim and her family, and ensuring that their players receive some sort of awareness program. While I don't blame the Pirates directly, they certainly have the burden of responsibility for the players that they employ. When those players go rogue under the guise of celebrity status and fame, the team needs to shoulder some of the responsibility in picking up the pieces and cleaning up the mess left behind.