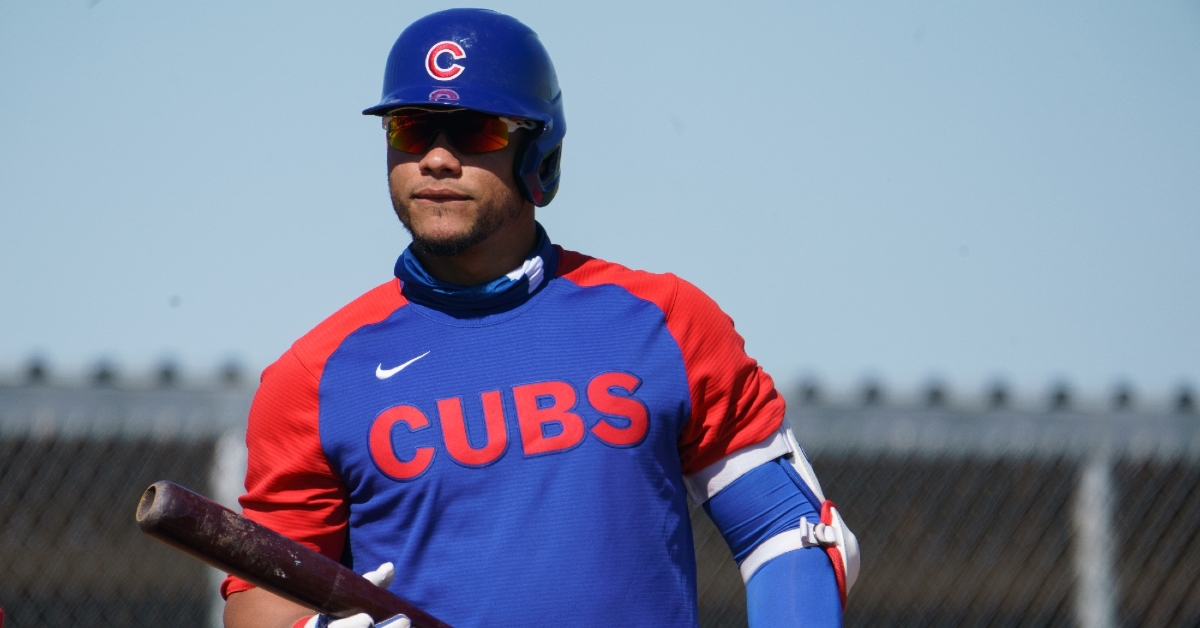 | | |
| --- | --- |
| Cubs baseball is back: Things to know with Spring Training 2021 | |
---
| | | |
| --- | --- | --- |
| Monday, March 1, 2021, 12:11 PM | | |
Chicago Cubs Baseball is back!
At least it will be later this afternoon (no TV) as today marks Spring training game number one for the Cubs. This is the day where all teams feel they can compete for the title as the next month will tell us a lot where these teams come Opening Day.
For the Cubs, today marks the beginning of a new era as several key pieces from the past few seasons are no longer with the organization. Along with new faces coming in, several players are entering the final year of their contract and could be playing for their future this season. Along with several changes to the team comes several changes to how Spring will work this season as COVID continues to adjust things on the fly.
What fans know is that Kyle Hendricks will take the ball against Chris Paddock of San Diego today. That lines him up to start opening day with Adbert Alzolay scheduled to take the ball tomorrow.
You also get a glimpse of what the lineup could look like this season with the absence of Kris Bryant and Ian Happ on Monday. Guys like Anthony Rizzo, Javier Baez, Willson Contreras, Joc Pederson, and Jason Heyward should occupy most of the top spots with the order's bottom continually changing.
CHICAGO CUBS BASEBALL IS BACK! ????

(??: @MemHighlights) #Cubs pic.twitter.com/LBbB1LMyzc

— Cubs Zone ™? (@CubsZone) March 1, 2021
While fans typically know what most spring training games look like, there are some things to note that will be different than the past.
We will start with the elephant in the room as to whether fans will be allowed. The answer is yes, but not full capacity. I don't know the exact number at this time, but I would expect somewhere around 3000 fans will be allowed to attend, which is roughly between 20-25% of Sloan Parks' total capacity. Considering the MLB state last season, having any number of fans is a positive thing going forward.
Now, let's dive into the game itself to look at some significant changes. You immediately notice that when looking at the schedule, there will not be any split-squad games this season. Typically, teams play several split-squad games during Spring, where half the team stays at Sloan Park and the other half leaves. With COVID continuing to linger, the league elected to do away with those to conserve travel and keep players as safe as possible.
That doesn't mean you won't have split-squad lineups, as you may see more split-squad type of lineups as opposed to lineups loaded with everyday players. Fewer games mean fewer at-bats for everyone, so it will be imperative to keep everything involved. Another change coming to the game this season is MLB has decided to go with seven innings games for the time being, with some exceptions.
In accordance with player safety, all spring Training games from February 28th through March 14th are to be played in seven innings unless a nationally televised game. That means Wednesday's Cubs vs. Mariners contest on ESPN will be nationally televised and will be nine innings.
Managers also have the option to discuss playing a nine-inning or five-inning game beforehand.
Should teams be hampered by injuries, you may see them go with five-inning games just to get some work in. Should teams feel like they need many pitchers and hitters who need work, you could see more nine-inning games early. Once March 14th rolls around, all games are scheduled to go back to the typical nine innings unless the league and managers agree to keep them shorter. Spring is important to teams, but nothing counts, so if seven innings are the way to go all spring, then why not stick with it for the time being.
The final change this spring is coming from the broadcast side of things as viewership could be limited. We already know the Marquee Network will be broadcasting most of the Cubs regular-season games, but that is not the case for Spring. Instead, roughly half of the Cubs spring games are to be broadcasted via Marquee as they are handling the home slate of games this spring.
That means when the team is on the road, they will not be viewable via Marquee. Instead, you would have to listen to the games on the radio or watching the other team's video feed on the MLB.TV app or other media outlet. This isn't great news for fans, but many teams are doing this spring to cut down on people coming and going from the ballpark.
Spring will look very different from in the past, but the bottom line is baseball is back.
As more and more COVID vaccines are becoming available, there is light at the end of the tunnel, and sooner or later, things will get close to normal once again. Until then, let's be happy that baseball is back, and that is all that matters at this point.