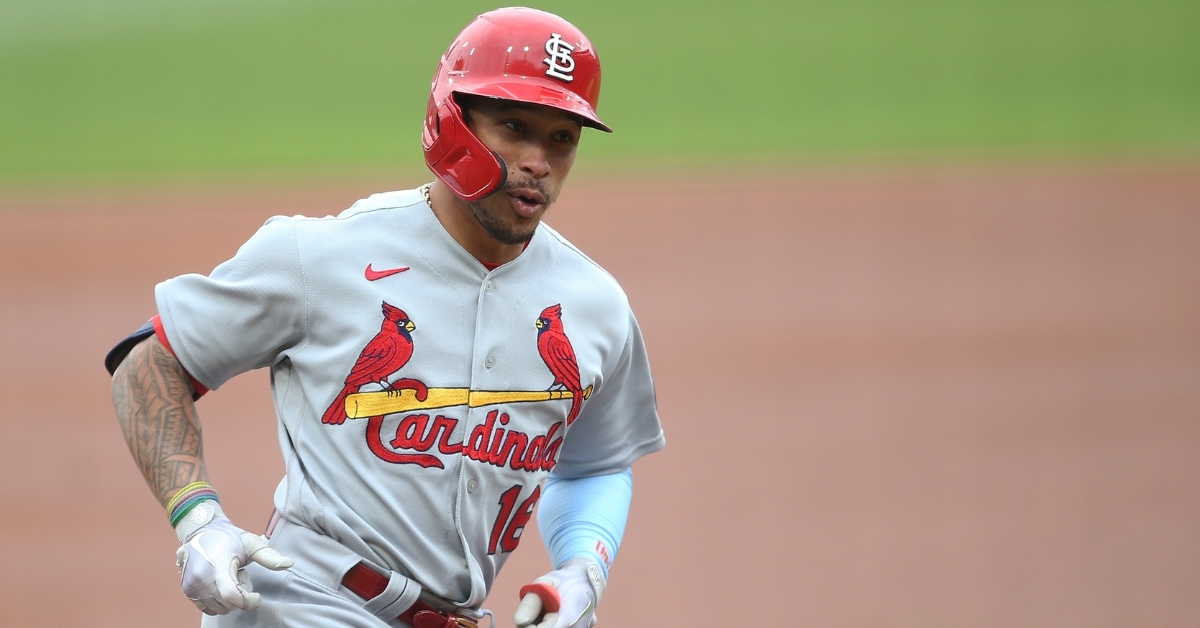 | | |
| --- | --- |
| Cubs expected to check in on Kolten Wong | |
---
| | | |
| --- | --- | --- |
| Wednesday, January 27, 2021, 10:43 AM | | |
This is precisely what I like to see in free agency.
All it took was for Commissioner Rob Manfred to announce the season would be starting on time, and suddenly, the Free Agent Market is booming. While J.T. Realmuto was the big signing this week, yesterday was the day for the middle infield market.
Both Marcus Simeon (Toronto), Freddie Galvis (Baltimore), and Andrelton Simmons (Minnesota) have new one-year deals as they took center stage yesterday. With them now out of the way, could guys like Justin Turner or Kolten Wong be next? There hasn't been much news on either one of them thus far, but it looks as if Wong's market is heating up with the Cubs expected to be joining for his services.
Source: Kolten Wong's market is heating up, amid all of today's infield movement. The Cardinals, Tigers, Mariners, Rays, Cubs, and Phillies are among the teams to check in on the 30-year-old free agent who has back-to-back NL Gold Gloves at 2B. @MLBNetwork @MLB

— Jon Morosi (@jonmorosi) January 27, 2021
Wong was released by the Cardinals this offseason after the team decided to decline his 12.5 million dollar offer. Wong may not get an offer like that in free agency, but you can bet he will still get somewhere in the 5–10-million-dollar range. Given that price tag, I am surprised to see the Cubs being mentioned as a suitor for him as they haven't done much spending yet again. The fact that Chicago is being rumored to be in on him is refreshing because he is a great player.
Wong is a 30-year-old second baseman who also has a gold glove to his name. With gold glovers, Anthony Rizzo at first and Javier Baez at short, adding a third gold glove to the Cubs infield would be incredible. I don't know if the money is there or if it is even reasonable to think this front office will consider him.
Kolton Wong made this look easy ???? pic.twitter.com/ZGxlax21kY

— Baseball Central™ (@BaseballCentraI) October 31, 2020
Should the Cubs make a run at Wong and somehow sign him, that leaves the Cubs with an even bigger question surrounding Nico Hoerner. Wong would be the team's everyday second baseman, meaning Hoerner would be subject to a reserve role once again. That doesn't bode well for his development. There has been talk of Ian Happ moving to left and moving Hoerner to center. If Wong comes to the Northside, expect that to happen to get Hoerner in the lineup every day.
The Cubs are listed as one of six teams in on Wong, with the Cardinals, Rays, Phillies, Tigers, and Mariners as the other candidates. The left-handed-hitting second baseman appears to be the least of the worries on the Cardinals radar as they have shifted their focus to bringing back Yadier Molina and Adam Wainwright. That means the Cubs realistically have a shot at Wong if they are willing to spend more than they have shown thus far.
Adding a player like Wong to this team benefits them in many ways. He is a second baseman who brings gold glove defense. He bats left-handed, which the Cubs lack in their lineup, and most importantly, he is someone who can bat leadoff as the Cubs continue their revolving door in that department. Another thing you need to look at is what this lineup has done since 2014.
The Cubs rank the fourth highest in strikeout rate at 23.1% across the last seven seasons while also ranking lowest in overall contact rate 75.4%. The same lineup ranks ninth lowest in batting average at 249, so it is a miracle this team has had the success they have. One reason for their success has been the power department, where this team constantly ranks in the top 5. That doesn't do you any good if the overall consistency isn't there.
Now let's look at Wong and how he fits in this lineup.
Among hitters with at least 3000 plate appearances, Wong has the 32nd lowest strikeout rate, oddly enough that is one spot higher than Anthony Rizzo, and he ranks 34th overall in contact rate at 84%. Both of those numbers would be a pleasant surprise for this lineup, as he is the exact opposite of how the rest of this lineup is constructed. Wong doesn't give you the greatest of averages, hitting around 268 for his career, but he puts the ball in play.
A second baseman by trade, Wong is a great one and has one gold glove already under his belt. His defense sets him apart, and at this stage in the game, Wong is a better fit at second than Hoerner. That isn't to say Hoerner won't be an excellent 2B. It is just Hoerner needs more time to develop before becoming an everyday player.
If the Cubs are truly in on Wong, I don't expect the deal to be more than two years, if not a one-year deal similar in price to Kyle Schwarber. If the Cubs declined Schwarber's 8-million-dollar deal, would they break the bank and give Wong a similar deal. That is certainly intriguing to note and something worth watching the next few weeks.