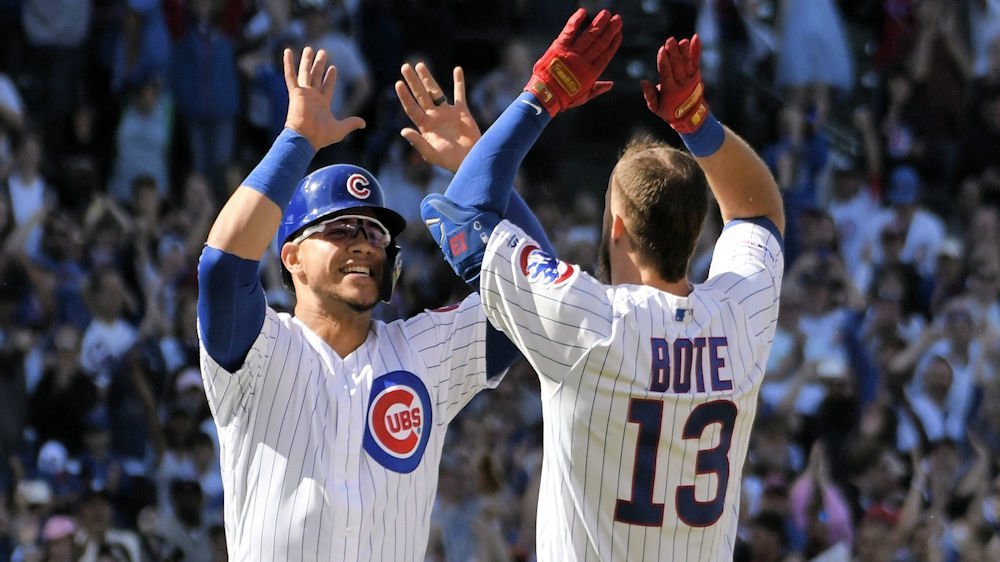 | | |
| --- | --- |
| Cubs news and notes, Russell's return, Power rankings, standings, more | |
---
| | | |
| --- | --- | --- |
| Tuesday, April 30, 2019, 8:35 AM | | |
Next Game: Tonight: 9:10 PM CDT: LHP Cole Hamels (3-0, 3.16 ERA) vs RHP Felix Hernandez (1-2, 3.91 ERA).
CUBS NEWS AND NOTES:
Cubs/Mariners Series Preview: After winning their fifth straight series in Phoenix on Sunday, the Cubs ventured up to Seattle for their third interleague series in a month. The Cubs (14-12) are on fire, as are the Mariners (18-13), and both teams are seeking to break out of their second place standings. For an in-depth look at the series, check out my series preview, which will post tomorrow evening, before the start of the game.
Cubs/Mariners Probable Pitchers: Wednesday: LHP Jon Lester (1-1, 2.47 ERA) vs LHP Marco Gonzales (5-0, 2.80 ERA).
Addison Russell: As his Friday return date with the Cubs draws closer, speculation continues to swirl about Russell's return to the shortstop position in Chicago. If things weren't already up in the air for the beleaguered shortstop, he started at second base last night for the Iowa Cubs.
If Baez has managed to lock down the shortstop gig for himself, Russell may find himself on the outside looking in concerning the major league Cubs. The team is already productive with guys who can play second base with Javy at short- Ben Zobrist, Daniel Descalso, David Bote and (with an asterisk by his name), Ian Happ, so fighting for playing time there may prove to be a problem. One option (quite literally) that not many have considered is that Russell still has minor league options, and may be left there, at least for a while.
Kris Bryant: Over the weekend, KB homered in 2 of the three games in the Cubs/D-backs series. The last time he had multiple homers in a series was May 7-9, 2018, when the Cubs hosted the Marlins at Wrigley (before his shoulder injury).
.@KrisBryant_23's second homer of the series!#EverybodyIn pic.twitter.com/3xhvsLB6ax

— Chicago Cubs (@Cubs) April 28, 2019
ESPN Power Rankings: In the latest round of Power Rankings from ESPN (released yesterday), the Cubs have moved themselves to #10 overall. The only other NLC team in the Top-10 is the Cardinals, who are currently ranked #4.
Tyler Chatwood: He still can't get a fair shake from fans, but Chatty has now gone 10.2 innings without allowing a run, and he's produced a groundball rate of 56% in that stretch. People seem to focus in on his walks, but other than jacking up his WHIP, those are irrelevant if runners can't score.
Cubs- series by series: It took the Cubs until their fourth series of the season to finally win one (vs. Pirates), but once they got the knack, they haven't relented.
Series 1 (vs. Rangers): Lost two games to 1 but outscored the Rangers 28-23.
Series 2 (vs. Braves): Swept 3-0 by Atlanta, outscored by Braves 36-18.
Series 3 (vs. MIL): Lost series 2-1 but outscored the Brewers 26-25.
Series 4 (vs. Pirates): Won series 2-1, outscoring Pittsburgh 14-5.
Series 5 (vs. Angels): Split series 1-1 due to a weather postponement but outscored LA 10-7.
Series 6 (vs. Marlins): Cubs swept series 3-0, outscoring Miami 17-2.
Series 7 (vs. D-backs): Cubs win series 2-1, outscored by Arizona 8-7.
Series 8 (vs. Dodgers): Cubs win series 2-1, teams tie in scoring at 18 each.
Series 9 (vs. D-Backs): Cubs win series 2-1, outscoring Arizona 18-14.
Ben Zobrist: Even slumping, who can't like Ben Zobrist? He saved the game on Saturday with an RBI double (which should have been scored a triple), but there's more… Zo was originally scheduled to start that game but asked Joe Maddon if he could sit, as he knew Bote was red-hot and stood a better chance of producing hits and runs for the team. THAT is the epitome of a team player.
An interesting decision that reinforces the importance of "feel" and shows how Maddon is evolving this season…$ https://t.co/iTIe5LpboC

— Ken Rosenthal (@Ken_Rosenthal) April 29, 2019
Brian Butterfield: The Cubs third-base coach has been battling an undisclosed illness for a couple of weeks now, with Maddon only relating that it has something to do with vertigo (dizziness). The Cubs hope to have Butter back for the Mariners series, which begins tomorrow.
Bunt or triple? Oh, if only the Cubs could have this kind of success with a bunt…
Exactly how the @Braves drew it up. pic.twitter.com/nz8wtfHIwx

— Cut4 (@Cut4) April 30, 2019
Yesterday's Cub Birthdays: Happy birthday to ex-Cubs Billy Petrick (35) and posthumously, Fernando "Freddy" Rodríguez (95) and Frank Hankinson (163).
NL CENTRAL SCHEDULE (April 28 – May 4, 2019)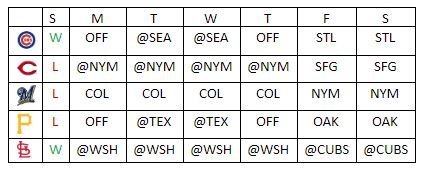 YESTERDAY'S NL CENTRAL SCOREBOARD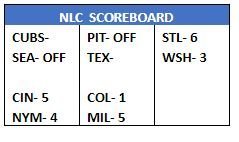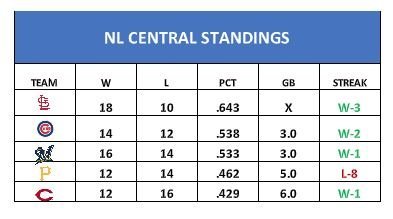 Tags: Cubs Baseball
,
Cole Hamels
,
,
Addison Russell
,
Ben Zobrist
,
Daniel Descalso
,
David Bote
,
,
,
Tyler Chatwood
,
Joe Maddon
,
Brian Butterfield