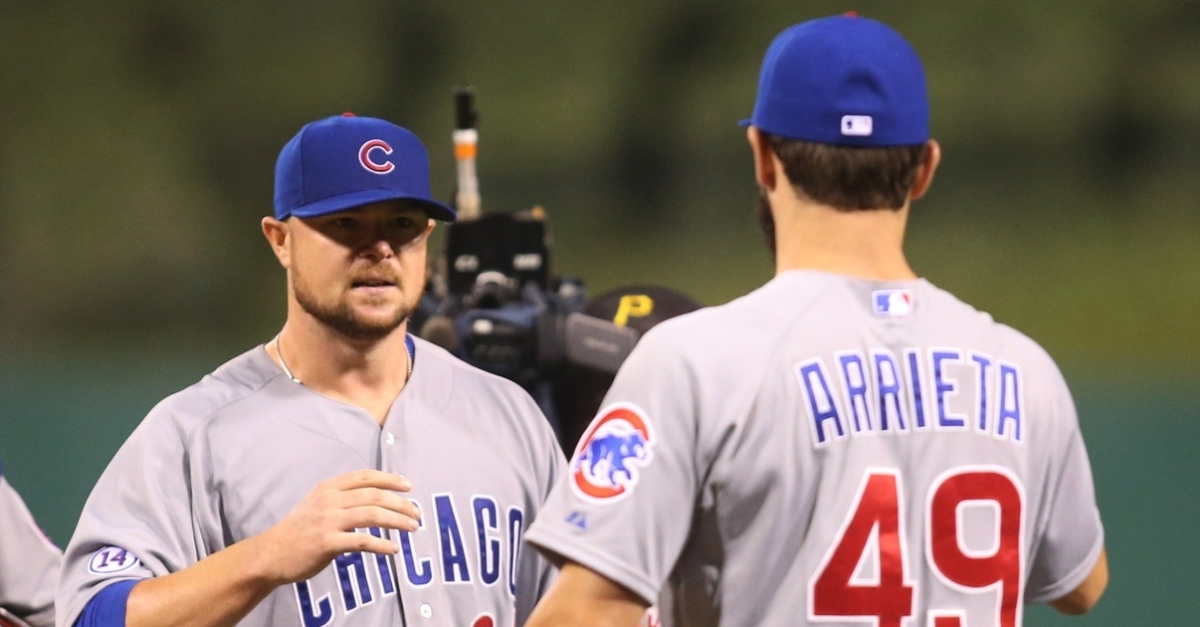 | | |
| --- | --- |
| If Cubs could afford Jake Arrieta, why not Jon Lester? | |
---
| | | |
| --- | --- | --- |
| Thursday, February 18, 2021, 11:53 AM | | |
As has been well documented this offseason, the Cubs have done a lot of subtracting and have entered a rebuilding phase. With that, there have also been some tough goodbyes for Cubs fans to make.
Among those includes Theo Epstein, Albert Almora Jr., Kyle Schwarber, Jose Quintana, Yu Darvish, Victor Caratini, Tyler Chatwood, Jon Lester, and broadcaster Len Kasper.
When the offseason began, the Cubs expressed an interest in getting younger and acquiring some different hitters for a lineup that has been prone to strikeouts. That explains why the Cubs decided to part ways with all of the players listed above.
By far, the hardest pill to swallow was departing with Jon Lester. Lester originally signed a six-year 155 million dollar contract before the 2015 season. Lester was everything an ace should be, and he was the first domino to fall in the Cubs' rebuild that eventually led to an epic World Series title. Lester's postseason prowess shined, and his leadership resonated in the entire city.
Lester is entering his age 37 season and is coming off a 12 start season in which he went 3-3 with a 5.16 ERA. The velocity and stuff aren't what they used to be, but he and the Cubs both expressed interest in a reunion for Lester's likely final season.
Lester's contributions to the organization seemed to make it a sure-fire decision to bring back Big Jon to get his 200th win — but when Lester signed with the Washington Nationals, it was stated that the Cubs' finances were what didn't add up.
He ended up signing for just one year, with five million dollars guaranteed and an option for 2020 that included some more money. That contract certainly doesn't seem like a big ask — especially for a left-handed pitcher who has one of the most sparkling resumes in the game that revolutionized your franchise.
No bad blood, but the Cubs couldn't make it work with Lester — who won 77 games and made two all-star games in Chicago. The Cubs owner wasn't ready to loosen the purse strings that early in the offseason and off went Lester.
However, it wasn't all goodbyes this offseason for the Cubs. The Cubs welcomed back a familiar face in Jake Arrieta — the 2015 National League Cy Young award winner and, of course, a World Series Champ.
Arrieta spent five seasons in Chicago, which featured 68 wins, a Cy Young Award, an all-star appearance, and an unmatched swagger. While Arrieta has seen a constant decline in performance since leaving Chicago, he represents a chance to catch lightning in a bottle with a player who has had plenty of success in the city and is a fan favorite — even if he is 34 years old.
Arrieta was only able to make nine starts in 2020 but was starting to show flashes of his former self. Arrieta threw for scouts in January and decided to return to the Cubs this week — for one year and six million dollars.
The big question is if the Cubs wanted a veteran pitcher on a relatively cheap deal — why couldn't they afford to sign a man who meant so much to the franchise in Jon Lester, who signed with the Nationals for just five million. Instead, the Cubs paid more money for a more injury-plagued, slightly younger version of the same veteran player who is familiar with the team.
The biggest difference being that Arrieta is a righty, and Lester is a lefty. But looking at the Cubs' current rotation, that is 7-8 pitchers deep who are all right-handed, signing the lefty actually made MORE sense. It would have even made sense to bring them both back, and it would only cost a combined 11 million dollars.
This is not a Jon > Jake or Jake > Jon story, but it just brings up the question…
So if they could sign Jake, why couldn't they sign Jon?