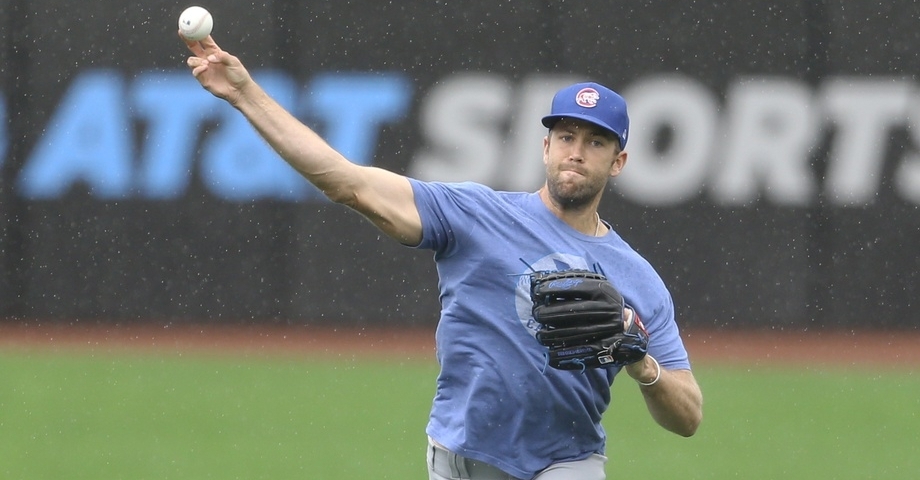 | | |
| --- | --- |
| Jason Adam could be an X-factor in Cubs bullpen | |
---
| | | |
| --- | --- | --- |
| Sunday, February 21, 2021, 7:35 PM | | |
One thing the Cubs do better than anyone else, or at least it seems they do it better than most, is finding reclamation projects hoping for successful seasons. Jason Adam was another example of that last year as the Cubs picked him up from the Toronto Blue Jays.
After dealing with some injuries in camp and do start the season, Adam reached the Big-League Club before August and quickly became one of the more trusted options for David Ross. With a full season with the team and about to enter his second year in the Cubs pen, Adam could be turned loose this season and emerge as an X factor for the pen.
Once a starter, Adam struggled to find consistency in his seven minor league seasons. During his minor career, Adam pitched in 147 games, 91 of which were starts going 31-44 with a 4.21 ERA. In 2017 when Adam made the change to reliever and his career appeared to take off at that point. Coming off a season in which he posted a 4.80 ERA in 13 relief outings, Adam posted ERA's of 1.50 and 2.08 across the 2018 and 19 seasons.
During those two seasons, Adam also recorded three holds, five saves in six attempts while walking 19 and striking out 56. Things appeared to be heading in the right direction for Adam. In his first crack in the Major Leagues in 2018, Adam struggled with Kansas City, posting a 6.12 ERA in 31 games, walking 15, and striking out 37.
He then landed in Toronto in 2019 and, despite battling some injuries, pitched very well in 23 games. Adam went 3-0 with a 2.91 ERA, recording four holds, walking 10, and striking out 18. The command was a little bit of a concern, but the Cubs saw a lot of good with Adam and decided to give him a crack last year. It proved to be a wise signing as Adam appeared in 13 games, going 2-1 with a 3.29 ERA, eight walks, and 21 strikeouts while holding hitters to a 180 average.
I know that is a small sample size, but Adam has been solid across his last 40 plus games, posting an ERA just north of 3.00 and holding hitters to around a 202 average. Known for a low 90's heater, Adam has seen his fastball average rise to 94 and was hitting 95-96 consistently. Adam backed that fastball with a hard-breaking curve that touches 78, and now it appears as if his changeup may be emerging as his best secondary offering. That is scary when you watch how good that curveball can be.
Adam has been around for a while, but he is still young when it comes to major league experience. Should he continue to build off his last two seasons, then Adam has an extremely high ceiling as a late-inning reliever and would give the Cubs yet another option in the late innings. What I love about Adam is how he uses that curveball which generated a 69.2% whiff rate. That is ridiculously good for anyone.
That is a bit surprising when you look at 2019 and notice that he had the most success with his fastball. Even though his fastball isn't an elite heater, it has a high spin rate, making it get on hitters faster than it looks. Adam has mostly been known as a two-pitch pitcher, but now that he is working a changeup into his arsenal, Adam may be on the verge of breaking out.
Going back to his fastball that sits in the 93-97 range, Adam's changeup sits in the 88-92 range. Not only that, but it reacts similarly to a two-seam fastball, so hitters have a tough time picking up the pitch, especially with the spin rate. His Changeup has a low spin rate, so hitters expect it to be slower than most of his pitches. Somehow, Changeup is nearly as fast as his fastball, so that that pitch could make hitter's lives a living nightmare.
Not only does that pitch have great depth and arm side run, but it is 13% better than the league average in both of those categories. Pitching Coach Tommy Hottovy has compared Adam's changeup similar to that of Greg Maddux, especially movement-wise. Imagine how hard that is to hit when it is coming at hitters in the low 90's.
The way things sit right now, Craig Kimbrel is the closer, and it looks like Brandon Workman will be used as the setup man in the eighth. Jeremy Jeffress occupied that role last season, so now his role needs to be defined. Rowan Wick is undoubtedly an option to pitch in late-game situations, as is Brad Weick. Adam has now put his name in the equation of a late-inning reliever and as someone who could be a setup man or a closer in waiting.