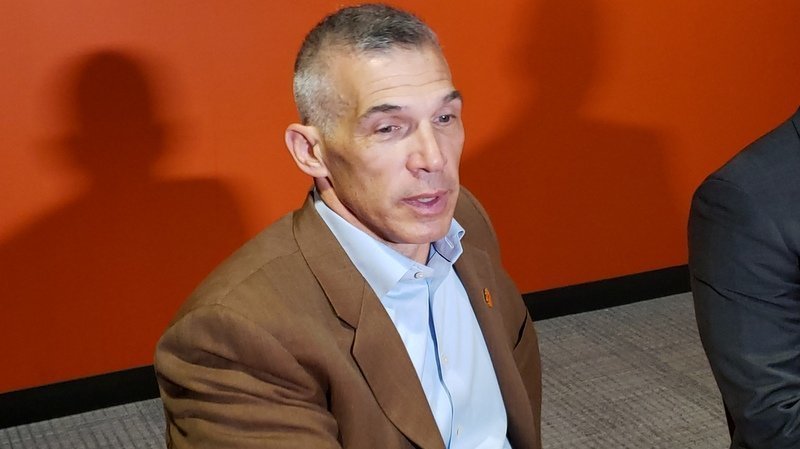 | | |
| --- | --- |
| Cubs News: Joe Girardi on his future: "I do want to manage again" | |
---
| | | |
| --- | --- | --- |
| Sunday, January 27, 2019, 9:22 AM | | |
CLEMSON – Former Cubs catcher and Yankees manager Joe Girardi hasn't managed since the of the 2017 season, and he turned down the Cincinnati Reds job offer last November. Girardi will spend the 2019 season as an MLB Network TV analyst while waiting for the perfect job to come along.
Could that job be with the Chicago Cubs?
The Yankees let the 54-year-old's four-year, $16-million contract expire after he steered them to Game 7 of the American League Championship Series in 2017. Girardi had wanted to keep his post.
New manager Aaron Boone led the Yankees to 100 regular-season wins and a Wild Card Game victory before the Red Sox bounced them in the AL Division Series.
Girardi also interviewed for the Texas Rangers vacancy but said Saturday that he's waiting for the right opportunity.
"I think all jobs really interest me because I do want to manage again," Girardi told CubsHQ.com. "There is timing in life that is really important to me and my family always comes first. I do want to manage again, my kids want me to manage again and my wife wants me to manage again. In that way, I am pretty lucky."
Girardi declined to mention the Cubs by name but has a history on the North Side. He had two stints with the Cubs as a player from 1989 to 1992 and again from 2000 to 2002.
Current Cubs skipper Joe Maddon has one year remaining on his contract, and Cubs president Theo Epstein said during his end-of-season press conference that the team has not had discussions with Maddon about an extension.
Girardi is from the area - he was born in Peoria and graduated from Northwestern — and said he grew up a Cubs fan.
"I think it's the fans (that makes the Cubs special). The tradition there," Girardi said. "I grew up as a Cubs fan as a kid. Going to games as a little boy. One of the neatest parts about that was I got a chance to meet my childhood heroes when I played with the Cubs. That was pretty special. Ron Santo and Jose Cardenal."
Spring training will begin in mid-February, and Girardi said that while he is itching to get back into baseball, he doesn't miss the darker aspects of being a manager in the spring.
"April is when I miss it. Not spring training. I don't miss spring training as a coach," Girardi said. "I really don't. It seems like the only thing I did was cut players. And you feel like you are the grim reaper because once a week you are crushing dreams. There are kids that come to spring training that know they aren't going to make the team out of spring training but they still want to be there. I always look forward to the season starting. As a player, I loved spring training because it's the only time you could get at-bats and get your work in and it didn't count. As a manager, I don't like being the grim reaper."