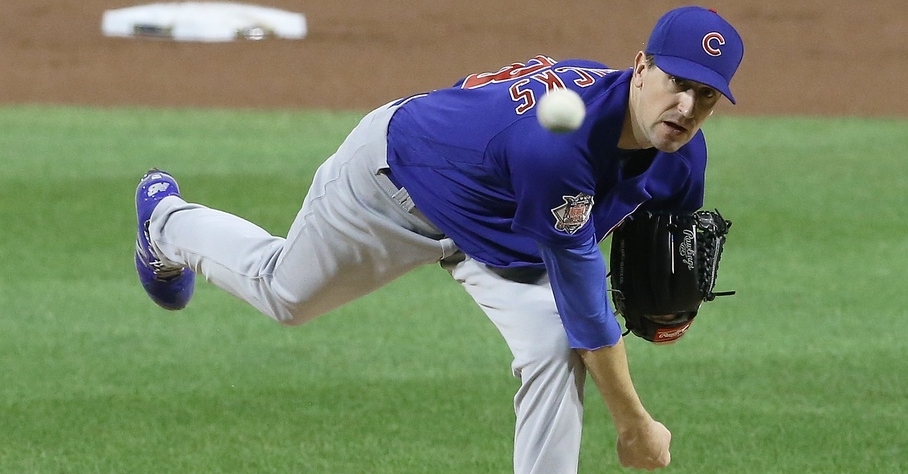 | | |
| --- | --- |
| Report: Cubs had trade talks involving Kris Bryant, Kyle Hendricks | |
---
| | | |
| --- | --- | --- |
| Monday, January 25, 2021, 12:30 PM | | |
The Cubs finally made a major league move last week that didn't include trading or releasing current players. That move was bringing in Austin Romine to fill what looks to be the backup catcher role. With Spring training now three weeks away, you would think the Cubs would be in a position to start adding to their roster and begin filling the holes they need.
While they may claim to be scouring the free-agent market, the longer they go without making moves, the less likely it seems as if they will make a move this year. With the rest of the baseball world knowing the Cubs' position, they continue to call Jed Hoyer and gauge who is available before the season.
Well, now it looks as if a potential blockbuster trade has being discussed at some point with the Toronto Blue Jays according to a report.
Earlier this offseason, Kris Bryant was in trade talks as he has been the past few seasons. One of the teams mentioned in the Bryant sweepstakes was the Toronto Blue Jays, who need a third baseman. While talks between the two sides fizzled out at one point, it seems as if Toronto is not only kicking the tires on Bryant once again but now it looks as if Kyle Hendricks name is in the mix for what could be a potential blockbuster deal.
If this deal ends up being more than just smoke and mirrors, the Cubs better be getting something worth it in return, as this would be the back-breaking move for Cubs fans. You are losing yet another power bat in your lineup, but the team would be losing not only their ace but also the most consistent starter in the rotation. That doesn't bode well for a team with an already unproven rotation.
While the Cubs have plenty of holes that they seem content to leave open, the Blue Jays, on the other hand, are on a mission after signing George Springer. Right now, Toronto has a plan in place as to what they want to accomplish ahead of spring. That all starts with getting two SP's that matter, a high leverage reliever, more pitching depth everywhere, and a starting-caliber third baseman. Biggio is an option at third, but he is strictly the backup plan at this point.
Two of the Blue Jays needs the Cubs can't really help with as they have their own pitching depth struggles, and they lack a true high-leverage reliever. The other two positions the Blue Jays are looking to fill fall right into the Cubs' lap. Starting with third base, where the Cubs must figure out what to do with Bryant.
The good news, Bryant is signed through this season, so they have him on the roster. The bad news, he is a free agent after this offseason, and it seems very unlikely that he will be around next year. Instead of losing him for perhaps nothing in return, why not try to send him somewhere to get something back. Toronto needs a third baseman, and Bryant would be a power bat to make an already dangerous lineup even scarier.
Toronto not only wants a third baseman, but they want a big bat in the process. Bryant provides both, so it makes sense Toronto continues to keep tabs on him.
Should these teams continue to engage in trade talks, the question would be what kind of return the Cubs would get. Ideally, Chicago would want prospects with MLB level talent, but that won't happen.
Bryant doesn't have the value he once had, and this could end up being another Yu Darvish type of trade where you get what you get in terms of prospects. Hendricks, on the other hand, is an intriguing piece and one that could kickstart this deal.
The Blue Jays clearly want not only starting pitching but impact starting pitching, which is what Hendricks brings to the table. Hendricks has been the ace of the Cubs, but he wouldn't be looked at as the Blue Jays' Ace. Instead, he would be the team's second or third starter, and that alone makes the Blue Jays rotation that much deeper.
Another thing that makes Hendricks an intriguing name is the fact he is under team control through 2023. Given the consistency and the success he has had as a start, he is the more valuable option, and Chicago would get more back for him, as weird as it may sound. The Cubs are clearly in the midst of a rebuild and are in sell mode, but they are looking for a quicker turnaround this time around.
For that to happen, they not only need pitching but high-level prospects to go with MLB level players capable of having bounce-back years. Travis Shaw, who had some great years at Milwaukee, was brought in to be the third baseman. He replaced Vladimir Guerrero JR, who is now going to be a DH for Toronto. The Shaw experiment backfired as he had a second consecutive rough season.
If the two teams are serious enough to pull the trigger, the Cubs will look deep into the Toronto system. Ideally, the Cubs would love to poach Top prospect RHP Nate Pearson from them, but don't expect them to get a top 10 prospect for either player. Instead, look for them to potentially get one pitcher and position player in the top 30, and the rest would be filled out.
I would love to see two names would be #18 prospect RHP Patrick Murphy and #20 Prospect SS/3B Kevin Smith.
Starting with Murphy, who made it to the MLB roster last year. Across four games in 2020, he posted a 1.50 ERA across six innings of work with two walks and five K's. A small sample size, yes, but his minor league track record speaks for itself.
Across 89 career games, 81 of which were starts, Murphy went 23-23 with a solid 3.33 ERA. He walked 156 batters and struck out 376 in 438 innings of work. Murphy has lost some velocity on his heater, who consistently was hitting 95-98. Now, Murphy sits around 93, but his power curve is one of the best in the Blue Jays system. His changeup continues to improve as he should become a middle to back end of the rotation arm.
On the other hand, Smith is still looking for a permanent position but has primarily seen time at SS and 3B. In 306 contests in the minors, Smith has put together a 263-average anchored by a career-high .302 in 2018. Smith is proving that he can be a power threat from a power side, connecting for 52 homers and 197 RBI. Just like his average, 2018 was a career-high in homers with 25 and RBIs with 93.