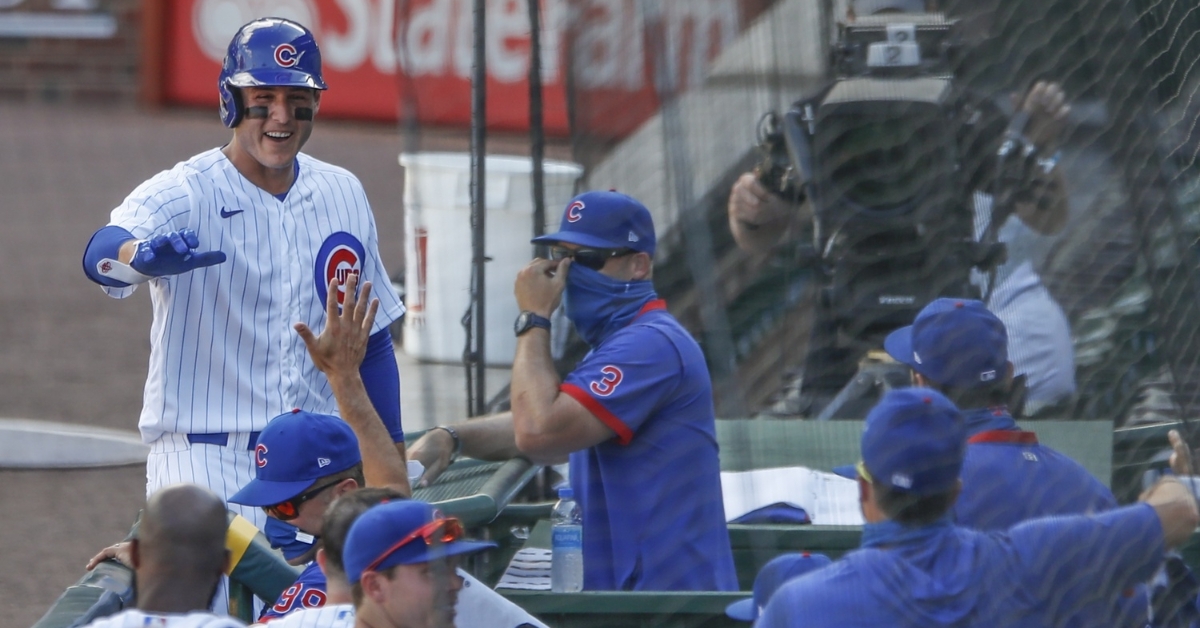 | | |
| --- | --- |
| Rizzo, Baez, Bryant open to extension talk with Cubs | |
---
| | | |
| --- | --- | --- |
| Wednesday, March 10, 2021, 12:38 PM | | |
Spring Training is often a time for teams to engage in negotiations to keep their players around.
The San Diego Padres were a perfect example of that this spring already, as they signed their superstar shortstop Fernando Tatis Jr. to a 14 year, 340 million dollar contract. It was quite an endorsement for one of baseball's most marketable stars, who has not played a full season yet. But, it was a move that is good for baseball — paying upfront for a long-term deal that allows the stars to make money, and the team isn't manipulating service time.
The deal also sparked talks within clubhouses about the market of their extendable players, how much it might cost to sign them, and more. For the Cubs, who arguably have some of the most question marks on this matter, it is time for Jed Hoyer to navigate the future of the Cubs.
Two offseasons ago, the Cubs inked David Bote and Kyle Hendricks to long-term deals. Last year, the Cubs and Javier Baez had made strides toward a possible extension before COVID-19 shut down Spring Training and put baseball's economic future in jeopardy.
This offseason, the Cubs had to part ways with Jon Lester and Kyle Schwarber via free agency as well as Yu Darvish through trade — and Jed Hoyer has made it very clear that it will be impossible to resign all of the Cubs' core as the next era of Cubs baseball looms. But as Kris Bryant, Anthony Rizzo, and Baez enter their walk-years, extension talk should at least be discussed in Arizona at Spring Training. Willson Contreras is another candidate for an extension, but he has two more seasons of control left, so the Cubs can afford to wait to make that decision.
Anthony Rizzo seems like a slam dunk to be extended by the Cubs. Not only has Rizzo been a model of consistency over the last six years of Cubs success (leading the Cubs in home runs and RBIs while also taking home multiple Gold Gloves), but he has also been a model citizen with his philanthropic efforts through the Anthony Rizzo Family Foundation. Rizzo has emerged as a modern-day Mr. Cub and deserves to wear pinstripes for the rest of his career. The decision also makes sense economically because Rizzo still plays first base at a premier level at age 31 — but because of his age, the Cubs will not be locked into a particularly expensive OR long contract.
"This city and everything I love about the city, I kind of wear on my sleeve," Rizzo said when extensions were brought up last month. "I still love it. I still love our team. I still love what we have going on here."
Javier Baez also seems like a logical choice to extend. Baez can do it all on the field, whether that be slamming mammoth home runs, running the bases like a gazelle, making tags like a wizard, making dazzling plays with cannon throws in the field, or simply just being magic. El Mago also is one of baseball's most marketable players — which is important for a team trying to grow a team-only network as the Cubs are with Marquee Sports Network.
Baez plays a premium position with the best of them but has had his share of struggles as of late. This offseason might present the Cubs a great chance to get Baez extended, potentially cheaper than expected. Otherwise, Baez will meet the free-agent market with Carlos Correa, Francisco Lindor, Corey Seager, Trevor Story, and Marcus Semien — a market where Baez might be the fourth or fifth choice for a team, potentially docking his pay grade. Or, in the case of Tatis, strengthening the contact he may get.
"Obviously, I want to stay here," Baez said last month. "The fans, the city, everybody knows how it runs when it comes to sports. We'll see what happens this spring training."
Kris Bryant has long been deemed as the long shot to remain with the team beyond 2021. Many even expected he would have been traded before the season began. Bryant is a challenging case to consider in terms of extensions because he is represented by Scott Boras, baseball's mega agent who pushes his players toward free agency to maximize their earnings. What further complicates Bryant's rocky relationship with the Cubs regarding how they manipulated his service time before his rookie season.
All that aside, Bryant is a great clubhouse guy and a phenomenal player on the field. Like Baez, Bryant can do it all on the field. Bryant has immense power, and solid contact skills can play several positions above average and is an underrated baserunner. Bryant has the accolades and all-star appearances to prove it, and like the others, he has made it clear that he loves playing in Chicago and would like to continue, even ahead of his walk year.
"I can kind of sound like a broken record," he said last month. "I've always said I've been open and willing to hear whatever (Cubs have) to say and would take it with open arms and consider everything that is thrown my way. I've communicated that well with them."
He echoed that sentiment on Tuesday.
"I'm not looking at it as my last year. Who knows what year it could be," Bryant said. "I could have 10 more years here. Who knows? I could come back as a coach. I could live in Chicago. I don't know."
The fact of the matter is, all three of the Cubs' core in their walk year have made it clear that they love playing for the Cubs and would love to continue to suit up with Wrigley Field as home. The time is now for Jed Hoyer to finally get one of these deals, or more, done.