| | |
| --- | --- |
| 10 Takeaways from the Cubs 5-1 win | |
---
| | | |
| --- | --- | --- |
| Tuesday, September 18, 2018, 1:18 PM | | |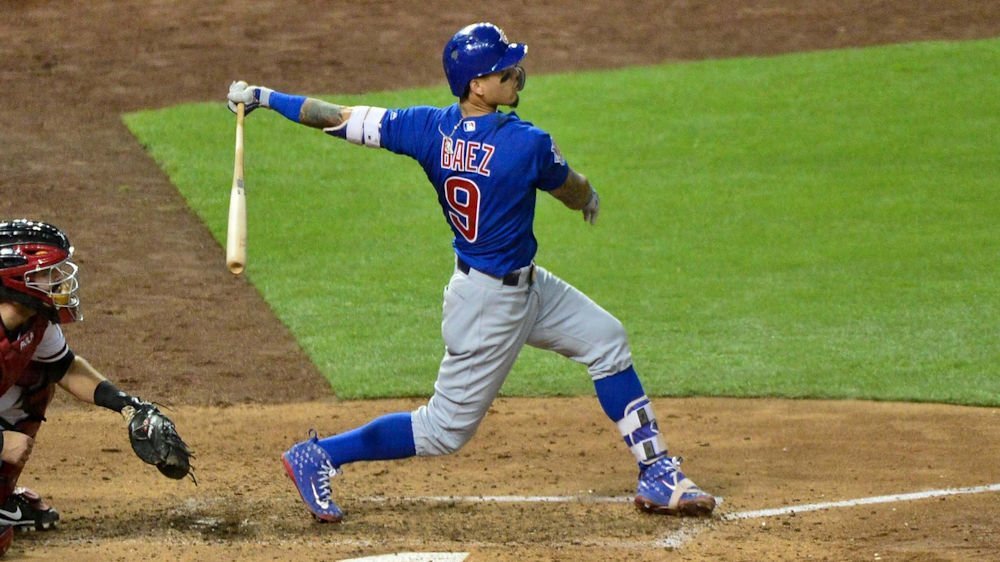 1. Willson Contreras was on top of his game last night: After an embarrassing mistake on Sunday, Contreras made good on his promise to not take anything for granted. Hustling out of both the batter's and catcher's boxes throughout the game, Contreras threw out a would-be base stealer for the final out, showing exactly why he deserves to be in the lineup. Kudos to Joe Maddon for not benching him.
2. Javier Baez is a man on a mission: Nothing beats a game where Javy Baez demonstrates his proficiency with both bat and glove, but in the absence of one, I'll gladly take the other. Continuing his quest for both the MVP and RBI titles, El Mago extended his RBI tally to 105 last night with a two-run blast in the sixth.
Javy just had a long shot to put the Cubs up 3-0 and yeah, he knew he got it.??

(via @FOXSPORTSAZ) pic.twitter.com/g0McHVP1ZX

— FOX Sports: MLB (@MLBONFOX) September 18, 2018
3. Don't get on Javy's rear-end for "pimping" his home run: Yes, Baez strutted the first six steps to first, letting out a primal scream along the way, but that was an obvious no-doubter, and the Cubs needed a little mental reminder as to just why they're in first place.
4. Solid contact is the key: The Cubs bats were hot last night, even for those who didn't tally a hit. The contact, even on foul balls, looked and sounded more robust than it had in a while, and when that happens, hits and runs are bound to come. Stay tuned; the offense is overdue for a breakout game.
5. Addison Russell's woes continue: Despite a solid line drive to center (which was caught for an out), Russell's slump seems to be progressing from his bat to his fielding. Committing yet another throwing error last night, Russell has now tallied three such blunders in two days, including back-to-back throwing errors on Sunday. The error last night drew a field visit from both Joe Maddon and the Cubs' trainer. Russell denied injury and played on, leaving me to wonder if he's hiding an injury. His arm hasn't looked right for some time, as evidenced by throws to first that continually seem to miss their marks.
6. Kris Bryant's power appears to have returned: It had been a while since KB went long, July 21st to be exact, but that changed last night. Since his return from the disabled list on September first, Bryant has been making good contact (slashing .320/.407/.480), but the long ball had been absent, leading some to question whether Bryant's new, protective swing was costing him power. Then, in the top of the eighth, with Almora on second and nobody out, KB went deep to right-center. Welcome back, Kris.
7. Jim Deshaies is a visionary: If Bryant's first long-ball since his return wasn't enough by itself, Cubs' announcer, Jim Deshaies called the shot. "We've been toying around here. KB hasn't hit a home run yet since he's come off the disabled list. We've hinted at it. I'm calling it. He's going deep. Right here. This at-bat. No more hints, no more begging, no more hoping, we're just going to make it happen." Next thing you know…BOOM.
#LenandJD JD called the #KrisBryant shot, Go #Cubs!! 5-0 #ChicagoCubs lead. pic.twitter.com/2g6IUhsNkq

— iamCubsessed (@IamCubsessed) September 18, 2018
8. Jason Heyward's appearance was a welcome sight: Although he didn't bat and only took the field for the bottom of the ninth, Jason Heyward's presence alone seems nearly as uplifting as some of the magic cast by Javier Baez. Heyward effortlessly retired the only chance that came his way last night, and he showed no signs of lingering hamstring pain. With Arizona starting a right-hander, Matt Andriese (3-5, 4.76 ERA) tonight, look for Heyward to re-join the team in full capacity.
9. Kyle Hendricks almost got a complete game: I'm laughing this morning as I see people on social media criticizing Joe Maddon for pulling Kyle Hendricks out, just one out shy of a complete game. What I find most humorous, is that the same people blasting away at Joe for pulling him out last night, are from the same crowd who chastised him for leaving Strop in last week. I realize there are some different circumstances involved, but why chance injuring a starter who'd already thrown 109 pitches when you have a four-run lead?
10. For the first time in a while, the Cubs played like a team who had finally found their confidence and stride: Despite not scoring for the first five innings, the team never appeared pressured. The effort by Hendricks was nearly flawless, and the defense held firm until the offense could find its groove. This is exactly how the Cubs need to continue to play through their final few series in the regular season.