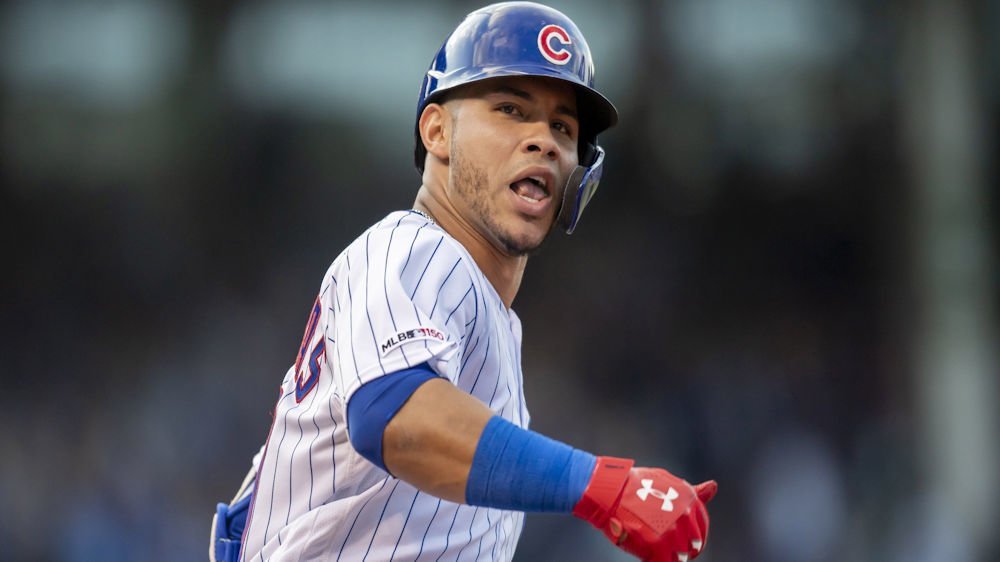 | | |
| --- | --- |
| Cubs News: All-Star voting update for Javy Baez, Willson Contreras, Bryzzo, more | |
---
The first round of All-Star fan voting ends tomorrow so let's check in and see which Cubs are ticketed to play in the all-star game.
The midsummer classic takes place in Cleveland, and for many Cubs, it will be their first time returning to that city since that rainy Wednesday evening three years ago.
The Cubs currently sit in first place in the NL Central and are guaranteed at least one all-star, but it currently looks like the Cubs might have four or five playing in the MLB's biggest showcase of talent.
Although the Cubs won't have the entire infield starting the game, it looks like the Cubs may have three of four positions in the big game, along with potentially an outfielder or two in the mix and a variety of arms making their cases heard.
LOCKS: Willson Contreras- The Cubs' backstop comfortably sits with a 700,000 plus vote cushion in the catcher position. Contreras has 15 homers and 42 RBI. He leads all national league catchers with a .293 batting average.
Contreras also leads the Cubs with a .561 slugging percentage and has thrown out 11 base runners attempting to steal this season with his latest being Sox speedster Tim Anderson.
Javier Baez- Baez is also eyeing his second straight all-star appearance. Baez has double the votes of the second place shortstop (Dansby Swanson) and has had a year reminiscent of his MVP runner up season a year ago. The Cubs' shortstop has 17 home runs this year and has driven in 46 runs. Baez also gets it done on the bases and in the field, earning him the nickname "El Mago."
GOOD CASES: Anthony Rizzo- The Cubs' captain has been their best offensive weapon. Rizzo is the Cubs' leader in home runs (19), RBIs (51). The former gold glove winner has been playing stellar defense at first base and has a .276 batting average this season. Rizzo currently ranks third behind Josh Bell and Freddie Freeman in votes (who are having better seasons), and he sits above Pete Alonso, Paul Goldschmidt and the other first basemen in this very deep first basemen list. Rizzo needs to stay in the third-ranked spot to make it to the next round of voting, which ends June 21st.
Let's make some more memories in Cleveland.#VoteCubs: https://t.co/gdRdxZdk6d pic.twitter.com/k6Se3R13Bw

— Chicago Cubs (@Cubs) June 20, 2019
Kris Bryant- Kris Bryant and the Cubs released a video that explained how bad Kris Bryant wants to be in this all-star game. Bryant said that this all-star game will mean a lot to him in showing that he fully recovered from his injury and criticism and is now back to being one of the league's best. Bryant currently is hitting .281 with 15 bombs and 38 runs driven in. Bryant sits eighth in the league with 56 runs scored and ranks 10th in on-base percentage at .395. The former MVP sits behind probable starter Nolan Arenado and is ahead of Anthony Rendon among other NL third basemen. Bryant looks poised to advance to the next round of voting and the big game in Cleveland.
It matters. Every vote matters.#VoteCubs: https://t.co/gdRdxZdk6d pic.twitter.com/gfrrzOryfU

— Chicago Cubs (@Cubs) June 18, 2019
LONG SHOTS: All three outfielders that are on the ballot look in position to advance to the next round even though none of the three genuinely deserve an all-star birth. Albert Almora with seven homers, 21 RBIs and a .255 average currently ranks fourth in the voting. Jason Heyward has ten bombs and 26 RBIs, and a .253 average sits fifth in the ballot. Meanwhile, Kyle Schwarber, perhaps the most deserving of the three, has 16 homers and 35 RBIs with a .237 average and stands in the eighth spot in outfield voting.
PITCHERS
GOOD CASES: Cole Hamels- Hamels has been pitching like an ace for the Chicago Cubs. He has pitched lights out at Wrigley Field and is making a case for his fifth all-star appearance. Hamels is now 35 years old and sits at 6-2 with a 2.85 ERA which ranks sixth in the National League. Hamels has struck out 91 batters and has pitched 91.2 innings for the Cubs. When the players ultimately decide which pitchers have earned a spot in the all-star game, expect Cole Hamels to be a popular choice.
Kyle Hendricks- made a strong argument for NL pitcher of the month in May. Hendricks rattled off six wins in a row before falling to the Dodgers and getting placed on the injured list. Although he may be sidelined until the all-star break, with 88.1 innings pitched, and seven wins Hendricks has definitely earned his spot in the conversation for NL all-stars.
VERY LONG SHOTS: Brandon Kintzler- has rebounded from a bad 2018 and quietly been putting up all-star numbers. In 32 appearances, Kintzler is 2-0 with a 2.25 ERA with 28 strikeouts to go with that. Kintzler has morphed into one of Joe Maddon's most trusted guys in an otherwise shaky bullpen. Although usually middle receivers get forgotten about in terms of all-star rosters, Kintzler has made a case for a trip to Cleveland.
Steve Cishek- has been Mr. Reliable for Joe Maddon and the Cubs this year. In 31 appearances Cishek has a 3.26 ERA, and six saves paired with 33 strikeouts. Cishek has fit the role of a 7th inning, 8th inning, long reliever and closer this season and may fit the part of an all-star shortly.
It looks like another year where the Cubs will be well represented in the all-star game. This year when the game is in Cleveland, expect a handful of Cubs to make their return to the place they earned World Series rings a few years back.

Tags: Cubs Baseball
,
Willson Contreras
,
,
Anthony Rizzo
,
,
Jason Heyward
,
Kyle Schwarber
,
Cole Hamels
,
Kyle Hendricks
,
Brandon Kintzler
,
Steve Cishek
,
Joe Maddon