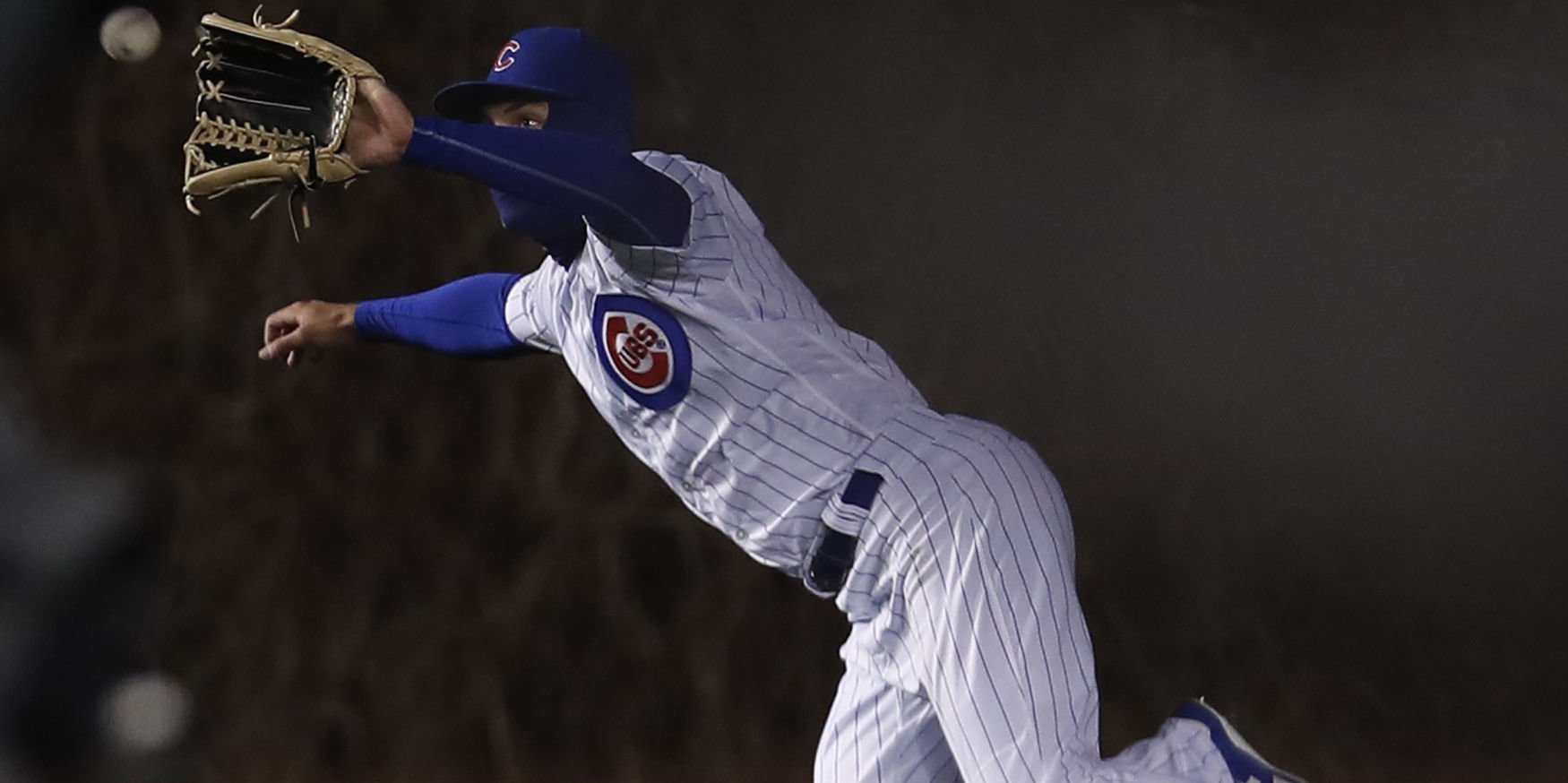 | | |
| --- | --- |
| Cubs News: Almora robbed of a Gold Glove nomination | |
---
| | | |
| --- | --- | --- |
| Friday, October 26, 2018, 8:33 AM | | |
Congratulations to the Chicago Cubs finalists for the 2018 Rawlings Gold Glove Award, Anthony Rizzo -1B, Javier Baez – 2B, and Jason Heyward – RF. All three are deserving of this prestigious award, although I could be convinced that Heyward might have slipped this year a bit.
Many Cubs fans are incensed, well maybe not incensed but surprised, that two players were left off as finalists, Willson Contreras -C, and Albert Almora -CF. I will acknowledge that Contreras did make his share of errors this season, and that is what likely hurt him, but man you cannot argue that he has the top arm behind the plate in baseball right now. Many of his errors were because he was trying too hard to make a play and I'm OK with that. I would instead someone make a mistake because of effort than because of laziness, Manny Machado if you're reading this.
I believe that Contreras will have plenty of Gold Gloves on his mantle when his career is completed so to not be in the mix this year is only a blip on his resume. Once the Cubs find a veteran to mentor him this offseason and he has someone he can talk to daily on the bench his ceiling is crazy high. Plus, Yadier Molina can't possibly play forever, can he?
The real surprise guy on this year's list was Manny Pina of Milwaukee. How can a guy be a Gold Glover and not even start one playoff game? Eric Kratz surpassed him by years end and yet Pina gets nominated? It makes no sense.
The bigger issue with me is the lack of respect for Albert Almora. How did this guy not make the finals? There was a 30 day period early in the year where he had the catch of the day nearly every day. Many of the national TV pundits were calling him the Gold Glove winner back in May for goodness sakes.
If you look at the numbers, and you all know I almost never do, he is top three in many defensive categories for center fielders who have played in at least 100 games. I may give you Ender Inciarte on this list because he is outstanding, but Lorenzo Cain is thought of more of a hitter than a fielder, and Billy Hamilton makes two catches a year, and he is considered brilliant?
I have said all year that Almora was the Cubs best defensive outfielder, by a lot, and I am not changing that opinion. I have also noted that by the time he retires he will be the best outfielder the Cubs have ever had. There is no way he is not on this list for 2018, and I would have bet the house on that.
If you saw a highlight reel of the greatest ten catches made by a center fielder in all of baseball this year, he would have 5 of them at least. And that is for all of baseball. If you only showed a top ten for the National League, he would have 8 of them. To say he got robbed is an understatement. I will guarantee you that if he stays healthy, and if Joe Maddon will play him as he should, he will win multiple gloves in his career.
I blame his not being selected this year on Maddon because Maddon kept running everybody and his brother out there instead of Almora. And if I'm Almora's agent, I'm looking for Maddon at the winter meetings and having a conversation with him.
All in all, three guys in the finals is not too shabby, and it says a lot about the right side of the defense for the Cubs. Do not hit it over there if you are the other team. If they can keep that play up and get Almora and Contreras added to the list, wow the defense up the middle and over to the right side will be something. Now the dream of adding Bryce Harper and getting Kris Bryant back healthy and the defense looks pretty stellar going forward.